• It'll be partly cloudy and breezy on Wednesday, with highs in the low 80s, according to 10Weather WTSP.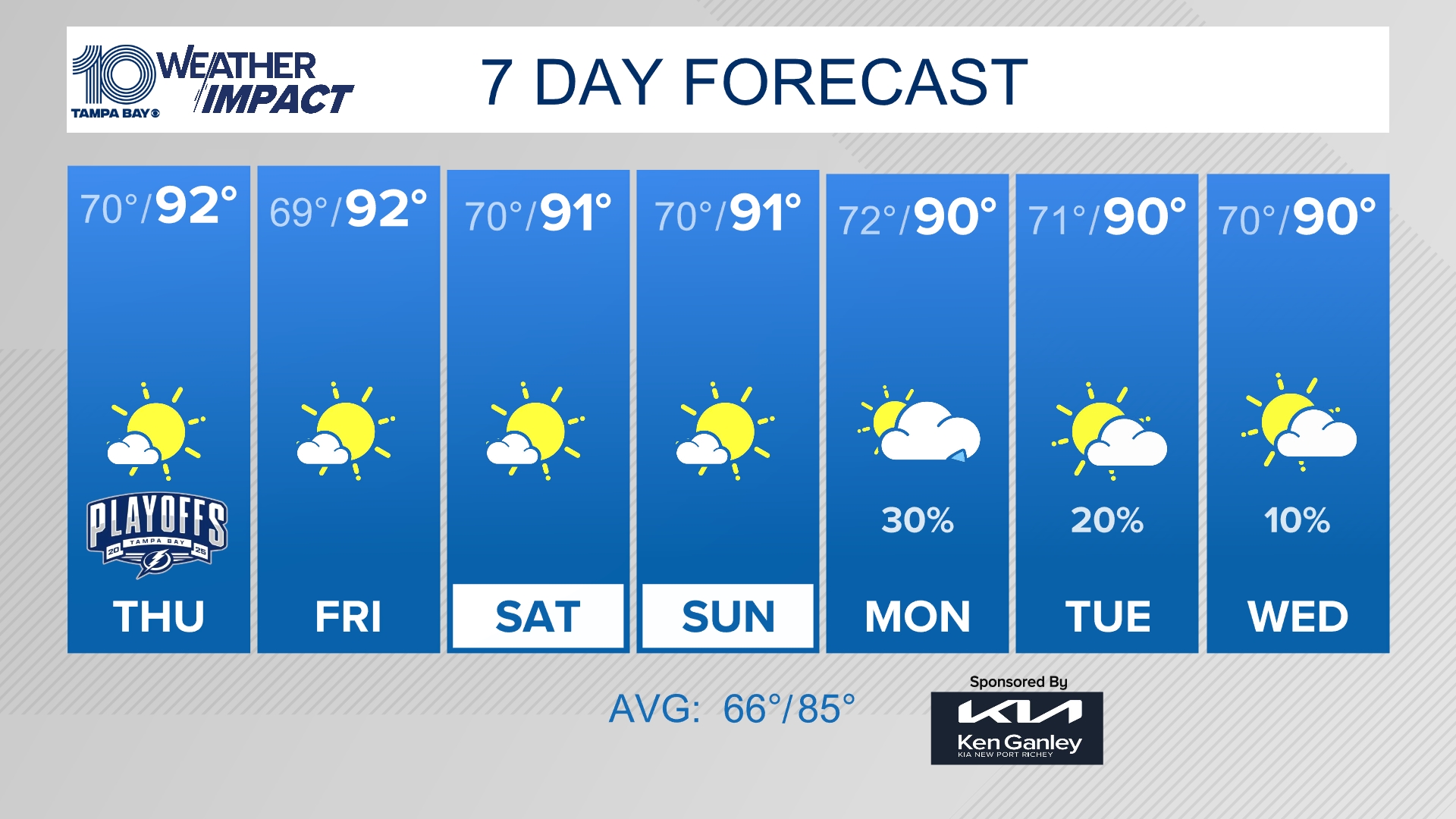 10News WTSP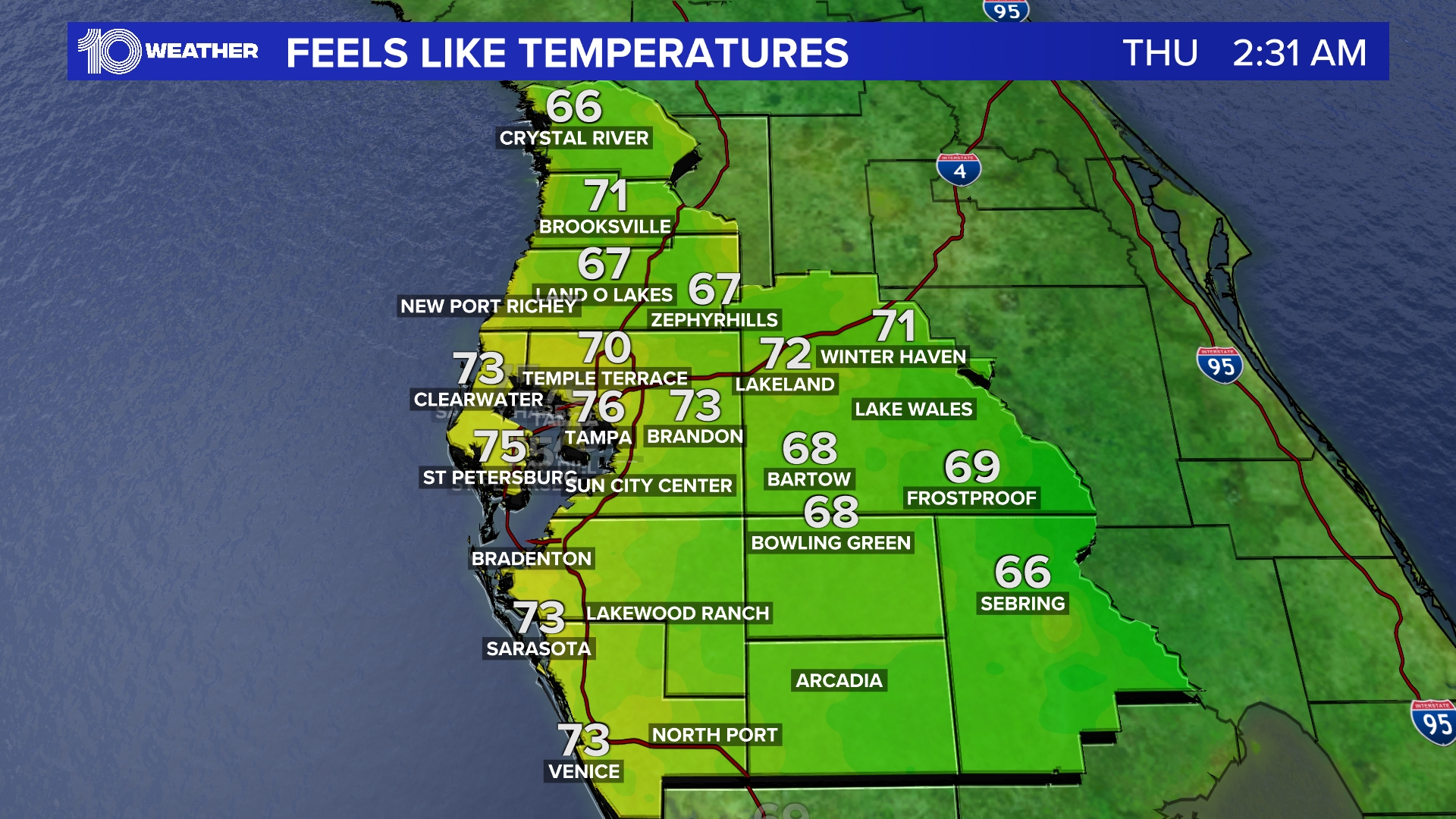 10News WTSP
• As you head out for your morning commute, check out our live blog for the latest traffic updates and road conditions across Tampa Bay.
• The United States has hit an important milestone: Home prices have finally topped the record prices reached just before the last major recession. But what does that mean going forward, especially in Florida and Tampa Bay where prices were on a rollercoaster for so long? Read business columnist Robert Trigaux's full report.
• Looking for a short-term gig in the new year? The Florida State Fair is ramping up with 500 seasonal hires for its annual gathering in Tampa in February.
• Three environmental groups are threatening to sue the cities of St. Petersburg, Gulfport and Treasure Island for discharging raw and partially treated sewage in local water, violating the federal Clean Water Act. The three municipalities have been given a 60-day notice of an intent to file suit by Suncoast Waterkeeper in Sarasota as well as Our Children's Earth Foundation and Ecological Rights Foundation, both based in California.
• Nearly two dozen protesters seeking a $15 an hour minimum wage were arrested on Tuesday night after sitting in the middle of N 21st Street in Ybor City. They were among several hundred people who showed up for a rally and march from Centennial Park, down the middle of E 7th Avenue to N 22nd Street and a McDonald's. The protesters descended in waves on the Tampa Bay area, first with a 6 a.m. walk-out strike at a McDonald's on E Hillsborough Avenue followed by a noon press conference at St. Petersburg's City Hall.
• Thirty high school students have been selected as semifinalists for the 2017 Barnes Scholarship from a pool of 305 applications. The Barnes Scholarship, sponsored by the Tampa Bay Times Fund and named for former chairman and CEO of Times Publishing Co. Andrew Barnes, was established in 1999 to help high-achieving college-bound students who have overcome significant obstacles and have financial need.
• Tampa General Hospital CEO Jim Burkhart, who led the region's largest safety-net facility for nearly four years, resigned his position Tuesday, a spokesman confirmed. Executive vice president and chief financial officer Steve Short will serve as acting president and CEO effective immediately until a national search is held.
• Universal will bring a Nintendo land to its Florida theme parks -- a big win for nostalgic millennials.
• We really stink at vacations. The average American will end this year with at least three unused vacation days — and half of us will have taken no vacation at all. And even when we do go, too many of us are checking our work email. If you are one of those Americans in danger of leaving vacation time behind before the year is out, here are some last-minute travel ideas for December and we also offer some tips on making your travel plans for next year.
• A popular, parent-backed proposal to require daily recess at all of Florida's public elementary schools will be back before the Florida Legislature next spring. Read about the measure that mandates local school boards offer 20 minutes per day of "supervised, safe and unstructured free-play recess" for students in kindergarten through fifth grade.
• From the Tampa Bay Times editorial board: The new bishop of the Roman Catholic diocese of St. Petersburg is is well-positioned to forge his own path while building on the successes of his predecessor, potentially making a lasting impact that will benefit Roman Catholics and Tampa Bay as a whole.
• A Hillsborough circuit judge is expected to decide today whether to release Trevor Dooley on bail while he further appeals his case. Dooley, who shot and killed a neighbor on a Valrico basketball court in 2010, has been serving an eight-year sentence for manslaughter. He's complaining that his first appellate attorney did not bring up errors in the jury instructions -- relating to self-defense -- that may have confused jurors. The question for now: Will Dooley be free again while all this is playing out? Check back to tampabay.com later.
• Before the Jan. 9 national championship game kicks off, 128 banners will enter Raymond James Stadium, one for each Division I-A team. Western Michigan can finish 13-0 with a win over Ohio in Friday's MAC championship. Yet they have no realistic shot at making the semifinals; the College Football Playoff selection committee put Western Michigan No. 17 in Tuesday's latest set of rankings, with no hope of cracking the top four. Matt Baker's solution: Expand the playoff to eight teams.
• Whereas Netflix dumps a boatload of new movies and series into its streaming library each month, Amazon seems a bit more selective. Both are great places to find indie and foreign films, but Amazon seems to always get the newer, limited release films before any other service. Here are our top picks to stream on Amazon Prime this month:
• Here are the top things to do today in Tampa Bay including Broadway's Into the Woods and the legend herself, Barbra Streisand, on stage in Tampa for the first time.