• A weak cold front is arriving Wednesday, bringing cooler and drier air and temperatures in the upper 70s to near 80, according to 10Weather WTSP.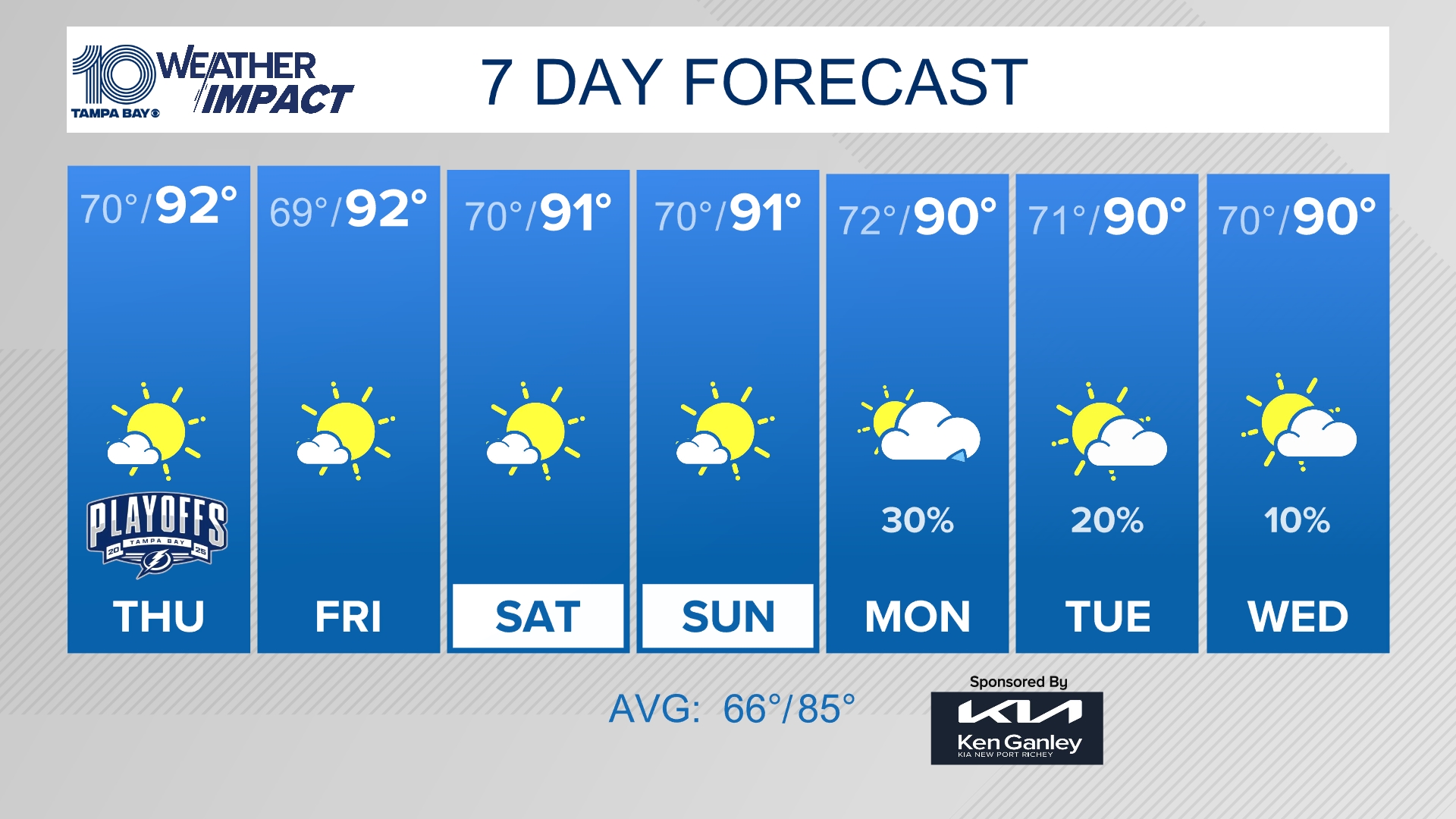 10News WTSP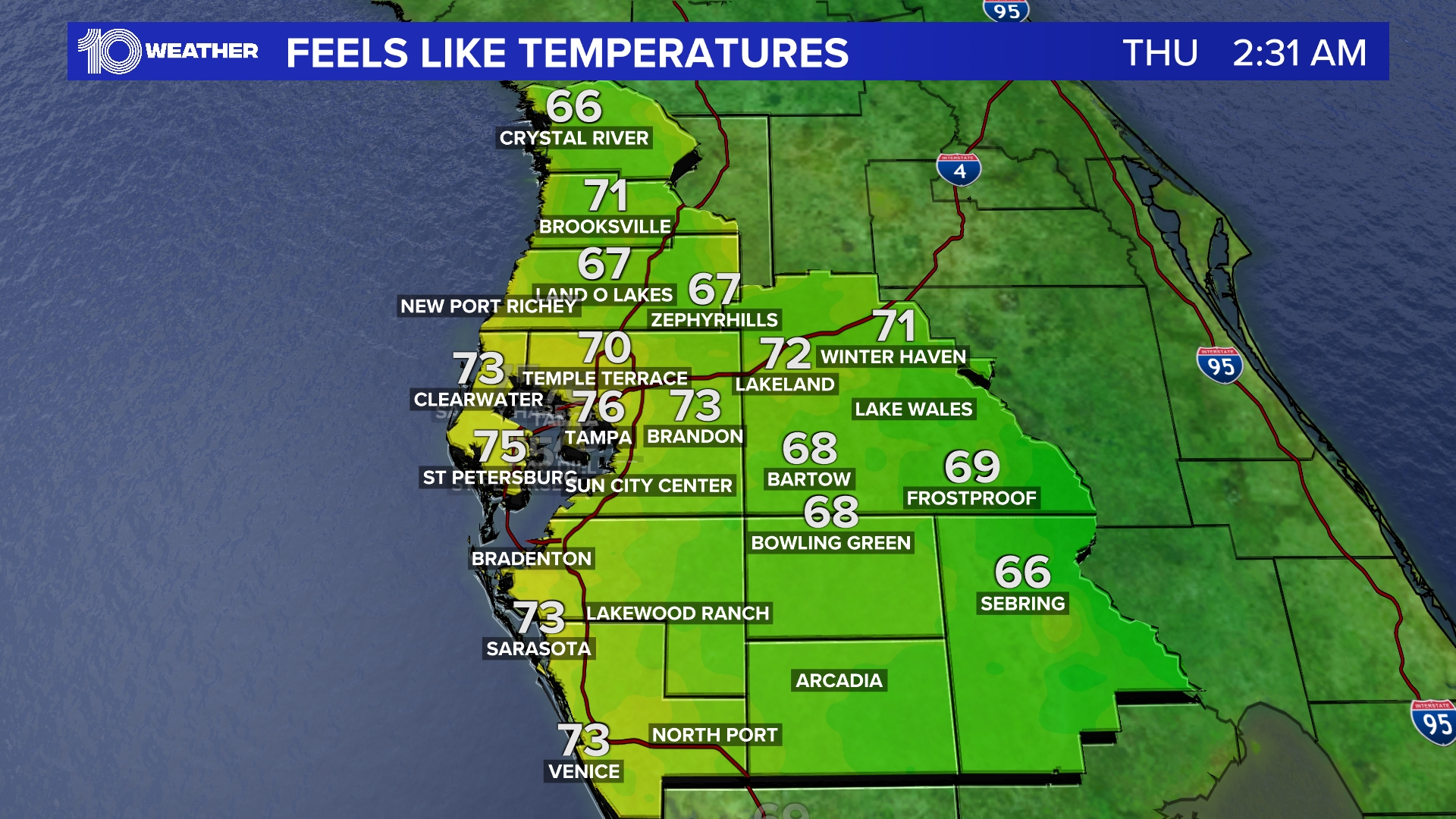 10News WTSP
• As you head out for your morning commute, check out our live blog for the latest traffic updates and road conditions across Tampa Bay.
• Many of you may be waking up to learn Donald Trump is the president-elect, and Florida was very much a center of attention. Watch the video as Trump accepted the presidency, and how companies and economists worldwide are reacting to the news.
• Marco Rubio is headed back to the U.S. Senate with his prospects of another run for president intact. Rubio defeated two-term Congressman Patrick Murphy, who couldn't overcome poor name recognition or questions about embellishments on his résumé.
• Charlie Crist revived his political career by winning a Pinellas County congressional seat that was held by Republicans for more than 60 years. Crist, a former Republican governor running as a Democrat, beat incumbent Republican David Jolly by a relatively slim 52 percent to 48 percent margin in the 13th Congressional District, according to preliminary returns.
• We also wrap up Election Day 2016 throughout the day at tampabay.com/tbtvotes, but look for our best political reporting on the Buzz blog..
• Most of the local races were settled by Tuesday night. But Hillsborough County State Attorney Mark Ober may be out of a job. He was losing narrowly to Democrat Andrew Warren with a few thousand mail-in and provisional ballots still being counted. Check in with tampabay.com/tbtvotes.
Hillsborough County has another close race that was too close to call, for school board. Lynn Gray was narrowly leading Cathy James by fewer than 2,000 votes with a few ballots still to be scanned. Again, click tampabay.com/tbtvotes this morning for updates.
• Since they arrived in 2014, Uber and Lyft have become as much a part of the Tampa Bay transportation landscape as delays on the Howard Frankland. That's despite the two companies having regular run-ins with the Public Transportation Commission. Today, the agency, which regulates for-hire vehicles, is set to vote on a new operating agreement that would finally make Uber and Lyft street legal in Hillsborough. But the vote is expected to be close with some board members still of a mind that fingerprint background checks should be mandatory for drivers. The meeting starts at 9 a.m. Stay tuned to tampabay.com
• Fall often brings deals at Florida attractions to draw local residents after the tourists have gone home and the snowbirds haven't arrived yet. Busch Gardens just announced one that gets you two months free.
• Speaking of Busch Gardens, its parent company, SeaWorld, first started moving toward eliminating its Shamu shows a year ago this week. What's happened since and where is SeaWorld heading next? Read business columnist Robert Trigaux's take.
• Here are the top things to do today in Tampa Bay including a Tony-winning Broadway show at the Straz Center and former NATO commander Gen. Wesley Clark giving a free talk at USF.