• Today should see a mixture of sun and clouds, with temperatures in the mid-80s, according to 10Weather WTSP.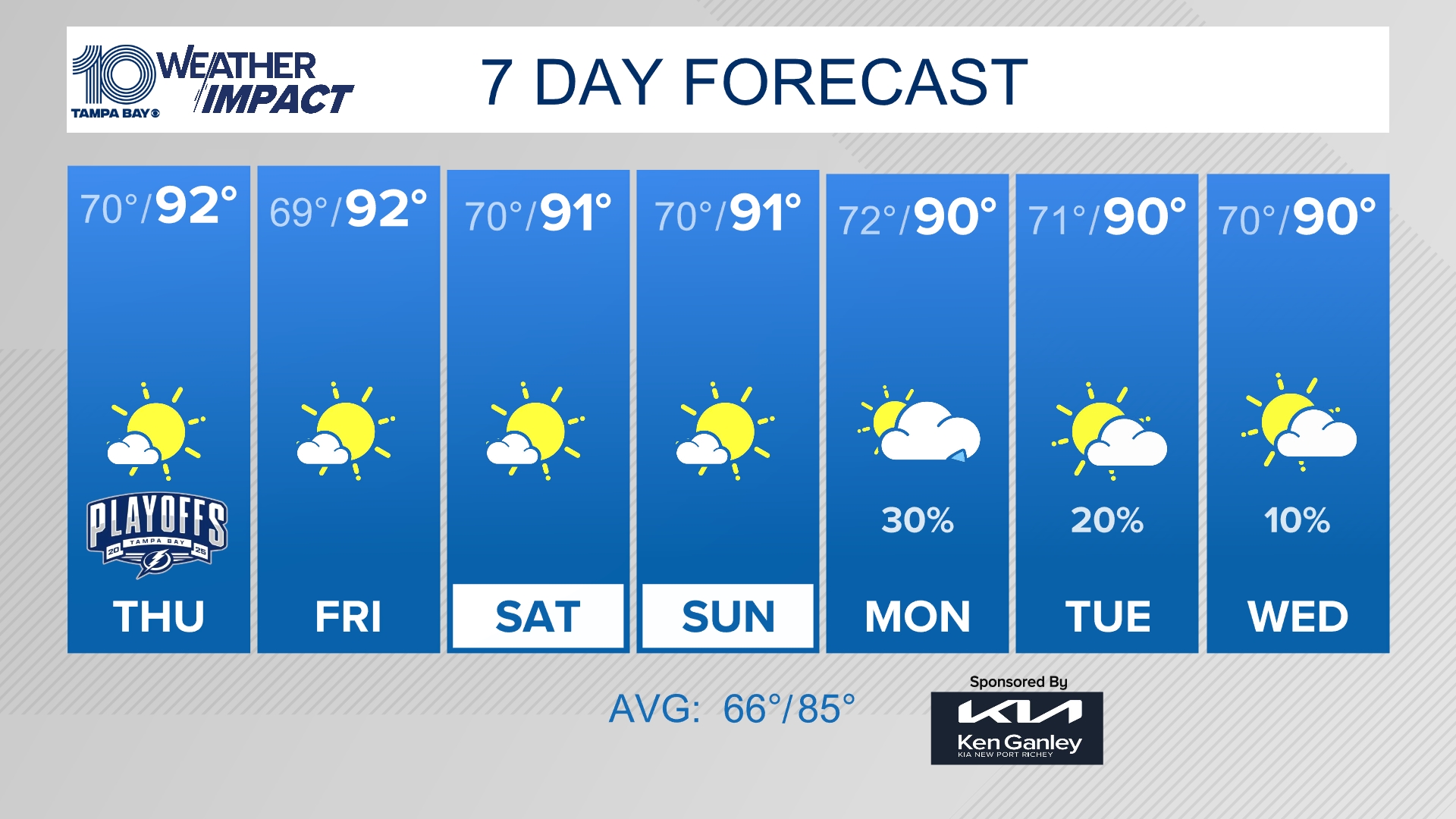 10News WTSP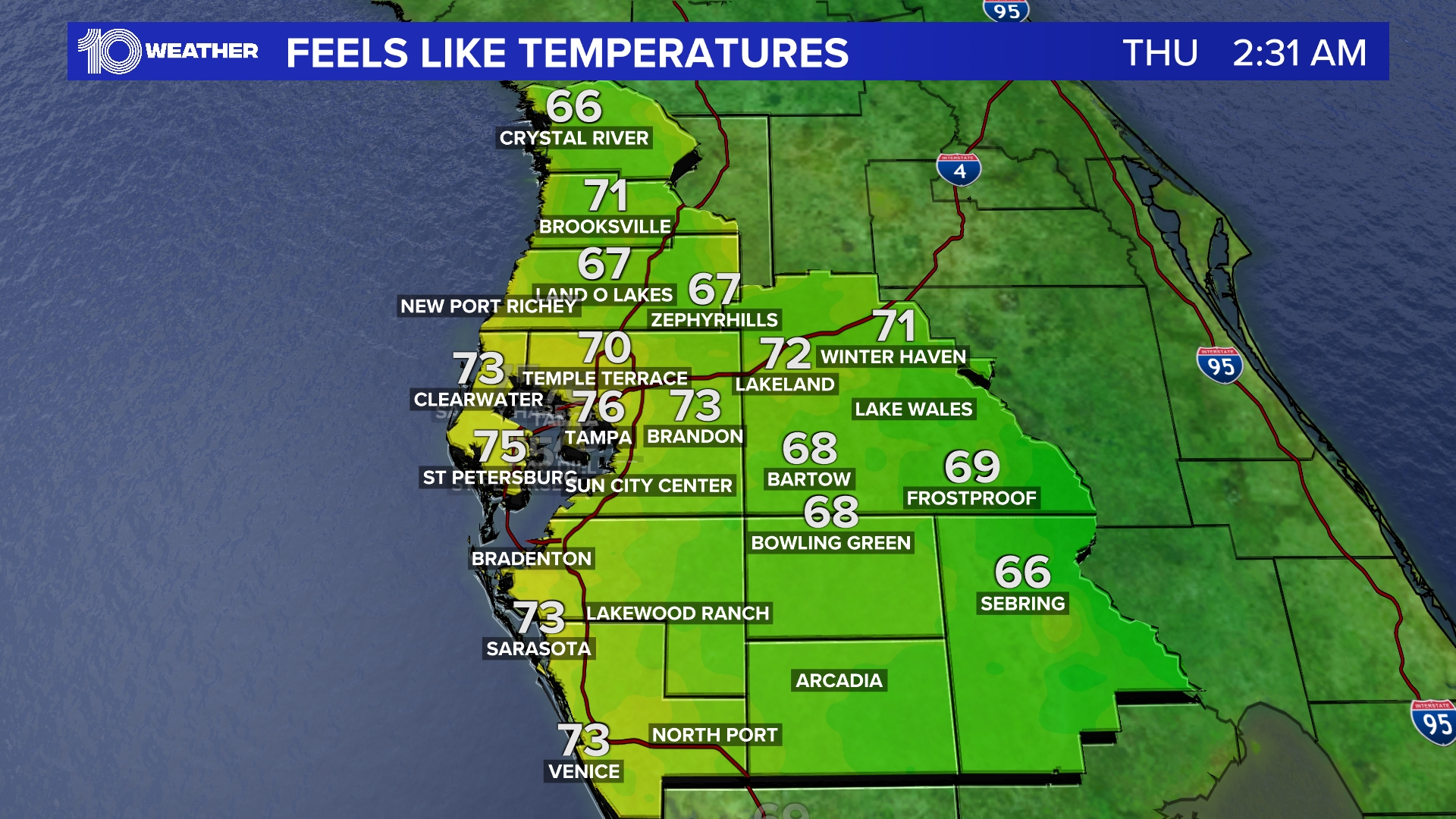 10News WTSP
• As you head out for your morning commute, check out our live blog for the latest traffic updates and road conditions across Tampa Bay.
• A day after touting the jobs he'll create at a Panama City rally, Republican presidential nominee Donald Trump will continue his three-day romp through Florida. Day 2 has him scheduled for stops in Lakeland and Ocala. Follow @MichaelAuslen and @adamsmithtimes to read what he says.
• Federal Judge Mark Walker will hold an emergency hearing today at 10 a.m. in Tallahassee to decide on whether to extend Florida's voter registration deadline. Voters now have until today to register after Walker ruled Monday to extend it one day so he could hold today's hearing.
• Hillsborough and Pinellas counties are outliers when it comes to handing down the death penalty, its prosecutors pursuing the ultimate sentence far more often than others. A new report from Harvard's Fair Punishment Project also finds that, in both counties, more than half the people sentenced to death have intellectual disabilities, severe mental illness or brain damage.
• When a sinkhole opened at Lake Park in Lutz, prompting its closure, it sparked a dispute. Pinellas County owns the land. Hillsborough leases it for use as a park. They couldn't agree on who should pay to fill hole. So they didn't and reopened the park anyway after more than a year of back and forth. Those who use Lake Park couldn't be happier, as you can read at tampabay.com this morning.
• Tony Colton is just 16 and he's already had a lot to deal with at his young age: A cancer diagnosis in 2011, surgeries, pain and the loss of a kidney to a disease that has not relented. It's been a long journey for the Sarasota teen, but he made a new friend along the way: Tampa Bay Lightning coach Jon Cooper. To read how Tony is trying to raise money to fund research for pediatric cancer, and how Cooper is helping him, check out today's story by Jack Suntrup.
• Halloween is less than three weeks away and costume shops are humming. The money Americans spend on Halloween goes up in presidential elections years, and this year is no different. In fact, Halloween spending will likely break a record this year as many people buy Trump and Hillary Clinton outfits. Read business reporter Alli Knothe's full story, which will be published about 8 a.m. at tampabay.com/business.
• The slasher flick 100 Tears, about a killer clown named Gurdy, became a bit of a cult classic after its release in 2007. The local horror filmmaking duo behind it, Joe Davison and Marcus Koch, say they are working on a sequel to be filmed in Pinellas and Hillsborough counties. The working title, of course: 200 Tears. One scene calls for a parade of murderous clowns marching through the streets of St. Petersburg. Finally, a film for our times. We know, you don't want to read about this. But you won't be able to stop yourself.
• The honeymoon period with Lovie Smith and Illinois apparently didn't last very long, Matt Baker writes. The former Bucs head coach is 1-4 with the Illini, who are 0-2 and tied for last in the Big Ten West after last week's loss to Purdue. Only six teams in the country are committing more penalties per game than Illinois (9.2), which caused a reporter to question whether Smith is being too lax with his team. Smith did not appreciate the question.
• The Times editorial board recommends Sandy Murman and Pat Kemp in the two races for Hillsborough County Commission, and Gary Dolgin for Hillsborough circuit judge. And check out our updated list of recommendations in several races.
• Here are the top things to do today in Tampa Bay including Christian rock stars Needtobreathe and fall festivals and Hallowen haunts.