This weekend's unseasonably warm temperatures will extend into the workweek, with just a small chance of showers providing the only hiccup in what should be a pleasant — though sometimes humid — stretch across Tampa Bay.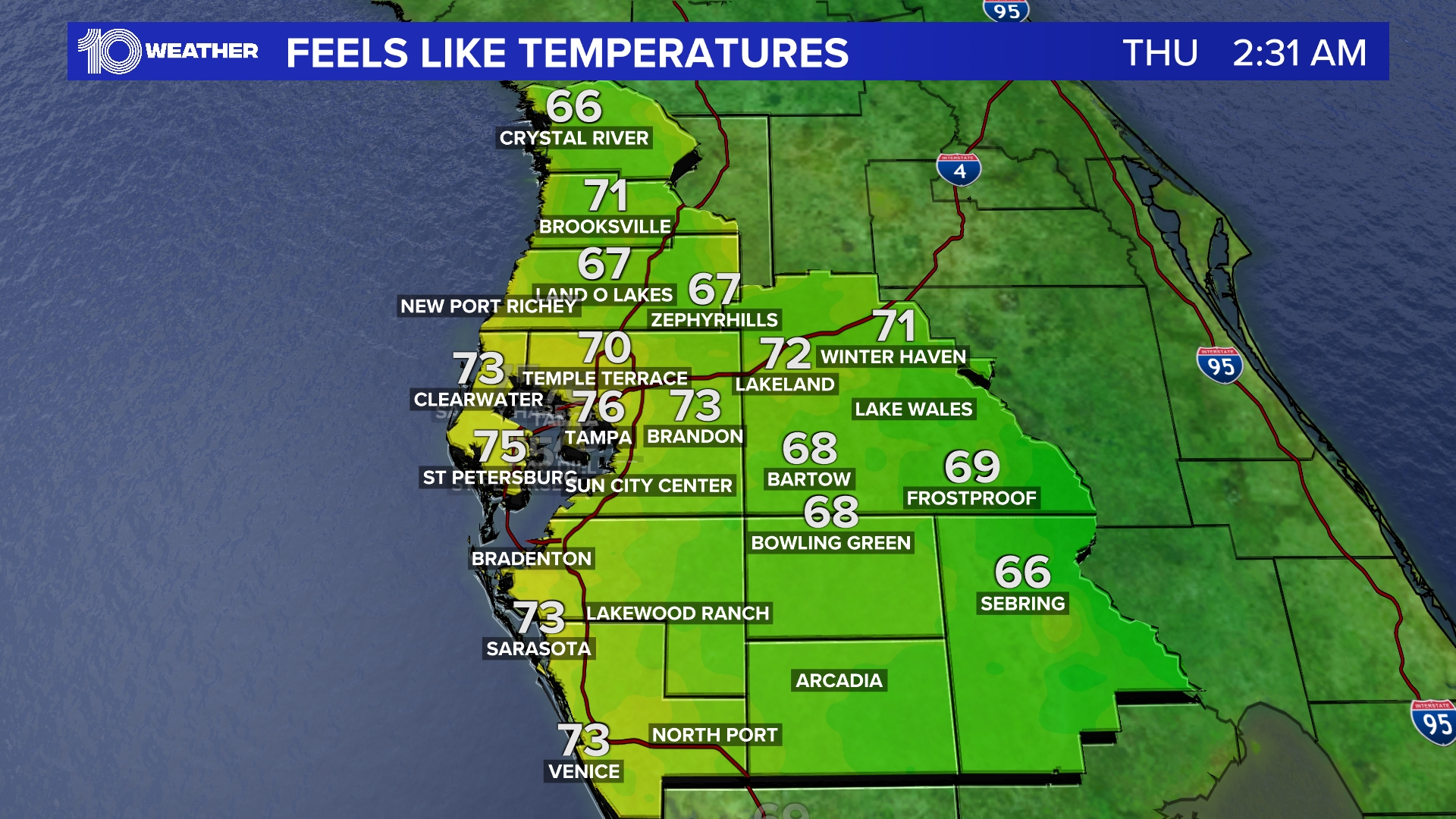 10News WTSP
The sticky summer-like feel is starting early, with Monday's wake-up temperatures starting out in the upper 60s to around 70 with high humidity settling in, 10Weather WTSP meteorologist Grant Gilmore said.
A cold front that's moving to the south and east could produce a band of showers to the north, but will weaken by the time it reaches the Tampa Bay area, Gilmore said. It could produce a 20 percent chance of an isolated shower, with highs climbing into lower 80s under partly cloudy skies.
After a weekend of record-tying temperatures, Monday's forecast high of 82 will be about 10 degrees warmer than usual, as the normal high for St. Petersburg for this time of year is 72. It also will be a couple of degrees shy of the record high of 84, set in 1959.
Clouds will build overnight and produce a chance for a stray sprinkle, with even more heat anticipated for Tuesday, Gilmore said. Highs will reach the mid-80s under muggy conditions, with another 20 percent chance for an isolated afternoon shower and partly cloudy skies.
Sunshine will become more prevalent by midweek and heading to the weekend, Gilmore said, with highs in the lower 80s but with less humidity.
MORE WEATHER:
DOWNLOAD: Get the tbo Weather App and see where storms are headed
LIVE RADAR: Interactive storm track, hourly outlooks, 10-day forecasts and weather alerts
ALERTS: The latest advisories from the National Weather Service