Catching you up on overnight happenings, and what you need to know today.
• Slightly warmer than average today, with temperatures in the mid 80s, according to 10Weather WTSP. And we should have a warm weekend with some clouds.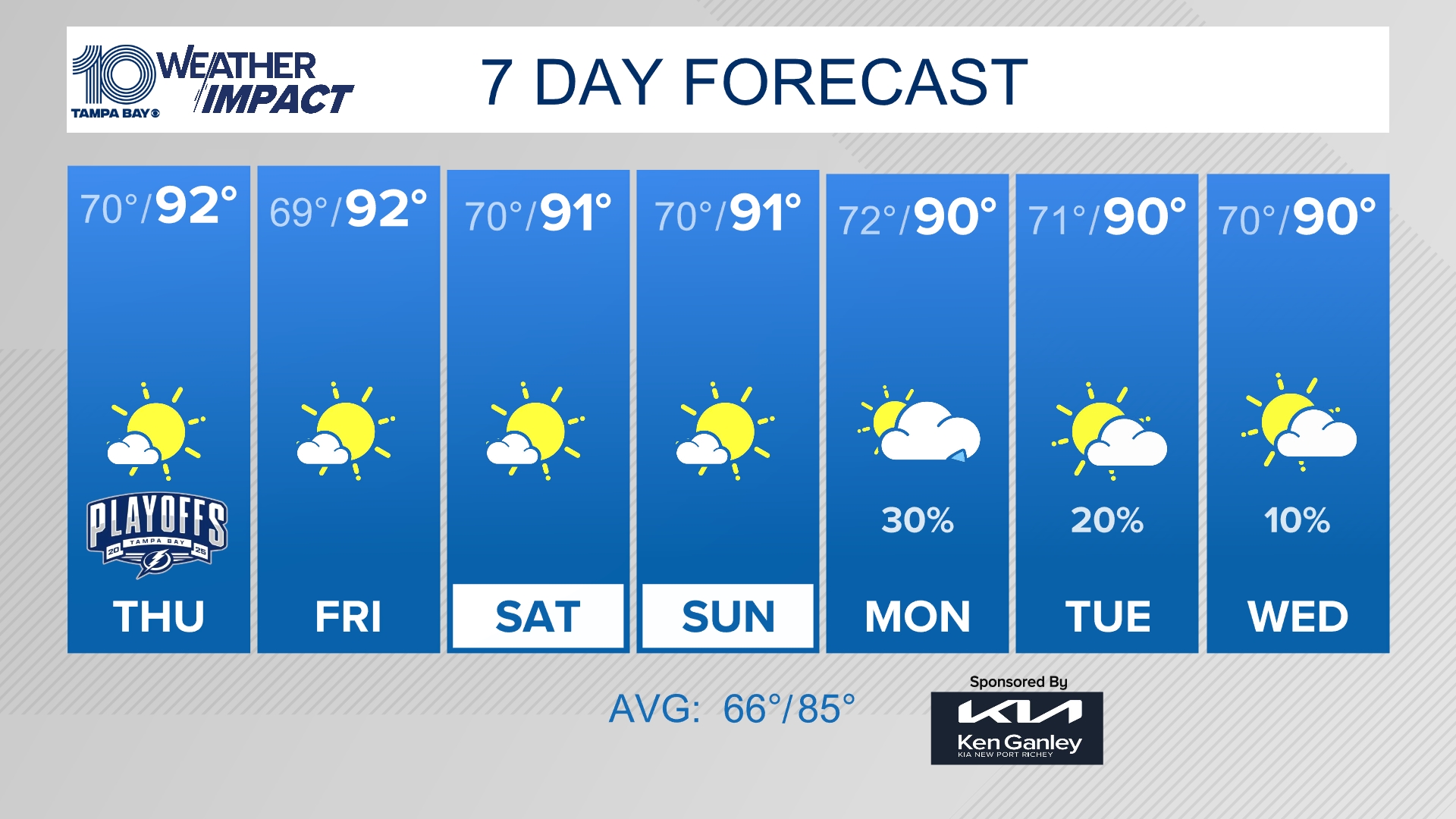 10News WTSP

• As you head out for your morning commute, check out our live blog for the latest traffic updates and road conditions across Tampa Bay.

10News WTSP

• Earlier this week former Maryland governor and former presidential candidate Martin O'Malley came to the Sunshine City to lend some Democratic help to St. Petersburg Mayor Rick Kriseman's re-election fight. Former President Barack Obama and Vice President Joe Biden have also endorsed Kriseman in his election battle against Rick Baker. Charlie Frago explains why Democrats are lining up to help Kriseman.

• Have you encountered the thousand of bats that lurk under the Laurel Street bridge along the Tampa Riverwalk? Officials have plans to alleviate that problem.

• The enthusiasm for career and technical education has been building in recent years as educators and lawmakers moved away from the once-popular notion that every student should try for a college degree. Now that push is reaching a new level as Pinellas and Pasco counties are taking steps to enter an arena that Hillsborough County's Tampa Bay Tech has dominated for decades: magnet technical high schools. We stop in at Tampa Bay Tech to talk to educators who have been involved in technical education for a long time to see what the attraction is.

• Like the rest of the nation, St. Petersburg had a tough time during the Great Recession. The city lost $11 million in investments when Lehman Brothers declared bankruptcy in 2008. Now incumbent Mayor Rick Kriseman is using that episode to attack his opponent in the mayoral race, Rick Baker, who ran the city at the time. Charlie Frago reports on Kriseman's allegation, Baker's defense and what actually happened in that case.

• After four days of jury selection, the quadruple murder trial of Adam Matos is expected to begin today in a New Port Richey courtroom. More than 200 prospective panelists were questioned. Some were asked about their views on the death penalty. Matos is accused of killing his ex-girlfriend, her parents and her new boyfriend in 2014. He faces the death penalty. The trial, which could last three weeks, is scheduled to start with opening statements at 9:30 a.m.

• Check out our preview of the new exhibit at the Salvador Dali Museum called In Daring Fashion: Dali and Schiaparelli. The Italian-born Elsa Schiaparelli was a prominent couture designer in Paris during the 1920s and '30s whose chief rival was Coco Chanel. In an exhibit of garments, jewelry, paintings, sculptures, prints and photographs, it's plain to see they were kindred spirits.

•Fun doesn't have to be expensive. Here are 5 things to do under $5 this week, including canopy tree climbing, a free concert on the Tampa streetcar and a Day of the Dead festival with shrines honoring local icons Snooty the manatee and rocker Gregg Allman.