Catching you up on overnight happenings, and what you need to know today.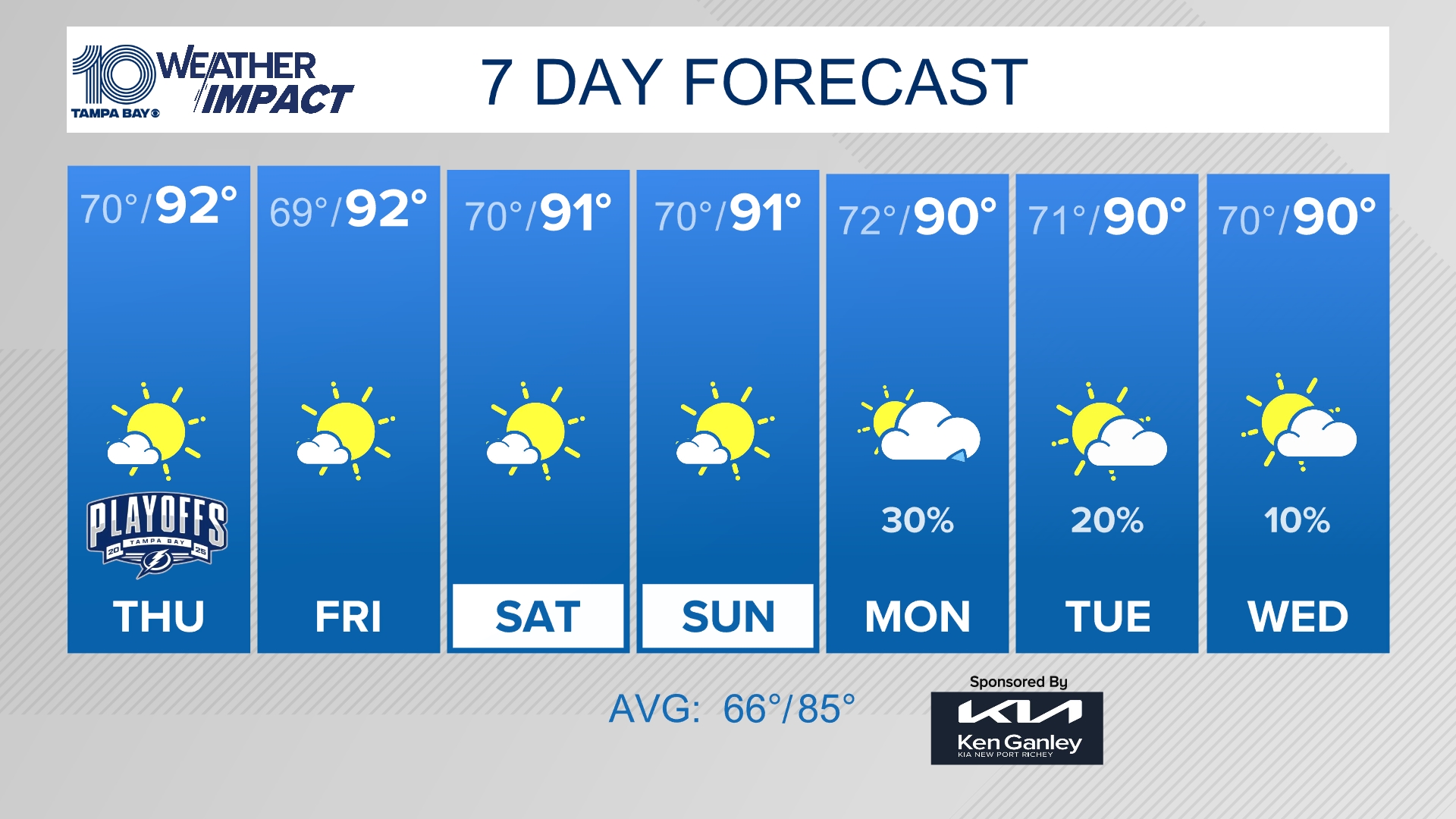 10News WTSP
10News WTSP
• Low temperatures continue this morning but it'll be pretty nice by the afternoon. It'll be in the high 40s overnight and then start to reach the mid-50s in the morning. Then it'll touch on the low 70s this afternoon before temperatures start falling again, according to 10Weather WTSP. That pattern will repeat Wednesday and Thursday, and we could see some showers on Friday.
• As you head out for your morning commute, check out our live blog for the latest traffic updates and road conditions across Tampa Bay.
• Polls are open today in Alabama's special U.S. Senate election. Democrat Doug Jones faces former judge Roy Moore, who has been accused of sexual misconduct. Moore denies the allegations. Alabama Secretary of State John Merrill expects only about 25 percent of eligible voters to cast a ballot, making the race difficult to predict.
• PolitiFact's 2017 Lie of the Year is ... Find out here and read more about it on PolitiFact.com.
• Here are the top things to do today in Tampa Bay included a rare appearance by Grammy winner Petula Clark and Andrew Lloyd Webber's Love Never Dies, his sequel to Phantom of the Opera, on stage today through Sunday at Tampa's Straz Center.
• An arraignment is scheduled this morning for the man accused of four Seminole Heights murders. Attorneys for Howell Emanuel Donaldson III have waived his appearance at the hearing. They may enter a plea on his behalf. A grand jury indicted Donaldson last week on four counts of first-degree murder as his parents refused to answer questions from investigators.
• Madeira Beach, put it succinctly, has been a mess lately with all the lawsuits, resignations, ethics complaints, recall petitions, firings and even death threats. John Romano writes about the intensely personal politics of this beach town at tampabay.com.
• The first night of Hanukkah is tonight and many congregations seem to be having a great time, because numerous Hanukkah celebrations this year are both fun and profound. There's a menorah made of fidget spinners and a falafel menorah and also a Meshuga Nutcracker. See our full list.
• Even as Congressional leaders look for ways to end Obamacare, record numbers of people are signing up for it. And Florida leads the way with more than 800,000 consumers signing up since Nov. 1. The deadline for 2018 coverage is Friday. Read today's report by health and medicine writer Justine Griffin.
• What are the best-paying jobs out there? Think medical, a new study indicates. And they don't necessarily mesh with the most prevalent job openings in Florida, unfortunately.
• The latest obstacle keeping the Rays from contending in the American League East loomed even larger Monday afternoon in pinstripes. The Yankees' formal introduction of Giancarlo Stanton also could be an accelerant to the departure of Evan Longoria — and some familiar for-the-moment teammates — as the Rays acknowledge and accept that the gap between them and the best team in their division is now a gulf, Marc Topkin writes. Stay with tampabay.com for the latest on the winter meetings.
• Food critic Laura Reiley checked out the 1895 Kitchen-Bar-Market in downtown Tampa, a "Southern comfort bar and kitchen" concept where the cocktails are fueled by wholesome cold-pressed goodies from Urban Juice. Read here what she found in a couple of visits
• Hillsborough County has become one of only two counties in Florida with two Planned Parenthood clinics. A second location opened in October on Bearss Avenue in Tampa. Among the reasons for the expansion, according to the organization: high local rates of teen pregnancy and sexually transmitted diseases.
• The owners of Ichicoro Ramen in Seminole Heights today open a new location in downtown St. Petersburg called Ichicoro Ane. (Ane means big sister). Check out our photos of the new place that's getting lots of buzz.
• Residents heard a discussion of Florida's criminal justice system in Tampa on Monday night and got a preview of which reforms will be proposed for the 2018 legislative session. Read the story by TyLisa Johnson at tampabay.com to find out more.