Catching you up on overnight happenings, and what you need to know today.
The fog returns and is expected to roll across the bay area about 7 a.m., from Hudson to downtown Tampa to the beaches. A dense dog advisory will affect Pinellas and Manatee counties until 10 a.m. Then rain showers will roll in during the afternoon, followed by cooler temperatures dropping to the 50s and 60s this weekend, according to 10Weather WTSP. There's a slight chance of rain, too.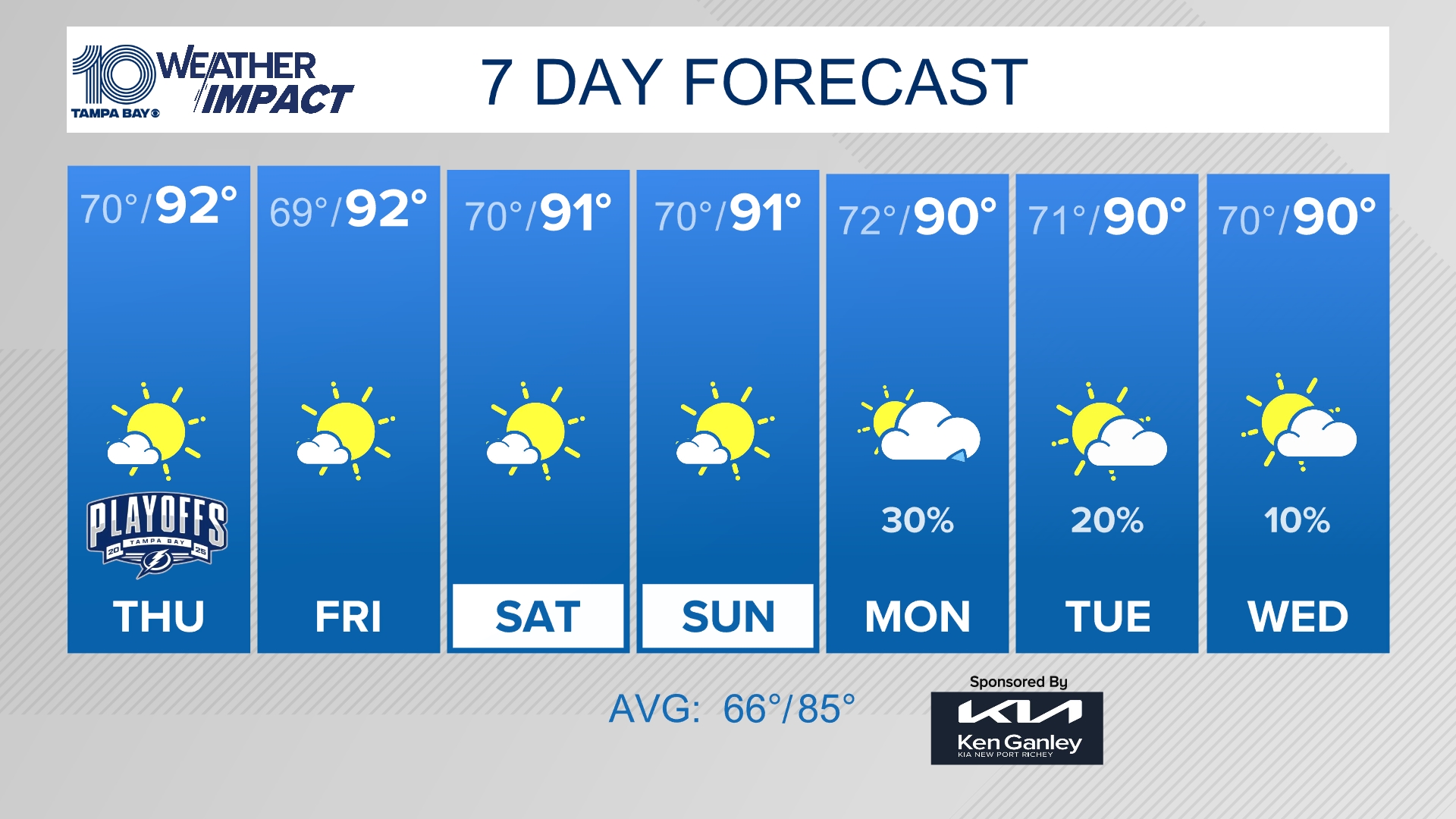 10News WTSP
10News WTSP
• As you head out for your morning commute, check out our live blog for the latest traffic updates and road conditions across Tampa Bay.
• Here are the top things to do today in Tampa Bay, including ditching work early to catch Ferris Bueller's Day Off at the Tampa Theatre, the Florida Orchestra Pops series plays the music of Rodgers and Hammerstein and comedian Nikki Glaser will have the audience blushing at the Improv.
• Bus rapid transit appears to have replace light rail as the region's best hope of building a transit system that spans the Tampa Bay area. tampabay.com Caitlin Johnston explains why
• President Donald Trump grew frustrated with lawmakers Thursday in the Oval Office when they floated restoring protections for immigrants from Haiti, El Salvador and African countries as part of a bipartisan immigration deal, several people briefed on the meeting told the Washington Post. "Why are we having all these people from s----hole countries come here?" Trump said, according to these people, referring to countries mentioned by the lawmakers. Stay with tampabay.com for any fallout from his comments.
• Last year was a grim one for the city of Tampa: 39 people were slain in 2017, the most in nearly 15 years, and 27 of them were African-Americans. That includes the four victims of the Seminole Heights serial killer and the two roommate killed by a self-described former neo-Nazi. Tony Marrero explores Tampa's deadly year.
• Florida's reputation precedes it when it comes to oddities. Headlines containing "Florida man" followed by bizarre crimes regularly make national roundups, while critter news such as "toilet iguanas" have an "only-in-Florida" feel. But it's also a strange state for consumers. Florida has some rather one-of-a-kind laws, while other laws commonplace in much of the country are absent here.
• During a recent Insane Clown Posse concert at Jannus Live, the horrorcore hip-hop duo known for wearing macabre clown makeup started spraying soda at the crowd. Then they invited Juggalos and other concertgoers to join them on stage. One of them slipped on the Faygo — a soda popular in ICP's hometown of Detroit and a common staple of the band's concerts — and is now suing. Laura C. Morel has the details.
Keep up with Tampa Bay's top headlines
Subscribe to our free DayStarter newsletter
We'll deliver the latest news and information you need to know every morning.
You're all signed up!
Want more of our free, weekly newsletters in your inbox? Let's get started.
Explore all your options
• Everything has gone so smoothly for the Lightning this season. Then came Thursday. The Lightning's 5-1 loss to the Flames was meaningless compared to the sobering sight of All-Star defenseman Victor Hedman having to be helped into the dressing room early in the second period. Hedman suffered a lower-body injury after his left knee buckled in a knee-to-knee collision with Flames wing Garnet Hathaway. Coach Jon Cooper said the injury's severity wouldn't be known until Hedman had tests today. But this one looked bad, Joe Smith writes. Stay with tampabay.com for updates.
• An actor famous for playing a radio station manager will star this week in the world premiere of a radio play. Mike Hammer — Encore for Murder brings Gary Sandy, who played Andy Travis on WKRP in Cincinnati, to Ruth Eckerd Hall. Sandy will play the tough private eye opposite Netflix and Discovery Channel veteran Mary Rachel Dudley as Rita Vance, who goes missing. The show brings Zev Buffman, who produced 41 Broadway shows, into the creative end of a play for just the second time since he took over as Ruth Eckerd's CEO in 2012. Andrew Meacham has the details.
• Before Saturday's Sunshine Music Festival in Vinoy Park, pop music critic Jay Cridlin talked to Phish bassist Mike Gordon about his iconic jam band, the influence of the Allman Brothers and covering a favorite Tom Petty song.
• Wallet a little light these days? Here's 5 things to do under $5 this week including a kite festival on Treasure Island, free readings from top authors at Eckerd College and the largest dog show in Florida.
• Are you ready for Martin Luther King Jr. weekend? Here's a roundup of MLK Day events this weekend and beyond including a block party and battle of the bands, several parades on Monday and a free talk by singer and activist Harry Belafonte, who developed a deep friendship with King and played a key role in the civil rights movement.