Catching you up on overnight happenings, and what you need to know today.
• As Tropical Storm Philippe moves away from Florida, you'll have a sunny but chilly start to your week, according to 10Weather WTSP.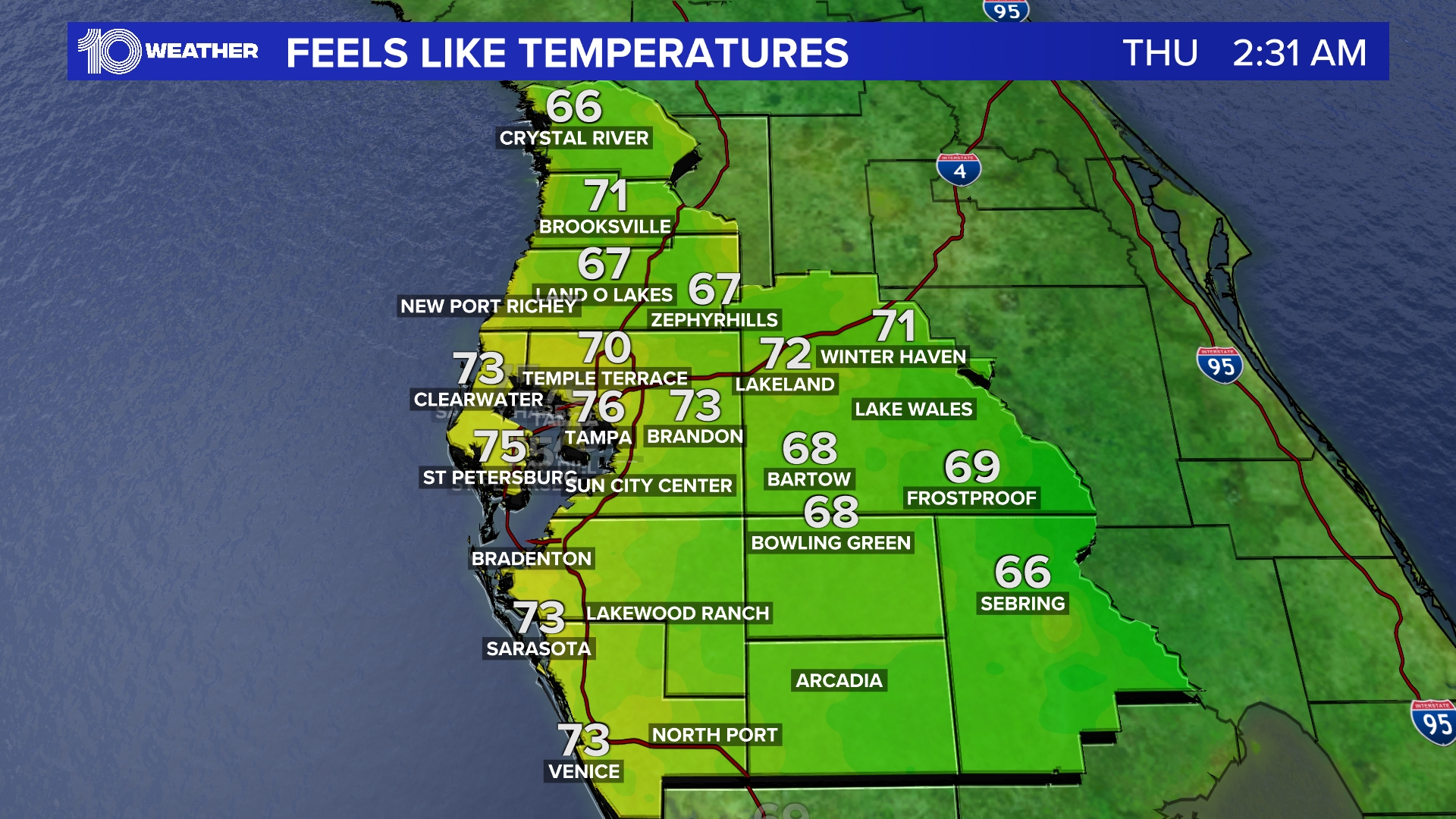 10News WTSP

e_SClB

10News WTSP

• As you head out for your morning commute, check out our live blog for the latest traffic updates and road conditions across Tampa Bay.

• The University of Florida has cut ties with head football coach Jim McElwain. It was announced Sunday that McElwain and the university have mutually agreed to part ways. Defensive coordinator Randy Shannon will serve as interim coach for the remainder of the season. Florida and McElwain are still negotiating the final terms of his exit.

• Pinellas County deputies in the newly-formed Construction Licensing Investigative Unit are scouring the county for unlicensed contractors who break the law and fleece money from vulnerable homeowners. Instead of looking for speeders and dope slingers, these deputies look for ladders on houses, vehicles with out-of-state plates and trucks overflowing with tools and building materials.

Sheriff Bob Gualtieri started the six-month pilot program in August in response to growing public outcry about a rampant problem: scam artists who promise cut-rate deals on home repairs, but instead deliver shoddy workmanship or fail to complete a job after accepting up-front payments. Mark Puente has the story.

• With all the back and forth over the future of Obamacare, insurers and insurance navigators are running into lots of people who have bad information about the program, which continues to operate even as Republicans try to undo it. With the annual enrollment period starting this Wednesday (Nov. 1), Justine Griffin sorts out what's true and not true about the Affordable Care Act.

• Gov. Rick Scott's disaster management agency repeatedly violated federal requirements to timely reimburse cities and counties in Florida for the cost of storm damage, agency auditors discovered in routine reviews. The state's slow pace will likely become a bigger issue because reimbursement costs will be higher from Hurricane Irma, the Category 4 storm that caused widespread destruction starting Sept. 10 in the Keys and along much of Florida's southwest coast. Steve Bousquet has the story.

• As Florida's lawmakers grapple with the opioid crisis, one U.S. representative says there's a correlation between states that expanded Medicaid through Obamacare and states affected the worst by the epidemic. Republican U.S. Rep. Matt Gaetz, R-Fort Walton Beach, shared this factoid on Twitter on Oct. 17: "Opioid crisis the worst in ObamaCare expansion states!" Experts told PolitiFact Florida that the theory ignores critical facts and does not take into account the other factors. Read the analysis this morning on tampabay.com.

• Ernest Hooper's latest column is about planning. Namely, how the planning that goes into a potential Rays stadium in Ybor City could impact more than 1,000 people living on the periphery of the proposed site. Planning that will affect their lives for better or for worse.Read his column here.

• On the job hunt? Tampa International Airport is hosting a concessions job fair from 10 a.m. to 4 p.m. today to fill about 170 openings in shops, restaurants and rental car offices as the airport adds 69 new retailers and services. Find out more here: http://www.tampabay.com/news/briefs/170-jobs-featured-at-tampa-international-airport-job-fair-monday/2342642

• It's been three years since downtown St. Petersburg hosted a half marathon. The new

St. Pete Run Fest coming the weekend before Thanksgiving aims to go the distance with youth runs, a 5K, a wellness market in addition to the half marathon and a year-round program of fitness efforts.

• Food critic Laura Reiley has 5 new Tampa Bay area restaurants you should check out this month.

• Plan your week! Here are the top things to do this week in Tampa Bay including actor John Cleese at a Monty Python screening, comedian Tracy Morgan, hip-hop superstar Chance the Rapper at the Last Damn Show and oddities at the Two-Headed Calf Fest at a local museum.