Catching you up on overnight happenings, and what you need to know today.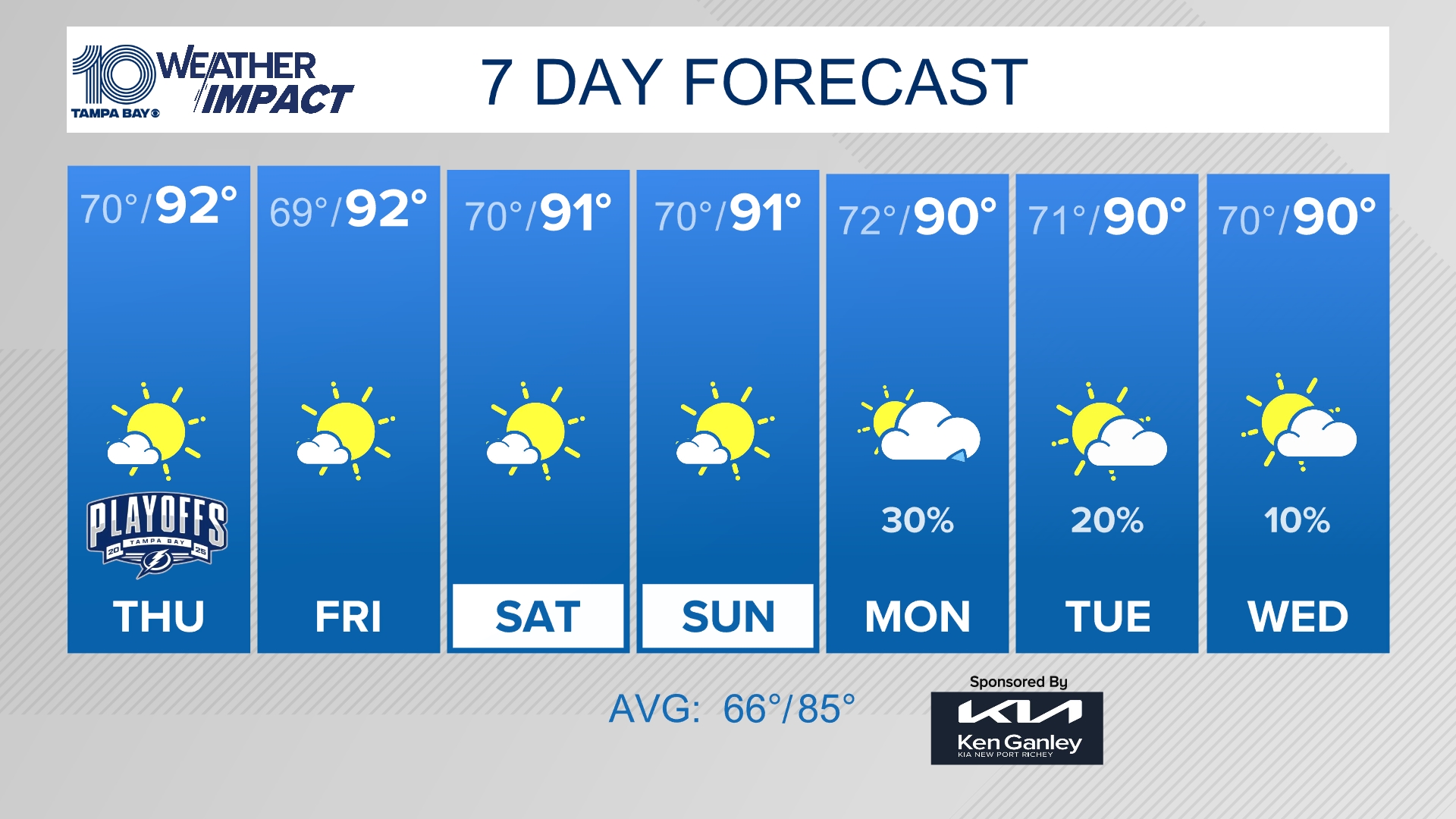 10News WTSP
10News WTSP
• Goodbye cool weather. Your stay was far too short. Humidity and temperatures in the 80s is forecast to return this week but could colder temps could return by the weekend. Complete forecast on 10Weather WTSP.
• As you head out for your morning commute, check out our live blog for the latest traffic updates and road conditions across Tampa Bay.
• Here are the top things to do today in Tampa Bay including the Tony Award-winning musical Fun Home at Tampa's Straz Center and Joselito da Puppet, a comic puppet with a YouTube following.
• Judy Day was 17 and recently graduated from Dixie Hollins High School when a man she'd never met hopped into her car, told her she was pretty and then groped her. For nearly 50 years, she kept the story to herself. But then a wave of sexual misconduct allegations surfaced across the country, many from women who had kept similar secrets for years. So Day decided to step forward. She's not alone.
• Today is Giving Tuesday, a global effort to remind us that this is the time of year local nonprofits could use your help. Many of the ones who feed the poor tell us there has been a big bump in demand after Hurricane Irma. As Black Friday and Cyber Monday kicked off the shopping portion of the holiday season, expect to see the hashtag #GivingTuesday kick off the charitable endeavors that accompany the holidays.
• The Brian Setzer Orchestra's annual Christmas Rocks Tour hits Tampa Bay for the first time ever tonight. It's a long time coming for Setzer, the swing and rockabilly hero whose annual holiday tour sells out venues coast to coast. Pop music critic Jay Cridlin talked to the Stray Cat Strut creator before tonight's show at Ruth Eckerd Hall about his friendship with Tom Petty and his career's third act as a new legend of the holidays.
• Tampa Tribune reporter David Sommer died over the summer but authorities said little about the case until recently. After his death was declared a homicide and an arrest was made, family and friends of Sommer are recalling the newspaperman they knew. Read what they had to say.
• The folks who supported him in the polls, the crowds that applauded him at multiple Tiger Bay functions, the social media purveyors eager for his latest snark were not enough to persuade John Morgan to seek the Democratic nomination for governor, according to columnist John Romano. So, should they now try shame? Because Morgan's sorta-definitely-maybe decision not to run for governor feels kind of cheesy and self-serving at this point, he writes.
• When Dan Mullen was introduced as the 27th head football coach in Florida history, he talked about the excitement he felt that first day as Mississippi State head coach. Then he sat in his new office. One thing hit him. "What do I do now?" Mullen felt the same way Monday in Gainesville in his new office. Columnist Martin Fennelly writes that he is older, wiser, but the job of rebuilding Florida football excellence was not lost on him, for he was part of that very excellence for two national championships as Gators offensive coordinator from 2005-08.
Keep up with Tampa Bay's top headlines
Subscribe to our free DayStarter newsletter
We'll deliver the latest news and information you need to know every weekday morning.
You're all signed up!
Want more of our free, weekly newsletters in your inbox? Let's get started.
Explore all your options
• Stay on top of the latest news in Florida politics by signing up for the Daily Buzz newsletter. Our first-rate political reporters send out the top five stories every Monday-Friday at 3 p.m. Sign up today.
• Get out your calendars, we've rounded up the top holiday parades, shows and concerts coming this season so you can get a jump on tickets or plan a family outing.
• From the food editor, a cookbook review of a family's famed peasant bread inspires Bread Toast Crumbs subtitled No-Knead Loaves and Meals to Savor Every Slice it's nice to have the family secret out.
• Look for Tampa Bay's biggest public company by revenues to see a stock market bump this morning. Shares in Tech Data Corp. jumped more than four percent in after-market trading Monday after the IT products distributor reported quarterly results that beat Wall Street expectations for both profits and revenues.
• Nearly 100 applicants put in to be part of Tampa Bay' Wave's accelerator program — its biggest field ever. Here are the 13 young startups that made the cut:tampabay.com/business