Catching you up on overnight happenings, and what you need to know today.
• No jackets needed for the first day of winter. High temperatures will peak at about 80 degrees, according to 10Weather WTSP. Look out for morning showers.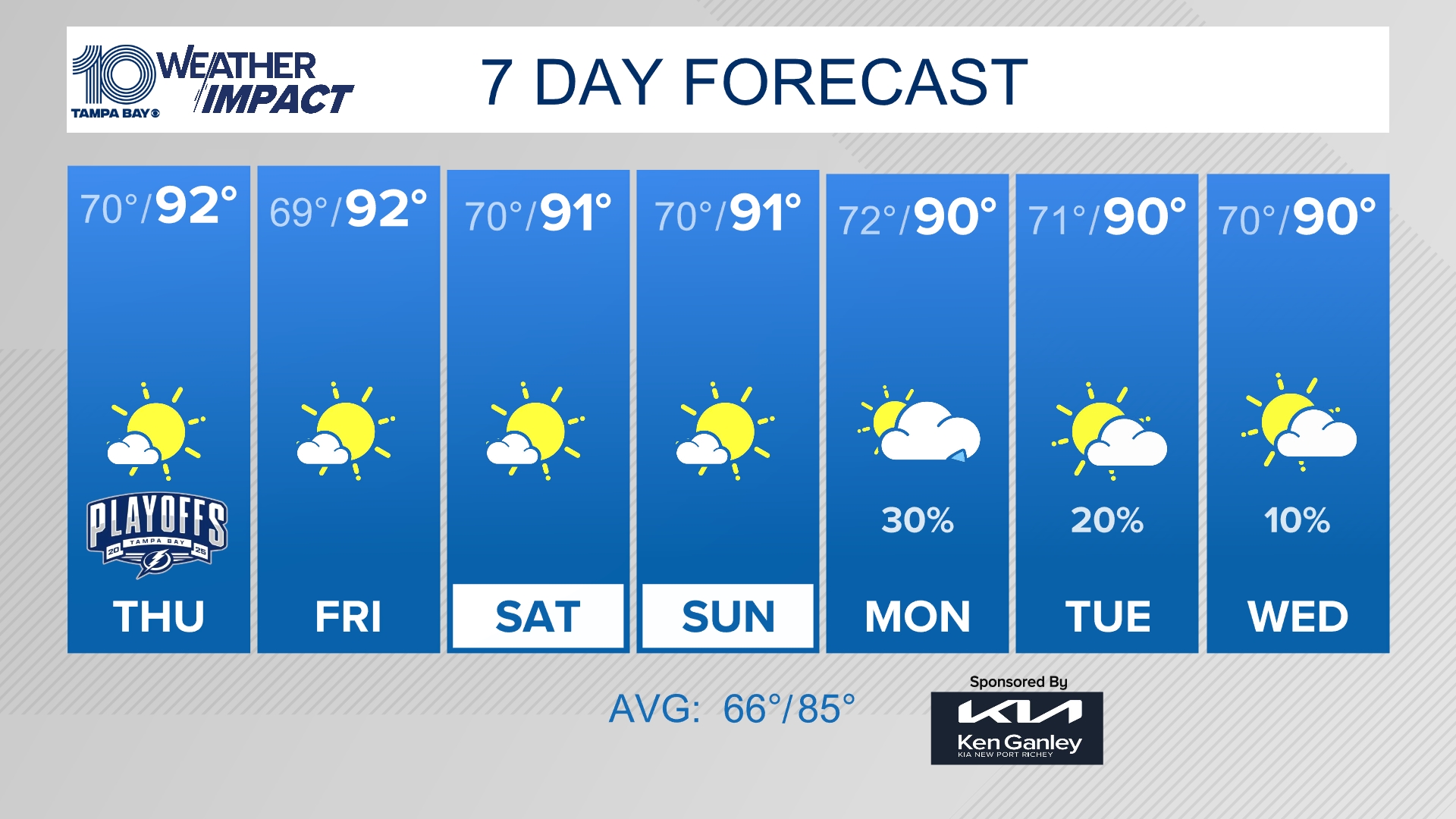 10News WTSP
10News WTSP
• As you head out for your morning commute, check out our live blog for the latest traffic updates and road conditions across Tampa Bay.
• Seminole Heights breathed a sigh of relief when police announced an arrest in the series of four fatal shootings. But a month later, the evidence pointing to who is responsible still doesn't point to why. Anastasia Dawson reports on how many in the community are trying to fill in those blanks.
• The Rays have said so long to Evan Longoria after the greatest player in franchise history was traded Wednesday to the San Francisco Giants. Check out our live briefing for details on the trade and the players the Rays received in return, viewpoints from Times columnists Tom Jones and Martin Fennelly, and a look at Longoria's career and legacy in Tampa Bay.
• Santa Claus is a man. We know, because we surveyed close to 700 Santa Clauses across the country, and only two of them claimed to be women. We contacted Santa schools, trade organizations and a business that caters to Santas seeking cookie and peppermint-scented colognes. With the help of the International Brotherhood of Real Bearded Santas, the Santa Claus Conservatory, Pro Santa School and SantaScents, Christopher Spata distributed a 25-question survey to Santa Clauses across the United States to find out more about those who wear the red suit during the Christmas season. Here's what we learned.
• P.T. Barnum famously said there's a sucker born every minute. In film critic Steve Persall's review of The Greatest Showman opening this weekend, he admits "I'm a sucker for his movie."
• Tampa City Council meets at 9 a.m. Thursday morning and there's plenty on the agenda, starting with an attempt to reshape an old bath house ordinance to crack down on sex acts taking place in massage parlors. Follow reporters Divya Kumar at @divyadivyadivya and Paul Guzzo at @PGuzzoTimes for updates from the council throughout the day.
• Christ United Methodist Church, whose illuminated cross rises next to St. Petersburg City Hall, is poised to capitalize on downtown's development boom. It has put its parking lot up for sale. The church, which has embarked on an ambitious rebirth strategy following the arrival of a new pastor 17 months ago, says the property at First Avenue N and Fifth Street is drawing widespread interest. Read how much church officials think they can get for the lot at tampabay.com.
• St. Petersburg's William "Bill" Wallace, one of the partners of Wallace, Welch and Willingham's Insurance, will be remembered for his work ethic and commitment to the community. Mr. Wallace, 90, died Saturday. Read about Mr. Wallace's life.
Keep up with Tampa Bay's top headlines
Subscribe to our free DayStarter newsletter
We'll deliver the latest news and information you need to know every weekday morning.
You're all signed up!
Want more of our free, weekly newsletters in your inbox? Let's get started.
Explore all your options
• It's time to plan your weekend! Our critics and writers have laid out their top picks for date night and family fun on our Weekend Planner page.
• Here are the top things to do today in Tampa Bay, including the Gasparilla Bowl at Tropicana Field, renowned dancers at Next Generation Ballet's The Nutcracker, and Rockapella Christmas brings holiday classics sung a cappella style.