Catching you up on overnight happenings, and what you need to know today.
• For the latest legislative coverage from Tallahassee, keep checking The Buzz, which is updated throughout the day by the reporters of the Times/Herald Tallahassee Bureau.
• Record high temperatures will continue across the bay area. In fact, it's the warmest temperatures ever recorded in December, January and February, and that won't let up on Wednesday, according to 10Weather WTSP. The earliest it will cool down will be Sunday, and hopefully some rain will help.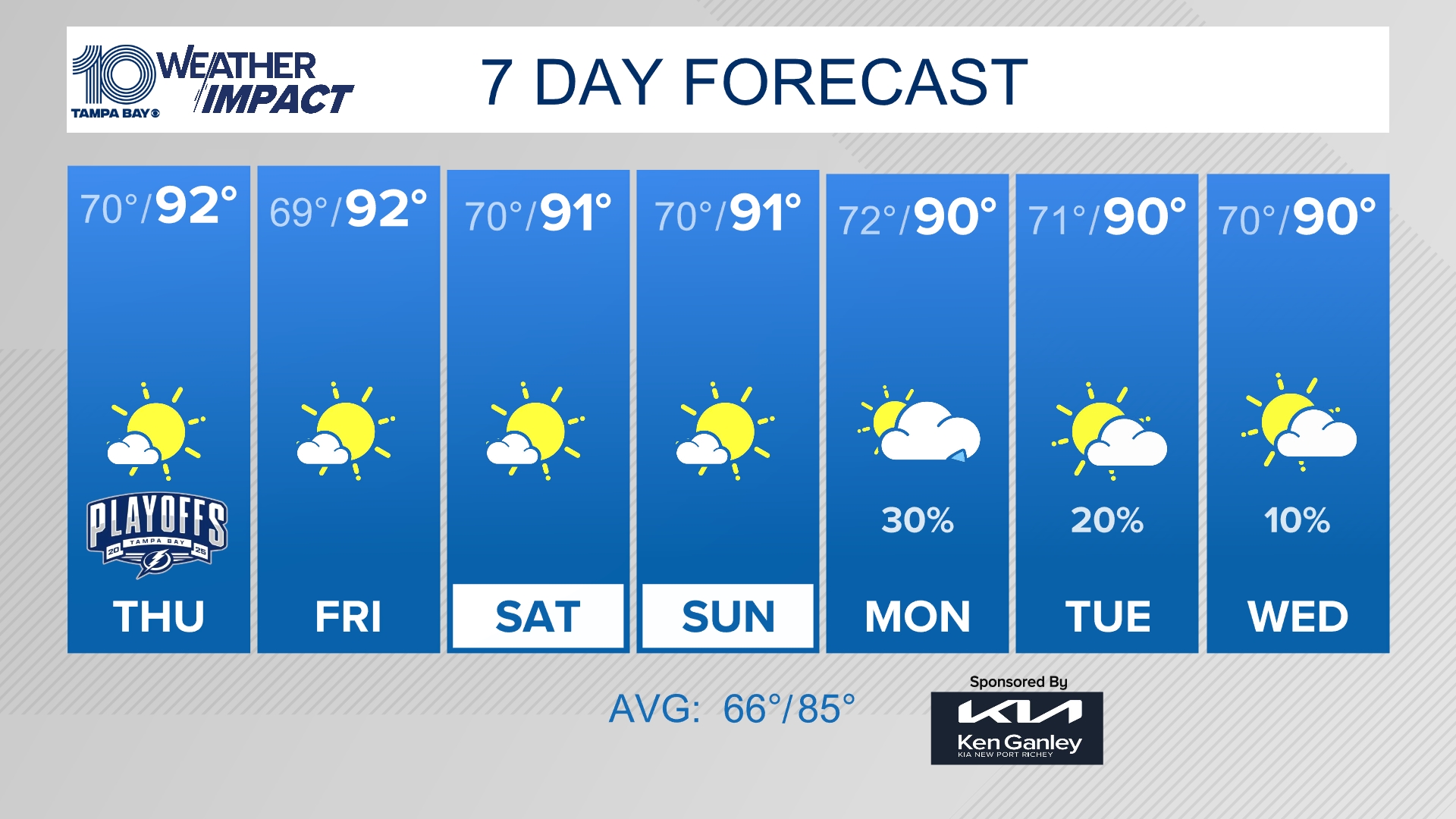 10News WTSP
10News WTSP
• As you head out for your morning commute, check out our live blog for the latest traffic updates and road conditions across Tampa Bay.
• A week ago, 17 people at Marjory Stoneman Douglas High School were killed by a gunman. Today, students from the Parkland school will urge lawmakers to pass gun control legislation. After arriving in Tallahassee on Tuesday night, the students will appear at the Capitol at 8 a.m., where they will conduct a series of meetings with Attorney General Pam Bondi, CFO Jimmy Patronis, Senate President Joe Negron, House Speaker Richard Corcoran and Gov. Rick Scott. Meanwhile, the Florida League of Women Voters and several gun control groups will hold a rally. It'll be a busy day . Check tampabay.com throughout the day for updates..
• Brothers David and Archie Boston grew up together in St. Petersburg's segregated black community, where pioneering icons inspired them. Now they want to use those stories to inspire another generation. Donovan Harrell reports on what inspired the brothers to produce the documentary Black Pioneers of St. Petersburg, which is set to debut on public television this month, at tampabay.com.
• Here are the top things to do today in Tampa Bay including R&B great Mary J. Blige at Amalie Arena, the St. Petersburg Jazz Festival kicks off and the Pasco County Fair has a midway and entertainment.
• Pop music critic Jay Cridlin talked with Chris Barron of the Spin Doctors who is coming to Tampa this week. Find this and more music news on our Soundcheck music blog including news that Snoop Dogg and T.I. are scheduled to headline the inaugural Halftime Music Festival in May 5 at Raymond James Stadium. And Coheed and Cambria and Taking Back Sunday embark on a summer tour that stops at the MidFlorida Credit Union Amphitheatre.
• It may have been scheduled two months ago, but the active shooter training at Largo High School was even more relevant days after the Parkland school attack. Colleen Wright reports on what students and parents learned to do in case a shooting attack takes place at their school.
Keep up with Tampa Bay's top headlines
Subscribe to our free DayStarter newsletter
We'll deliver the latest news and information you need to know every morning.
You're all signed up!
Want more of our free, weekly newsletters in your inbox? Let's get started.
Explore all your options
• In the 1940s, David and Archie Boston grew up together in the Gas Plant neighborhood and hung out together on 22nd Street S, where black residents created their own main street, their own haven, in the midst of a segregated city. There the brothers met the prominent members of St. Petersburg's black community who helped shape their lives. Now the Boston brothers want to use the stories of those pioneers to inspire the next generation. Donovan Harrell tells of the documentary that will debut today at the Dr. Carter G. Woodson African American Museum.
• Today's WriteLane is about finding narratives off the news. The weekly podcast features Lane DeGregory, a Pulitzer Prize-winning reporter at the Tampa Bay Times, discussing her stories and answering questions. In this week's episode, DeGregory talks about a police officer's widow and her return to her kindergarten class, about the neighborhood where Trayvon Martin was killed and the aftermath of the Pulse nightclub shooting.
• Get weekly cooking tips and recipes, short how-to videos and more at Stark From Scratch, a new cooking blog from Times food editor Michelle Stark.
• Evan Longoria traded in December. Jake Odorizzi and Corey Dickerson dumped over the weekend. Then, in a stunning move Tuesday night, 2017 team MVP Steven Souza Jr. was swift and largely negative. Follow Marc Topkin @TBTimes_Rays and stay with tampabay.com for the latest on the Rays.
• Nikita Kucherov's trick shot works again as the Lightning pulls out a tense 4-2 road victory over the Washington Capitals.
• Want to talk about the Lightning's recent play or moves the team might make before the upcoming NHL trade deadline? Join Tampa Bay Times Lightning beat reporter Joe Smith live on Facebook Wednesday at noon. Bring your questions, and he'll answer as many as possible during the chat.