Catching you up on overnight happenings, and what you need to know today.
• It's looking a lot like ... spring ... for Christmas. After thick fog lifts this morning, most of the bay area will see temperatures touch the 80s today, thought it may be a tad cooler along the coast. Make sure to wear sunscreen this Christmas. Check out the forecast from 10Weather WTSP.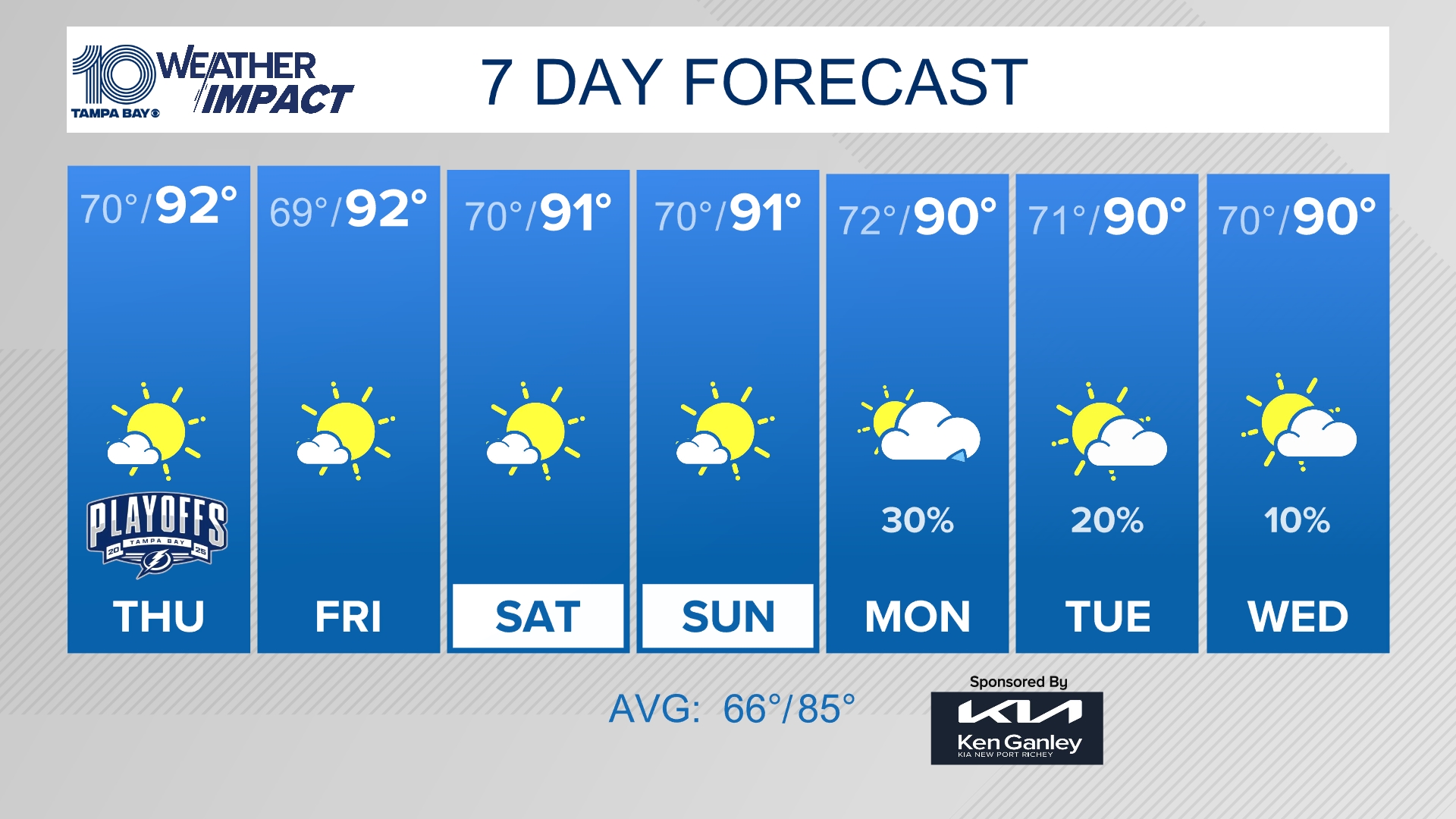 10News WTSP
10News WTSP
• As you head out for your morning commute, check out our live blog for the latest traffic updates and road conditions across Tampa Bay.
• Here are the top things to do today in Tampa Bay including Drag Queen Bingo, Tomaseen Foley's Celtic Christmas and blues man Selwyn Birchwood.
• Gruden Week was fun while it lasted, but it ended with a thud and the Bucs' 24-21 loss to the Atlanta Falcons on Monday Night Football at Raymond James Stadium. The Ring of Honor ceremony was one big group hug, writes Martin Fennelly. Now that it's over, Tampa Bay is still left with a bad football team, writes Tom Jones. Or is it? The Bucs are wobbly and wounded, writes Rick Stroud, but there was something special about the way they hung in against the Falcons, and it was mostly Jameis Winston.
• Voters who live in State House District 58 in Hillsborough County have an election today. They'll choose from four candidates vying to replace state Rep. Dan Raulerson, who is stepping down for health reasons. Follow today's special election at tampabay.com.
• It's the Seminole Heights surveillance video seen around the world. A hooded figure calmly walks down E Frierson Avenue, appearing to flip a phone in his hand, on the night of Oct. 9. Then, moments later, the same person is seen running in the opposite direction. Tampa police released the clips, eventually saying they believed it was the man responsible for the string of killings in the neighborhood. The cameras that captured the snippet replayed on national news for weeks are attached to Patrick and Kelly Holladay's bungalow in Seminole Heights. It would have been nice, they said Monday, to have shared in the $110,000 reward money after Howell Emanuel Donaldson III was arrested last month. Tony Marrero has the details.
• Is $26,500 too much for St. Petersburg to pay per parking space in a downtown that has less and less parking all the time? John Romano writes about the city's plan to pay a developer to build a much-needed parking garage in the Edge District. Find out what he thinks about the plan.
• Tampa International Airport sees about one-fifth as many passengers as Hartsfield-Jackson Atlanta International Airport, but a major power outage here could cause disruptions to air travel, too. That said, TIA has taken steps to create "redundancy after redundancy" to mitigate the impact of an Atlanta-style power loss as much as possible, airport spokeswoman Janet Scherberger said Monday.
Keep up with Tampa Bay's top headlines
Subscribe to our free DayStarter newsletter
We'll deliver the latest news and information you need to know every weekday morning.
You're all signed up!
Want more of our free, weekly newsletters in your inbox? Let's get started.
Explore all your options
• Do you have a plan to defeat small drones? Do you want to win money with that idea? If you answered yes to both, then U.S. Special Operations Command wants you to take part in its "Game of Drones" contest, which offers $600,000 in prize money to help find the best ways of countering small drones that threaten U.S. and allied forces. Howard Altman has the details.
• The much buzzed-about movie The Shape of Water opens this week and film critic Steve Persall says you'll find horror, humor and romance in a creature feature from master fantasist Guillermo del Toro.
• From the food editor: Find some Christmas comfort foods from an easy Croissant Chocolate Bread Pudding to Bacon-Wrapped Dates With Goat Cheese, and settle in for a little comfort and joy