Catching you up on overnight happenings, and what you need to know today.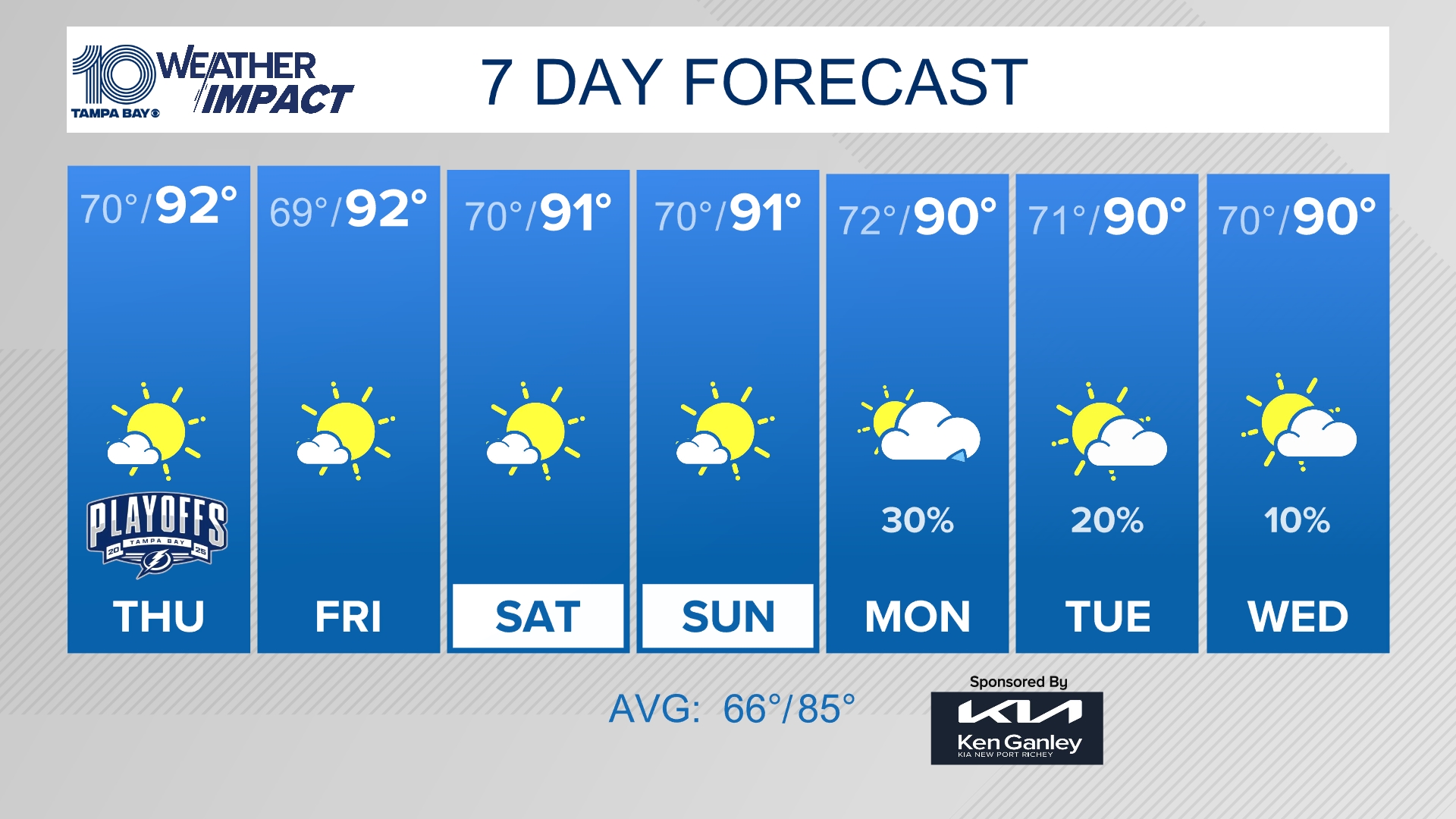 10News WTSP
10News WTSP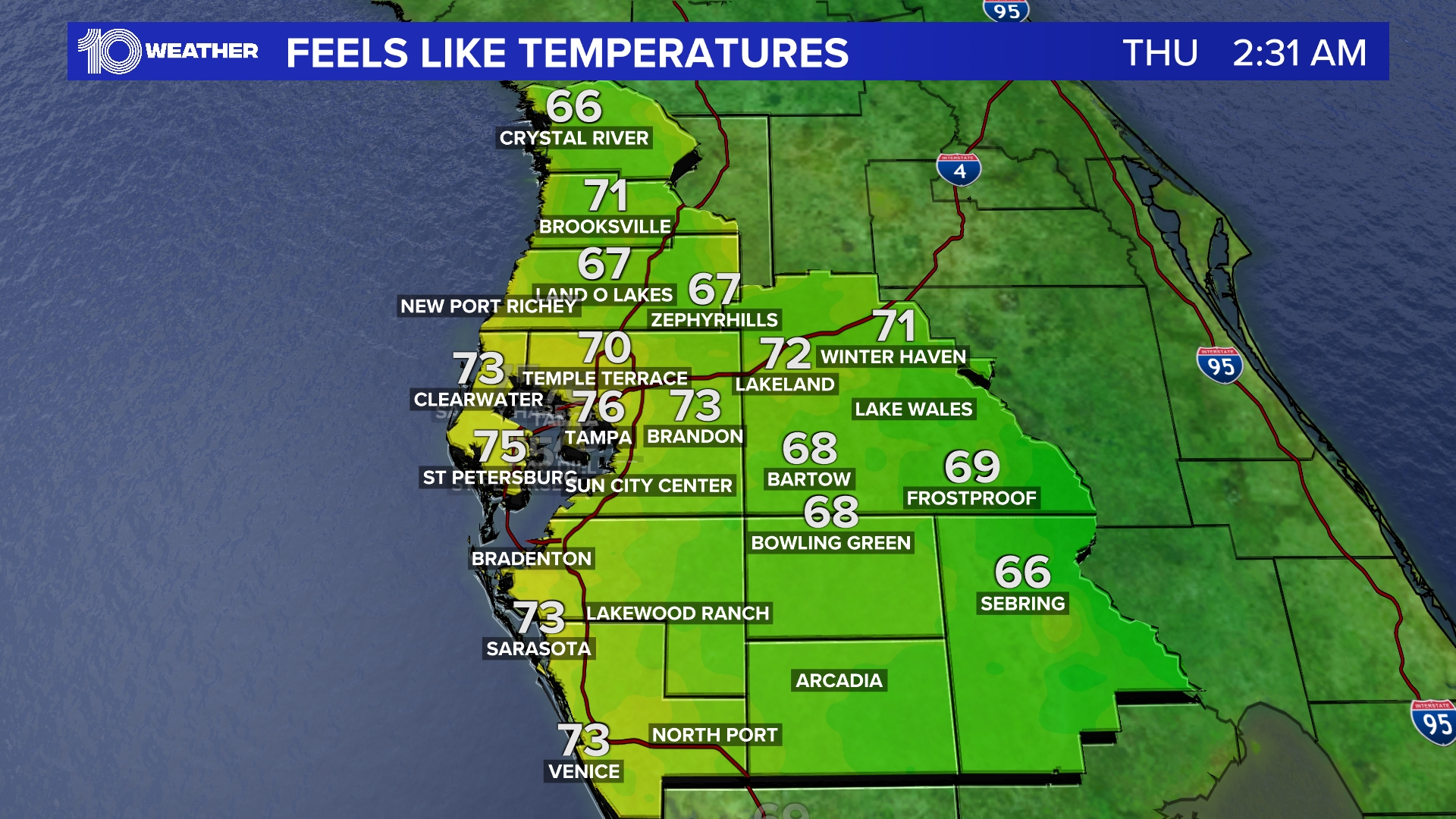 10News WTSP
10News WTSP
• Expect temperatures in the high 60s this morning, warming to the upper 80s later in the day, according to 10Weather WTSP. Dry through Saturday with a chance for some showers late Sunday or early Monday. Check our live radar for a look at current conditions.
• Before heading out for your morning commute, consult our live blog for the latest traffic updates and road conditions across Tampa Bay.
• Here are the top things to do today in Tampa Bay.
• Before a packed house Thursday night, the Clearwater City Council voted 5-0 to buy a prized piece of downtown land for $4.25 million from the Clearwater Marine Aquarium, undercutting the Church of Scientology. The church had offered $15 million and pledged to sweeten the deal with a redevelopment plan for downtown. Now the church is accusing the city of bigotry, and appears ready to cancel that redevelopment plan. Read our report from Tampa Bay Times staff writer Tracey McManus.
• St. Petersburg City Council actually went later than Clearwater's council did on Thursday. The council members struggled to agree on a formal request to Pinellas County to reallocate $14 million for the Pier District project. It took a few hours, but Waveney Ann Moore reports that the council finally reached an agreement. Next up: Will Pinellas County give St. Petersburg the money?
• The Bucs now know their path to return to the playoffs with the release of their 2017 schedule [you can print yours here]. The NFL apparently thinks the Bucs aren't ready for prime time, but columnist Tom Jones says it's wrong.
• At first glance, BostonTribune.com certainly seems like a trustworthy information source. So does KMT11.com. And ABCNews.com.co. Even 24wpn.com has an official ring to it. But all of these websites peddle bogus stories, either by making up fake news or sharing it from other sources. And it's not always apparent to readers that's the case. Since December, we at PolitiFact have been partnering with Facebook to root out fabricated reports shared by social media users. We've written more than 80 fact-checks about fake news stories. We've noted some trends along the way, chief among them that it can be really difficult for readers — from casual skimmers to seasoned newshounds — to spot fake news outlets when they pop up. Read the analysis this morning on tampabay.com.
• Personal injury lawyer John Morgan is scheduled to address the Tampa Tiger Bay Club today, which means Florida's political world once again considers whether he does or does not sound like a probable candidate for governor. The man himself tells Times Political Editor Adam C. Smith that he is more likely to run than Smith suspects he is, but many of Florida's savviest political operators also have their doubts. Our latest Florida Insider Poll found that nearly 70 percent of the 188 campaign consultants, political scientists, party activists, money-raisers and lobbyists we surveyed doubt the wealthy Orlando area attorney who bankrolled the successful medical marijuana ballot initiative will enter the race. See the poll results this morning on The Buzz.
Keep up with Tampa Bay's top headlines
Subscribe to our free DayStarter newsletter
We'll deliver the latest news and information you need to know every morning.
You're all signed up!
Want more of our free, weekly newsletters in your inbox? Let's get started.
Explore all your options
• Why has the price of leafy greens on the shelves at Publix and other stores recently skyrocketed? Lettuce explain.
• Shoppers get ready: Tomorrow is Record Store Day and we have all you need to know about deals, the giveaways and even bands giving in-store concerts at Tampa Bay's best record stores.
• Tampa's flag — yes, there is one, and has been one for 77 years — has been called a "monstrosity," not to mention other less kind names. Most natives don't even know it exists. Now, there's a movement afoot online to have it redesigned. But one important person needs to sign on.
• Doug Hughes, the former mail carrier who landed his gyrocopter on the west lawn of the U.S. Capital to protest big money in politics, finally achieved what he set out to do two years ago. See what that was in our Everyday Tampa Bay video.
• There's $1.5 billion on the table that could shore up the state budget, but the question in Tallahassee is this: How will the Legislature be allowed to use it? Michael Auslen explains.
• Ongoing financial struggles are forcing the St. Petersburg City Theatre on 31st Street S to shut its doors after its final mainstage production in May, and halt its summer programs and fall mainstage season, ending a 92-year run.
• How can Pinellas County compete for better jobs? At a symposium on the economy, site selectors offer an unvarnished study of the challenges ahead for the high-density county. Times business columnist Robert Trigaux dives into the issue.
• Ask the staff around Metropolitan Ministries what they know about Tony March and you'll learn how little he has revealed about himself in eight years as a volunteer there. Paul Guzzo tells his inspiring story.
• Who are this week's pop culture winner and loser of the week? Harry Styles defends his girl fans, while Chris Brown is accused of punching a Tampa photographer.