Catching you up on overnight happenings, and what you need to know today.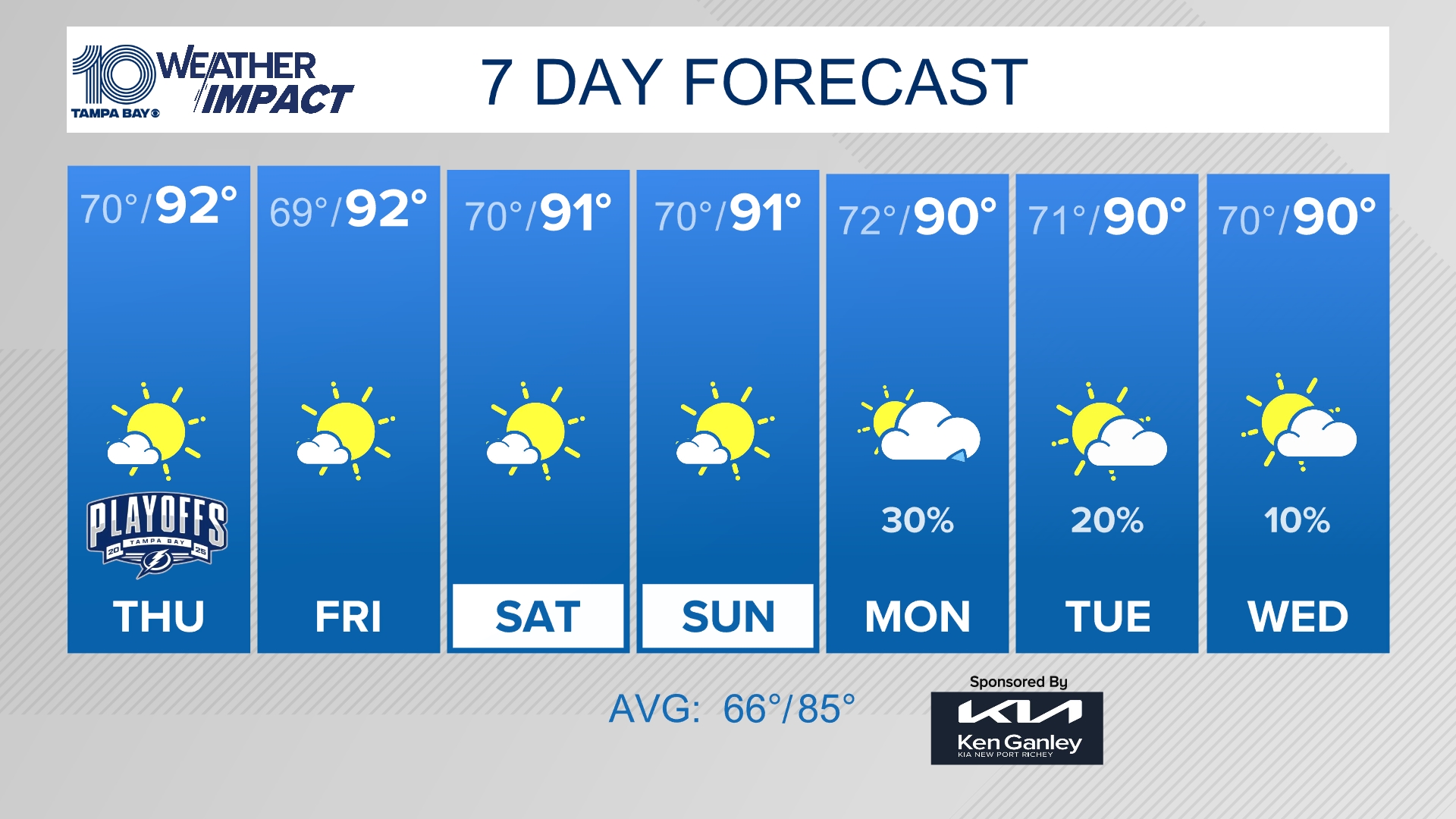 10News WTSP
10News WTSP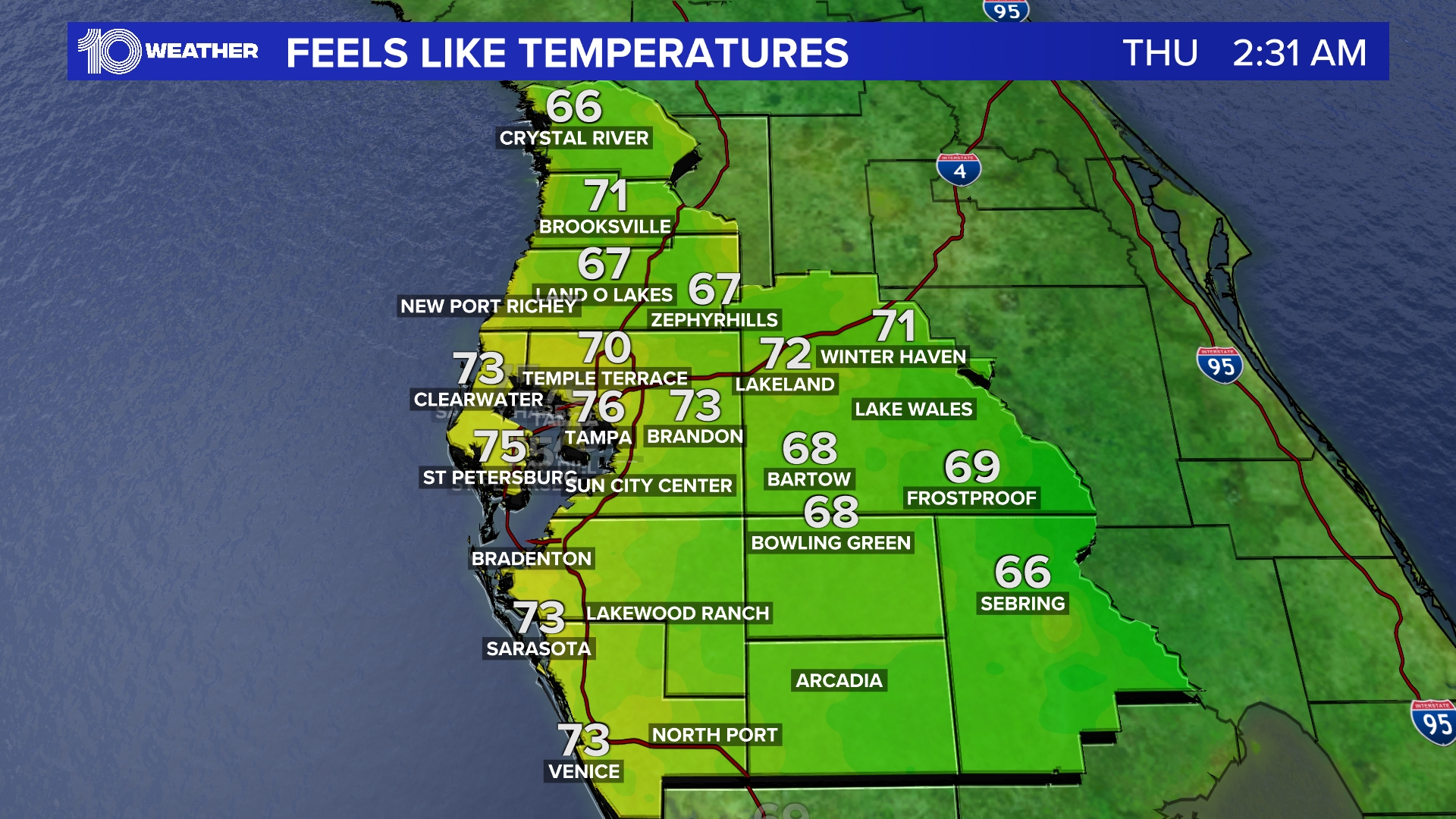 10News WTSP
10News WTSP
• Last night's cold front will be followed by a line of thundershowers moving toward the southeast across the bay area early Thursday morning, according to 10Weather WTSP, so be careful getting to work and school. A severe thunderstorm warning was issued until 5:45 a.m. for Pinellas and Hillsborough counties. The sun comes back by lunch time along with cooler temperatures and stronger winds. Check our live radar before you head out this morning.
• For years, no one could say with much certainty how many times police shot people in Florida. Now, in a one-of-a-kind investigation, the Tampa Bay Times has the answer. Why Cops Shoot is an unprecedented review of Florida police shootings. It reveals how fear and bias breed confusion, how order quickly dissolves into chaos, and ways to avert the violence. Click here to read this special investigation. Also, click here to read a deeper dive into the numbers that show if you're unarmed, not wearing a seatbelt or running away police are more likely to shoot if you're black.
• The U.S. Senate moves closer to tense votes today that will conclude with a major change to Senate rules that will result in Neil Gorsuch's confirmation to the Supreme Court. This guide explains what to look for and when Senate Republicans are most likely to exercise the "nuclear option."
• President Donald Trump and Chinese President Xi Jinping will huddle today and Friday at Trump's Mar-a-Lago estate in Palm Beach. White House officials say trade and security will be high on the agenda, including pushing China to exert more economic pressure on North Korea.
• Iris Lu and friend Iris Chuang plan to unfurl a banner near President Donald Trump's Mar-a-Lago resort in Palm Beach this week when Chinese president Xi Jiping visits. Lu's mother Cuiping Deng, pictured on the banner, was sentenced in February to six years in a Chinese prison for refusing to recant her belief in Falun Gong. Tony Marrero tells her story.
• The Florida House of Representatives passed a bill Wednesday making it less difficult for people like Curtis Reeves to make such claims using the state's "stand your ground" law. The burden, instead, would be on prosecutors to prove that a criminal case should proceed if a person accused of violence against someone else claims they acted in self-defense.
• Mayor Rick Kriseman delivered a familiar pitch to the Tampa Bay Rays on Wednesday, making the case for why they should stay in St. Petersburg and build a new stadium using a redeveloped Tropicana Field site. It's a case the mayor has made before, but he said St. Peterburg's future is "a littler brighter now" that the team has the city's formal response to the Rays' wish list.
Keep up with Tampa Bay's top headlines
Subscribe to our free DayStarter newsletter
We'll deliver the latest news and information you need to know every morning.
You're all signed up!
Want more of our free, weekly newsletters in your inbox? Let's get started.
Explore all your options
• Jeb Bush has teamed with Citigroup in a bid to purchase the Marlins baseball team, according to a report. But he has competition, including Derek Jeter. Alex Leary has the details.
• Everything you wanted to know about Florida's blueberries but were afraid to ask (okay, maybe you hadn't really thought about it too much) is answered by Times Food Critic Laura Reiley. Spoiler alert: Things look berry good (yeah, sorry about that one.)
• From the Times editorial board: The state of Florida has begun to atone for a horrific chapter in its history, formally apologizing for the state-run Dozier School for Boys, a torture colony for physical, sexual and emotional abuse that operated from 1900 to 2011. Read the editorial and today's letters to the editor at tampabay.com/opinion.
• Hillsborough County can't agree on a transit referendum and the Tampa Bay Express toll lane project has been met with serious opposition. But on Wednesday the Hillsborough County Commission made headway on one transportation mode: ferries. The commission voted to save $22 million from the BP oil spill settlement in the hope that it could one day help expand ferry service. Steve Contorno explains how it could work .
• St. Petersburg City Council faces some big decisions that will shape the Pier replacement at today's 8:30 a.m. meeting. The council will consider the mayor's request to ask Pinellas County to reallocate $14 million to enhance the Pier District, including $1.3 million for a major public art project. Waveney Ann Moore previews the Pier issues.
• Former astronaut and senator John Glenn, who died in December at age 95, will be interred at Arlington National Cemetery. The U.S. Marine Corps will begin a live stream at 9:40 a.m. Our All Eyes photo gallery looks back at Glenn's career.
• The Hillsborough County Aviation Authority is holding its monthly board meeting today at 9 a.m. The agenda includes proposals for a new rental agreement for Frontier Florida in the authority's administration building, $72,381 to repair fuel piping work at Tampa International Airport's Rental Car Common Fuel System and renewal of a contract for an automated mail service. Follow business reporter Malena Carollo on Twitter @malenacarollo for live updates.
• Taxpayers could hand over $80,000 to settle an Ybor City bar patron's lawsuit over injuries he said he suffered when a dart-like prong from a police officer's Taser pierced his eyeball. The City Council is scheduled to consider the settlement with 27-year-old Faraj Faraj of Westlake, Ohio during its 9 a.m. meeting today. Follow Rick Danielson on Twitter @danielson_times for updates.
• Are innovative millennials a potent part of Florida's future? That answer remains stubbornly elusive, no matter how much we want an influx of youthful vigor and smarts to power this state and region's economy ahead, Bob Trigaux writes.
• You'll see all nature of dress, everything from flip-flops and khakis to gowns, tuxedos and opera glasses when Tosca closes its run with Opera Tampa at the David A. Straz Jr. Center for the Performing Arts. You'll see gloves and polos, little black dresses and big Hawaiian shirts. What's right? What's wrong? Stephanie Hayes breaks it down.
• Spring has finally sprung in Tampa Bay, and new restaurants are sprouting up all across the region. Check out what's opening where, including pizza in a cone in Safety Harbor and a bubbly bar popping up in St. Petersburg.
• Here are the top things to do today in Tampa Bay
• Get a head start on planning your weekend. Our writers and critics have their top picks on our Weekend Planner page including a guide to the Tampa Bay Blues Festival, with Buddy Guy headling, the return of Chillounge Night with daybeds set up in the park, some fun food festivals and the best picks for Broadway and music fans.
• Uncertainty surrounds The Masters, which starts Thursday at Augusta (Ga.) National Golf Course. Dustin Johnson, the No. 1 player in the world and the betting favorite, took a fall down a staircase at his rented home. Johnson, who hopes to be able to play, was scheduled for the last group Thursday at 2:03 p.m. And then there's the severe weather across the South, which shutdown the course for the second time in three days Wednesday. Check tampabay.com/sports for updates throughout the day and bookmark this link to keep an eye on The Masters leaderboard.