Fall-like weather will continue at least for another day across the Tampa Bay area as breezy conditions help keep the heat at bay.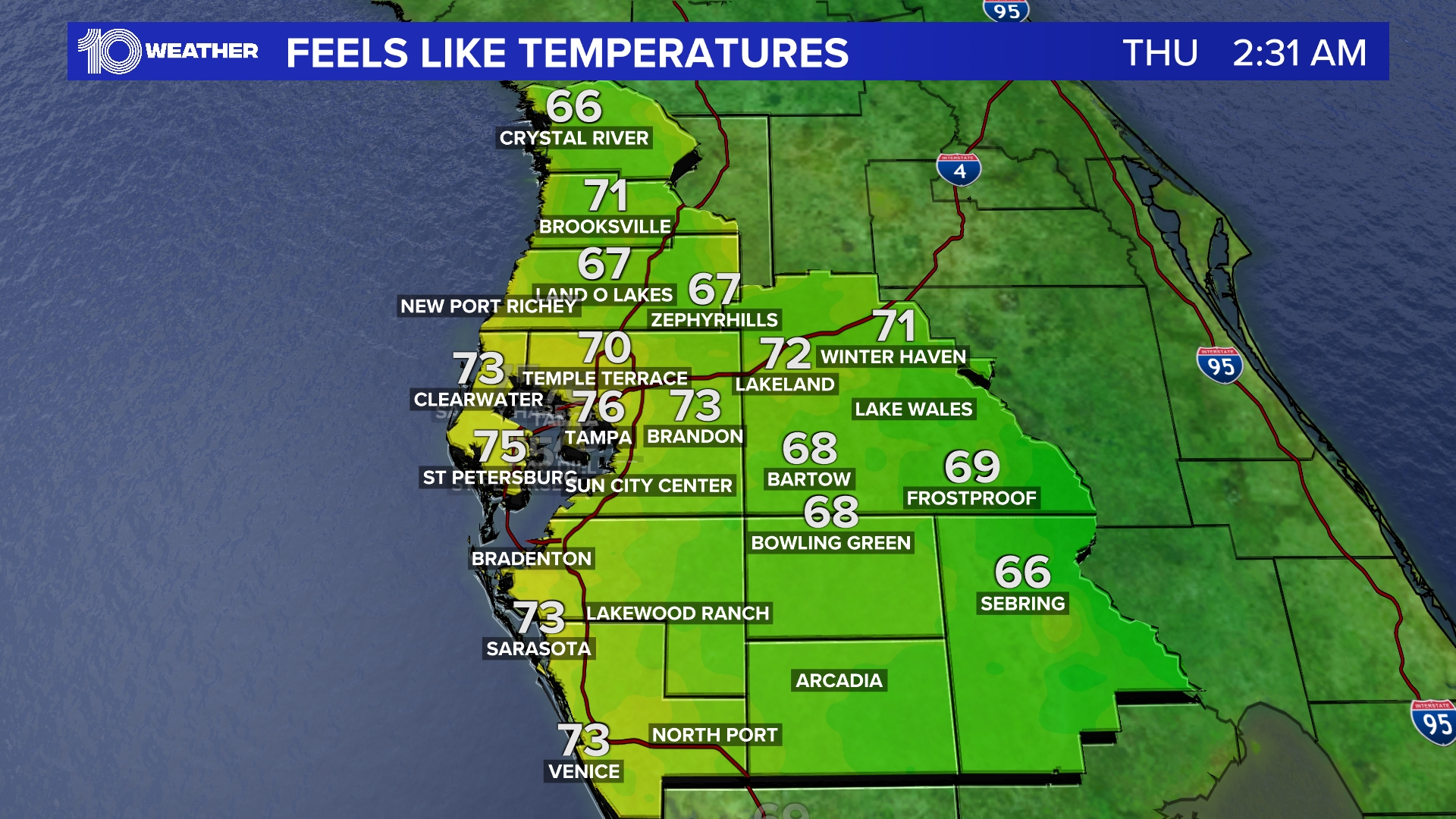 10News WTSP
10News WTSP
The dry air is thanks to a high pressure system centered over the Northeast that will continue to provide a steady northeasterly wind on Wednesday around 10-15 mph with occasional gusts as high as 25 mph, said 10Weather WTSP meteorologist Grant Gilmore.
It will also keep most of the rain away, Gilmore said, with skies expected to be partly cloudy and only a 20 percent chance of a stray shower or two through the afternoon. Highs are forecast to stay around the upper 80s.
However, that high pressure will begin to break down overnight, which will allow tropical moisture to surge back into the area from the south, Gilmore said.
That will bring a better chance of widespread storms heading into the second half of the week and through the weekend.
DOWNLOAD: Get the tbo Weather App and see where storms are headed
Meanwhile, Invest 90-L in the western Caribbean has a 90 percent chance of developing into a tropical depression of storm over the next two days, according to the National Weather Service.
The system is forecast to trek slowly northwestward across or near the eastern portions of Nicaragua and Honduras, move into the northwestern Caribbean Sea on Thursday before emerging over the southern Gulf of Mexico by the weekend, forecasters said.
"The models are in decent agreement in taking the storm toward the Louisiana/Mississippi coast as a strong tropical storm or weak hurricane by Sunday," Gilmore said. "I don't think it is going to head toward us, but we are continuing to monitor it."
But if the storm tracks farther to the east, Gilmore said, indirect impacts to the Tampa Bay area could include dangerous rip currents and a decent amount of rain.
Contact Samantha Putterman at sputterman@tampabay.com. Follow her on Twitter @samputterman.