Irma is coming and her eye is forecast to pass directly over Tampa Bay.
With her comes hurricane-force winds, heavy rain and a continued risk of tornadoes.
After days of watching Irma's track begin its shift toward the Gulf coast, the National Hurricane Center has a clearer picture of what Florida, and Tampa Bay, will have to endure under the monster storm's wrath.
"We might be off 10 miles," said local National Weather Service meteorologist Stephen Schiveley, "but we have a very good idea of impact."
Irma first made landfall in Florida as a Category 4 hurricane at Cudjoe Key at 9:10 a.m. Sunday and then again on Marco Island later in the late afternoon. Now Irma, a Category 3 hurricane, is set to make landfall a third time near Fort Myers, where it will weaken slightly, before it passes over Tampa Bay Sunday night and into early Monday morning.
"We are ground zero for Hurricane Irma," said Tampa Mayor Bob Buckhorn after Sunday afternoon forecasts.
MORE WEATHER:
HURRICANE GUIDE: Emergency information, tracking map and storm resources
DOWNLOAD: Get the tbo Weather App and see where storms are headed
St. Petersburg officials had set a curfew of 5 p.m. for Sunday. Tampa set its for 6 p.m.
"You can get injured or eventually die," said St. Petersburg Mayor Rick Kriseman, warning about loose debris flying in the high winds. "Please take this curfew seriously."
Schiveley warned that the bay area isn't in the clear when the winds begin to subside and the rain lightens Monday morning. That's when dangerous storm surge will set in.
Forecasters began keeping a close eye on possible tornadoes popping up over radars across the area. Bobby Deskins, a WTSP 10Weather meteorologist, said he expected the strongest risk for tornadoes to last until about 4 p.m. "But we can't rule them out as the center moves closer," he said.
A tornado watch has been issued for parts of Florida and Georgia until 12 AM EDT pic.twitter.com/cnTAMUNp92— NWS Tampa Bay (@NWSTampaBay) September 10, 2017
A tornado watch has been issued for parts of Florida and Georgia until 12 AM EDT pic.twitter.com/cnTAMUNp92
He noticed systems developing in Zephyrhills and parts of Polk County. Officials ruled a tornado watch until midnight for all of Tampa Bay.
By 2 p.m., 40 mph winds lashed out on the bay area, expected to last until 11 a.m. Monday. Hurricane-force winds are expected to begin around 7 p.m., forecasters said, and last until 3 a.m. By 8 p.m., hurricane-force winds of 80 mph are forecast to begin battering down trees and damaging structures. Power outages are anticipated throughout the area.
Maximum sustained winds were forecast to be 75 to 95 mph overnight, while gusts could reach up to 120 miles. Schiveley said because of the size of the storm all of Tampa Bay will feel the same impacts as the eye moves north over the state.
Ahead of major wind, a Temple Terrace Dunkin Donuts normally bustling in the early morning was empty and a nearby bowling alley looked abandoned.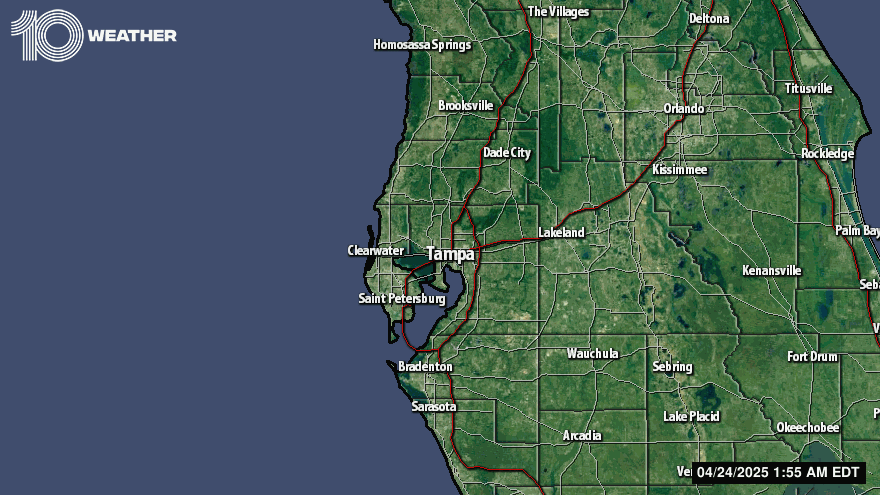 [WTSP]
[WTSP]
Still, a few cars were on the street as people sought refuge. In the middle of the ghost town, there was what looked to be a miracle: "DEWEY'S LIQUORS" lit up bright.
Better than the promise of a winning lotto ticket, given the hurricane bearing down: ICE 89 CENTS. One by one the cars pulled in. It wasn't 9 a.m. yet, but it was going to be a long night.
People hopped out and headed to the door. One by one they pulled the handle. It did not budge. A burly man peered into the warmly lit interior and saw a small hand-lettered sign fluttering in the wind: "Sorry we r not opening today." He looked up and shook his hand at the sky.
COMPLETE COVERAGE: Find all of our coverage of Hurricane Irma here
In St. Petersburg, people seeking coffee and food at the Fray's on 34th Avenue N found lights on and doors open. But whatever stock the donut shop had didn't last long.
A woman pushed through the glass doors, bundled up in her rain jacket and exclaimed: "I got the last ones!"
Outer bands from the storm had filtered into the region, creating light to moderate rain and winds gust of at least 20 mph earlier in the day.
The Pinellas County Sheriff's Office continued to monitor evacuation areas near the beaches Sunday morning. Sheriff Bob Gualtieri said deputies found a man at Madeira Beach in a boat with his 10-year-old son. He planned to ride out the storm in the water until deputies intervened.
"It's amazing what not-so-smart things people will do," he said.
Gualtieri announced Sunday that access to Pinellas County will be cut off starting immediately after the storm while deputies work to assess whatever damage Irma leaves behind.
RELATED: With Hurricane Irma on track for Tampa Bay, here's what you can expect
Meteorologists are expecting between 6 and 12 inches of rain and flooding throughout the region. Storm surge may be between 5 and 8 feet starting as early as 6 p.m. Sunday and lasting at least 12 hours.
The greatest risk could occur in Tampa Bay and Old Tampa Bay, where areas near Brandon and Oldsmar could see up to 8 to 10 feet of surge, forecasters said.
LIVE BLOG: The latest on Hurricane Irma
"Stay inside," Schiveley said. "Don't let your guard down."
Times staff writers Sue Carlton and Christopher Spata contributed to this report. This is a developing story. Stay with tampabay.com for updates.