Hurricane Hermine tore through Florida overnight, leaving behind flooded roadways, fallen utility lines, flattened trees and one death.
About four hours after making landfall around 1:30 a.m. Friday, Hermine was downgraded to a tropical storm. Friday morning, state and local officials were assessing the damage to stressed infrastructures across the Gulf Coast.
By late morning, the tropical storm warnings that stretched across Tampa Bay had been lifted.
"Just because it's clear outside does not mean it's safe," Gov. Rick Scott said during a Friday morning news conference.
Officials in Ocala found a man dead beneath a tree that had been knocked over by the storm around 7 a.m. Friday. He was living in a tent in a wooded area.
Hermine, the first hurricane to hit the state in over a decade, made landfall just east of St. Mark's and south of Tallahassee.
Thousands were left without power from the Tampa Bay area through Big Bend into southern Georgia, including much of Wakulla and Leon counties.
As many as 30 people took to shelters in Hudson after a storm surge there. On Hudson Beach, shop keepers were cleaning out flooded stores, hoping the 3 p.m. high tide wouldn't bring even more of the gulf spilling over their floors.
In Pinellas Park, Hope Cottage lost 60 tents it used to help shelter the homeless. Falling trees left the residents of five mobile homes in Valrico with nowhere to stay. And five people were evacuated from rising water in Hernando County.
A handful of people remained Friday morning at Leon County's Chiles High School shelter, where power went out but a generator got the group through the night. About 30 people slept there and the shelter remained open because of the high number of power outages.
"We will stay open as long as people need it," said Aaron Clark, a Leon County schools employees staging the shelter.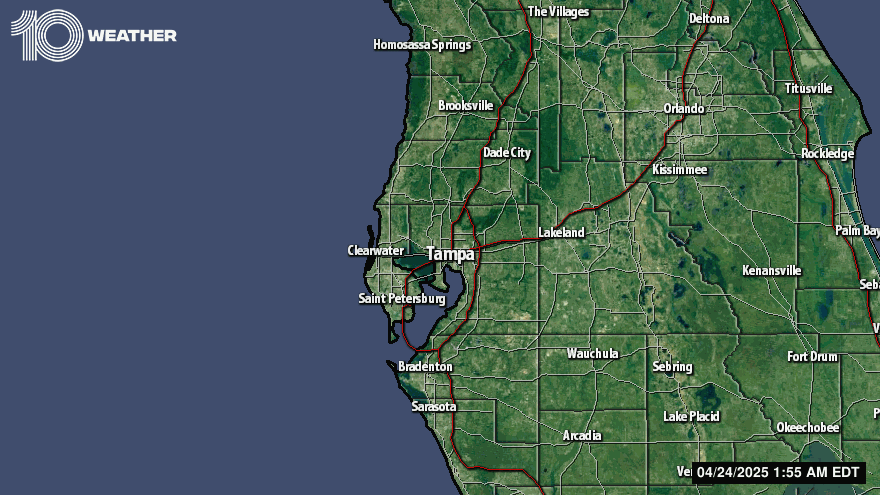 10News WTSP
10News WTSP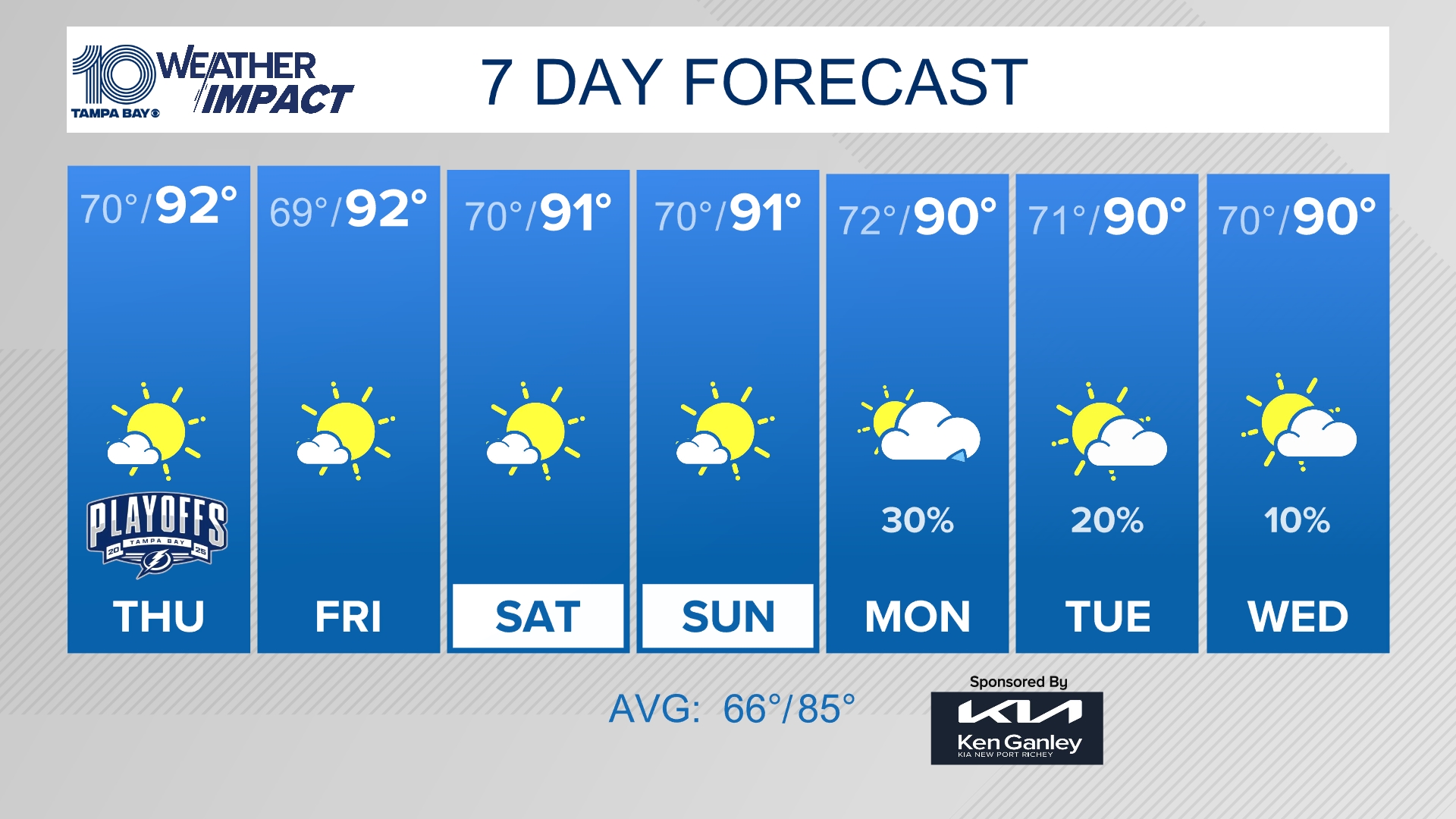 10News WTSP
10News WTSP
At Tampa International Airport, 88 delays and 12 cancellations were reported by mid-day — mostly to and from Florida airports. It wasn't clear how many were storm related but the numbers were higher than average, said airport spokeswoman Emily Nipps.
It's going to take at least another day before Tampa Bay residents will be able to get outside and enjoy the Labor Day weekend, forecasters said.
"Our biggest threat is still flooding," 10Weather meteorologist Ashley Batey said Friday morning. "Winds get much lighter as you head inland, but they don't get lighter along the coast until we head into tonight."
Saturday will be calmer and breezier with clouds, scattered showers, thunderstorms and southwest winds around 5-10 mph, forecasters said. The temperature was expected to rise slightly Sunday, with winds decreasing and the chance of rain 40 to 50 percent.
Statewide, Duke Energy reported 78,000 out of its 1.7 million customers were without power Friday morning and it had already restored power to 70,000 customers — including 18,000 in Pinellas County. In Hillsborough County, about 11,300 out of Tampa Electric's roughly 730,000 customers were without power. About 4,600 lost power in Pasco County and 4,000 in Hernando.
With so many fallen utility lines, St. Petersburg Mayor Rick Kriseman urged parents to keep their children out of storm water that could be electrified or infested with alligators and snakes.
Like leaders along much of the Gulf Coast, Kriseman was dealing with a stressed infrastructure unable to keep up with the massive amounts of rainfall.
"While we prepared as much as we could for this storm, quite candidly, this is one of the worst storms we've seen in the city and, unfortunately, it's not over yet," he said Friday morning.
The addition of 3 million gallons in capacity to St. Petersburg's sewage system wasn't enough, Kriseman said. The rain came fast and hard. He said the city dumped "millions of gallons" of untreated water, but did not provide an exact figure.
By Friday afternoon, Hermine was about 30 miles from Savannah, Ga. and heading into the low country of South Carolina, bringing a chance of dangerous storm surge for portions of the mid-Atlantic Coast.
While the core of the storm passed the Tampa Bay area by late morning, the rain bands and accompanying wind continued to cause problems.
"The bands of rain are probably going to last into the afternoon," 10Weather WTSP meteorlogist Bobby Deskins said Friday morning.
LIVE BLOG: Hurricane Hermine's impact across the Tampa Bay area
"When that rain comes in, it will get windier," Deskins said. "There will be peaks where we could see 30 to 40 mph winds with gusts at 50 to 60 mph. It's something that we will deal with for the rest of the day."
PREVIOUS COVERAGE: Hurricane Hermine makes landfall south of Tallahassee
In Tallahassee, near where Hermine made landfall as a hurricane, the worst weather had passed by Friday morning and the city, still blanketed in darkness, was able to begin clean-up.
The city dispatched electric crews to restore power to more than 60,000 customers. Talquin Electric Cooperative, a rural electric provider in parts of North Florida, said 37,800 customers were without power across Leon and surrounding counties as of 5:30 a.m.
Stay with tampabay.com for updates.
Times staff writers Alli Knothe, Michael Auslen and Samantha Putterman, Dave Wilson and Kristen Clark of the Miami Herald, and the Associated Press contributed to this report.