MIAMI — The feverish 2017 hurricane season doesn't seem to be letting up: On Monday, Tropical Storm Ophelia formed in the central Atlantic and is expected to become a hurricane this week.
While the storm poses no threat to land, it could become the 10th consecutive storm to grow to hurricane strength — a streak of intense systems that will tie a record last set in the late 1800s. It comes in a season that has already produced five major hurricanes, including three ferocious Category 5 storms, and 15 named storms.
RELATED: How the slightest shift kept Hurricane Irma from turning into an even worse disaster
The amount of accumulated cyclone energy — a measure of the intensity and longevity of storms — is also 254 percent higher than average with seven weeks left in the season, said University of Miami Rosenstiel School of Marine and Atmospheric Science hurricane researcher Brian McNoldy.
"We had 15 named storms last year, but things got named that weren't really things people would remember," he said. "There's some heavy hitters this season."
RELATED: A weak hurricane could drown Jacksonville. Will its leaders protect it in time?
Ophelia, located about 790 miles west-southwest of the Azores as of Tuesday at 5 a.m., formed Monday morning from a tropical wave rolling off Africa. National Hurricane Center forecasters said Ophelia will likely become a hurricane in three days as it swirls in the Atlantic far from the U.S. coast. With weak steering currents, the storm could linger in the area until next week, McNoldy said.
Since Harvey made landfall on the Texas coast on Aug. 25 — the first major hurricane to strike the U.S. coast since Wilma in 2005 — the amount of hurricane energy has climbed steadily. The increase coincided with the historical peak in the season, between mid-August and mid-September, but shot up abruptly with the appearance of Irma, which pumped out 185 mph winds for nearly 40 hours straight. Irma also became the most powerful hurricane on record in the Atlantic, outside the Caribbean or Gulf of Mexico.
[National Hurricane Center — Tap to enlarge]
What's making this season so busy is a combination of timing and luck, McNoldy said.
Sea temperatures have been warm and hurricane smothering wind shear weak, he said. This year's storms have also largely avoided mountainous islands in the Caribbean, including Puerto Rico, Hispaniola and Cuba, that can shred storms.
"It's just a matter of having one of those waves at the right time at the right place," he said.
[Associated Press]
[Associated Press]
Harvey swung to the south of the islands, and while it crossed the Yucatan, it was moving very slowly, giving it plenty of time to regain strength to a Category 3 hurricane over warm Gulf waters and accumulate copious amounts of rain. When it lingered for five days, it triggered devastating widespread flooding. Irma tracked over the northern Leeward Islands, skirting Hispaniola and Cuba, before making landfall on Cudjoe Key Sept. 10 as a Category 4 hurricane.
"If it had tracked 100 miles further south that entire time, it would have been a non-event for us because it would have passed over the mountains of Puerto Rico, Hispaniola and Cuba," McNoldy said. "So yeah, chance does play a role."
It's also why the islands, especially vulnerable Hispaniola, are known for being hurricane killers. Maria, which had top winds of 175 mph, hit Puerto Rico with 155 mph winds Sept. 20. When it moved away, winds had slowed to 110 mph and while it regained some strength, cooler waters to the north kept it from returning to its monster status.
RELATED: Audit warned Florida's hurricane response system was 'ill-prepared'
With the season more than half over, Florida is far from off the hook. Most hurricanes hit the state in October. According to Colorado State University meteorologist Phil Klotzbach, the state has been hit by 28 October hurricanes since 1878, four times more than Louisiana, the next in line. The last time storms intensified into 10 consecutive hurricanes was in 1878, 1886 and 1893, although without satellites it's possible some storms in between were missed, he said.
"If we make it through October, the odds quickly switch," McNoldy said. "So hopefully we get a break."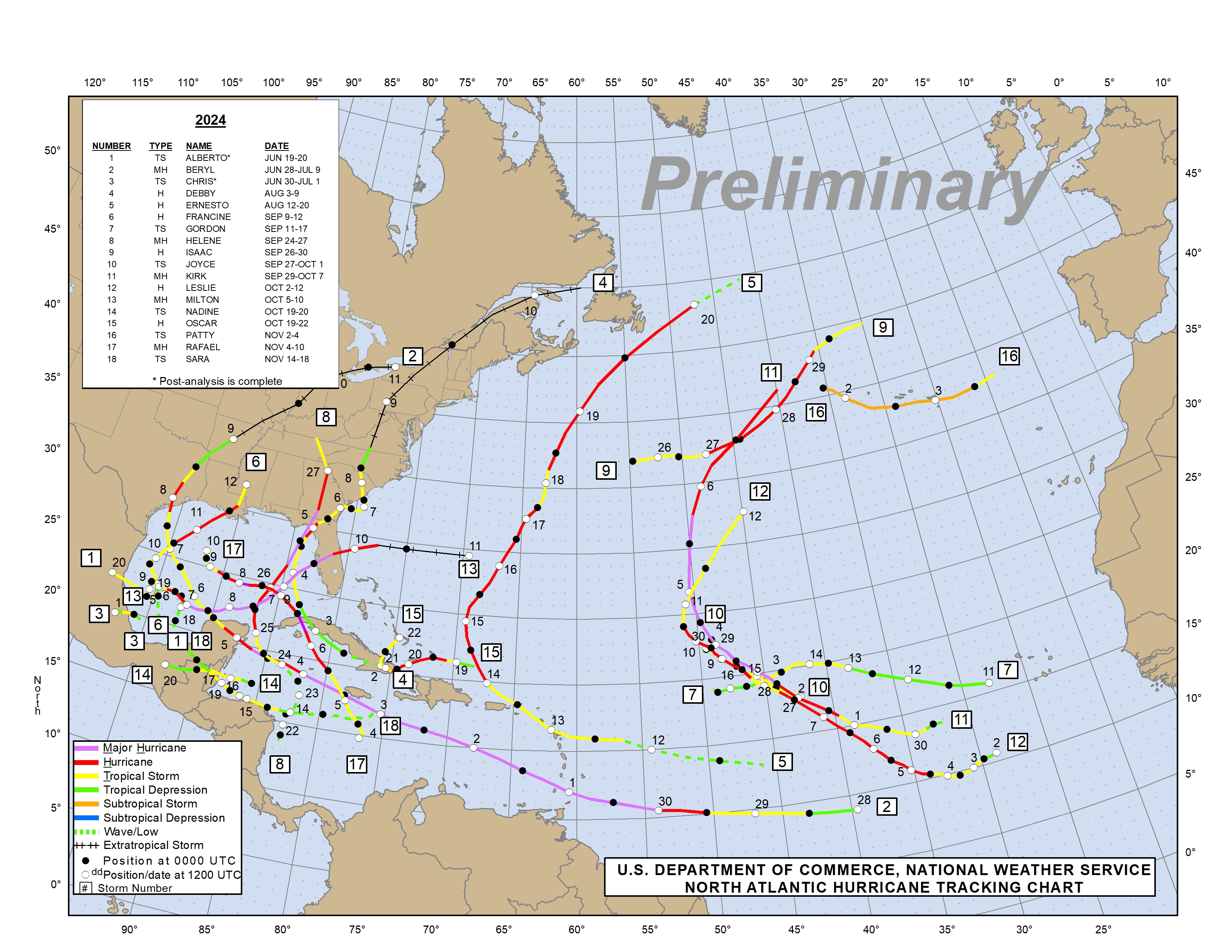 [National Hurricane Center]
MORE WEATHER
COMPLETE COVERAGE: Find all our coverage about Hurricane Irma here
DOWNLOAD: Get the tbo Weather App and see where storms are headed
LIVE RADAR: Interactive storm track, hourly outlooks, 10-day forecasts and weather alerts
[National Hurricane Center]
MORE WEATHER
COMPLETE COVERAGE: Find all our coverage about Hurricane Irma here
DOWNLOAD: Get the tbo Weather App and see where storms are headed
LIVE RADAR: Interactive storm track, hourly outlooks, 10-day forecasts and weather alerts