The system that has puzzled forecasters for days could finally be named Tropical Storm Hermine overnight Tuesday or early Wednesday — and it is rearing to drop heaps of rain on Tampa Bay, meteorologists said.
At 11 p.m., forecasters still hadn't named the system, Depression Nine, as a tropical storm. Instead, they issued a hurricane watch for a wide swath of the Gulf Coast, from the Anclote River in northern Pinellas County to the Panhandle.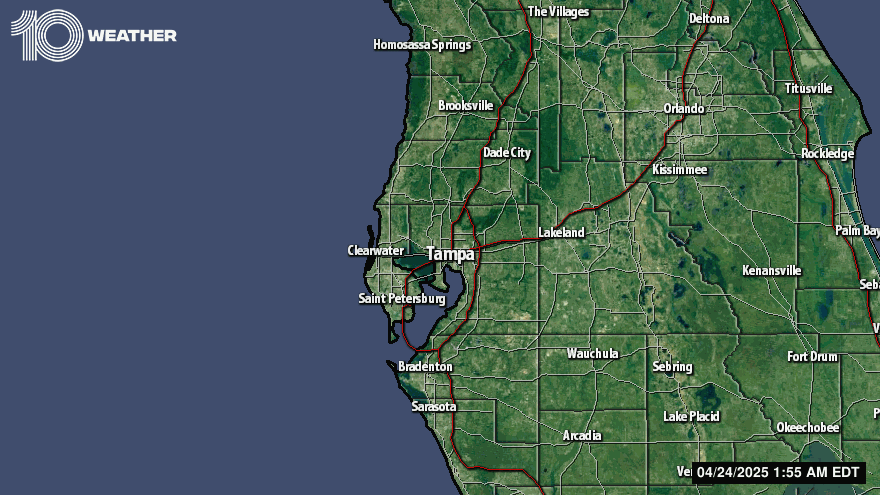 10News WTSP
10News WTSP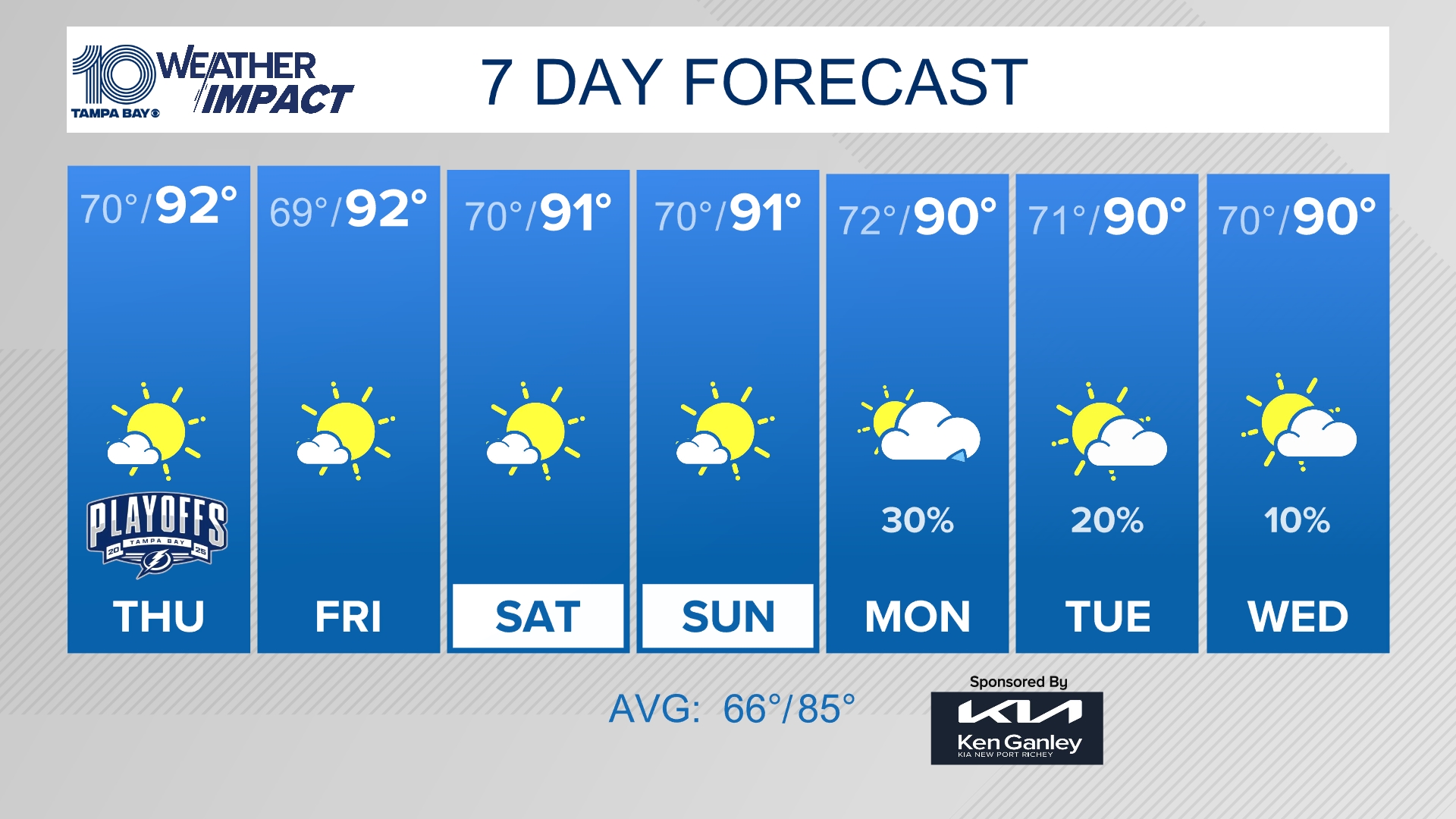 10News WTSP
10News WTSP
Depression Nine was still churning with sustained winds of 35 mph in the Gulf of Mexico at 11 p.m. Tuesday, forecasters said, heading north-northwest toward the Florida coast at 2 mph. It was expected to gain strength and turn northward in the coming days, eventually hitting the coast in the watch zone on Thursday.
LIVE BLOG: For the latest updates on the storm in the Gulf
The latest from the National Hurricane Center website Tuesday said a tropical storm watch will "likely be issued for portion of the Florida Gulf Coast later." It also predicted the system would cross the northern part of the state near the Big Bend region, reaching landfall by Thursday. On Tuesday night, it was 415 miles southwest of Tampa.
"Wednesday night into Thursday morning the eye is still out in the gulf," 10Weather WTSP meteorologist Bobby Deskins said, "but the bad weather is out east toward Florida."
Gov. Rick Scott warned Floridians of potential dangers, including tornadoes and rip currents, in a news conference Tuesday at the Hillsborough County Emergency Operations Center.
"We all have to take this seriously," he said. "We're going to have a storm surge. We're going to have flooding. We're going to have coastal flooding. We're going to have as much as 15 inches of rain."
He recommended that people stock up with three days of water, food and medicine. If needed, he said, the state has 8,000 members of the National Guard ready to mobilize.
Forecasters said 50 mph winds could sweep through the area by 2 p.m. Wednesday, reaching 65 mph by nightfall and into Thursday morning. Between 4 and 6 inches of rain is forecast to hit along the coast, with a 40 to 50 percent chance of winds greater than 45 mph. But totals could reach much higher, depending on the storm's intensity, forecasters said.
GOT STORM QUESTIONS? SUBMIT THEM TO US HERE AND WE'LL LOOK FOR THE ANSWERS.
While Pasco County officials had not ordered an evacuation Tuesday, emergency services director Kevin Guthrie encouraged those who live in low-lying areas to consider leaving on their own.
"Maybe it'd be a good time to spend a long weekend with [family]," he said during a Tuesday news conference.
On the same day, mayors of St. Petersburg and Tampa warned residents from their respective city halls to heed any advisories and be smart when facing flooded roadways. St. Petersburg Mayor Rick Kriseman and Tampa Mayor Bob Buckhorn said their cities expect more than 5 inches of rain over two days.
"But it's important for you all to know the city is prepared for this event," Kriseman said.
Both mayors anticipated standing water or flooded streets.
"We all saw last year a number of flooded cars as a result of people thinking the water was shallower than what it was. … Do not drive through standing water," Buckhorn said. "If we can avoid that, we can avoid 90 percent of the problems that we have."
Previous coverage: Tropical storm could lash Tampa Bay area with storm surge, torrential downpours later this week
Before the first raindrops even fell, the Tampa Bay Buccaneers moved their final NFL preseason game against the Washington Redskins at Raymond James Stadium from Thursday to Wednesday at 8 p.m.
Chief operating officer Brian Ford said the decision was made by both the teams and the National Football League to ensure the safety of players, fans and staff.
By Tuesday afternoon, both Hillsborough and Pinellas schools said they were monitoring the weather and in touch with their county's emergency management teams, but had not canceled classes. Pasco County said it would make decisions about its school closings by Wednesday evening at the latest.
Deskins said if there's a tropical storm warning, schools should keep kids at home — which didn't happen immediately when Tropical Storm Colin hit Tampa Bay in June. Some districts brought children in during the morning only to send them home early as the storm ramped up.
Meteorologists have been tracking this weather system — known before as Invest 99L — since last week. Then, it was hard to say whether the storm would dissipate or grow into a hurricane.
Dustin Norman, a meteorologist with the National Weather Service in Ruskin, said the odds of a hurricane forming are low — but there likely will be a storm surge, especially along the coastlines in Hernando, Pasco and Citrus Counties.
That means the storm will likely cause a rise in sea level, Norman said. Thursday is also a new moon. The highest tide is expected Thursday afternoon, he said — the same time the storm might make landfall.
There could be one to two feet of rising water along Pinellas County, he said, while the areas more likely to be affected by the storm surge — such as Hernando Beach — could see rises of more than four feet.
Pasco County's rivers were well below flood stage, Guthrie said, meaning they'll be able to handle stormwater runoff. However, Guthrie warned, a higher than normal tide coupled with the surge could prevent the Anclote River from properly draining into the Gulf of Mexico until the weekend, and that may cause flooding.
Starting late Wednesday, Tampa Bay will be on tornado watch until Thursday morning at the earliest, according to Deskins. Those along the Nature Coast are most likely to see those formations, he said.
Across Tampa Bay, residents Tuesday were encouraged to fill sandbags, stock up on flashlights and batteries and look over family disaster plans.
That advice, officials say, will continue into Wednesday before the height of the storm is expected Thursday.
Times staff writers Claire McNeill, Josh Solomon, Rick Danielson and Samantha Putterman contributed to this report. Contact Sara DiNatale at sdinatale@tampabay.com or (727) 893-8862. Follow @sara_dinatale.