Catching you up on overnight happenings, and what you need to know today.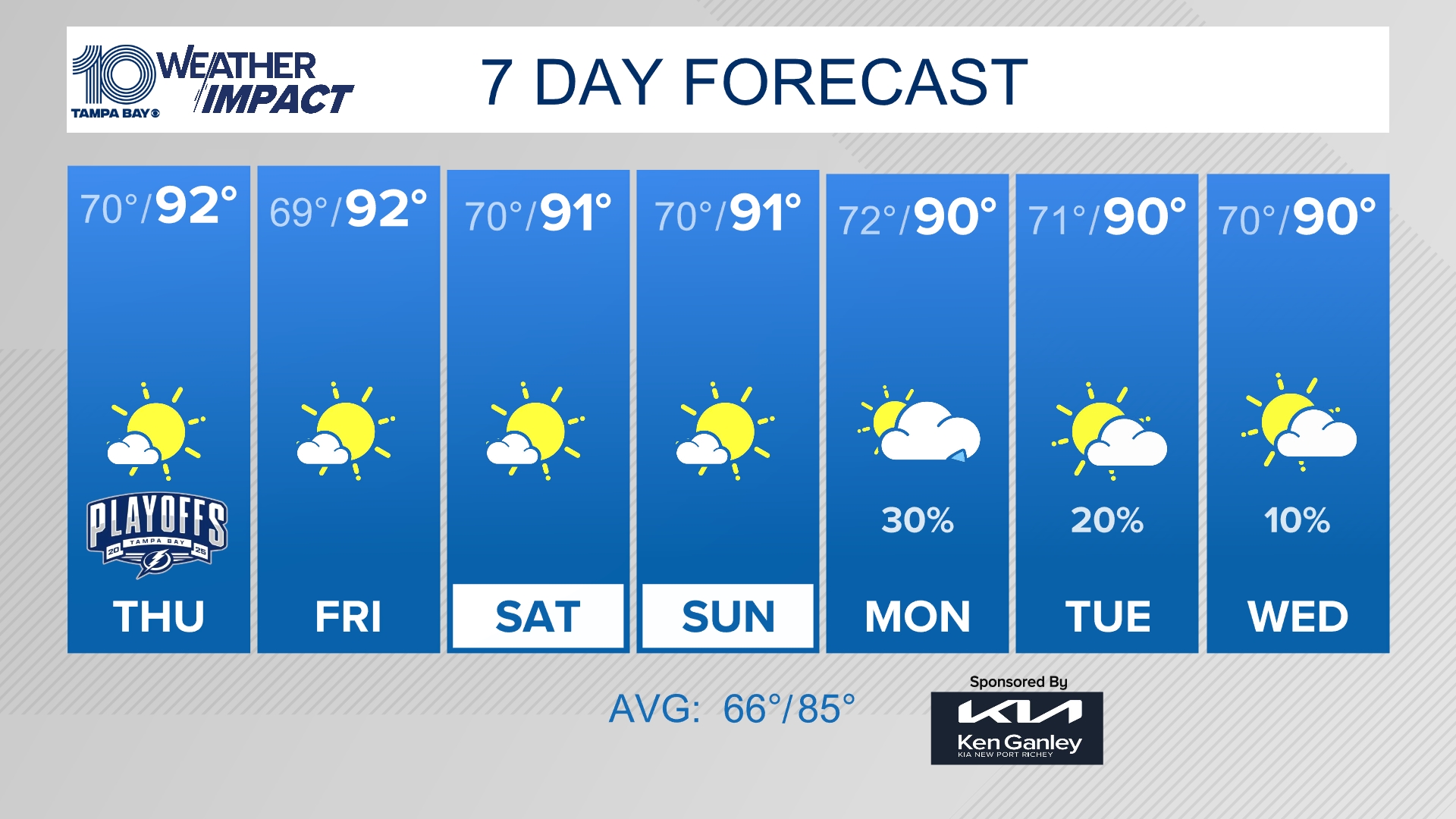 10News WTSP
10News WTSP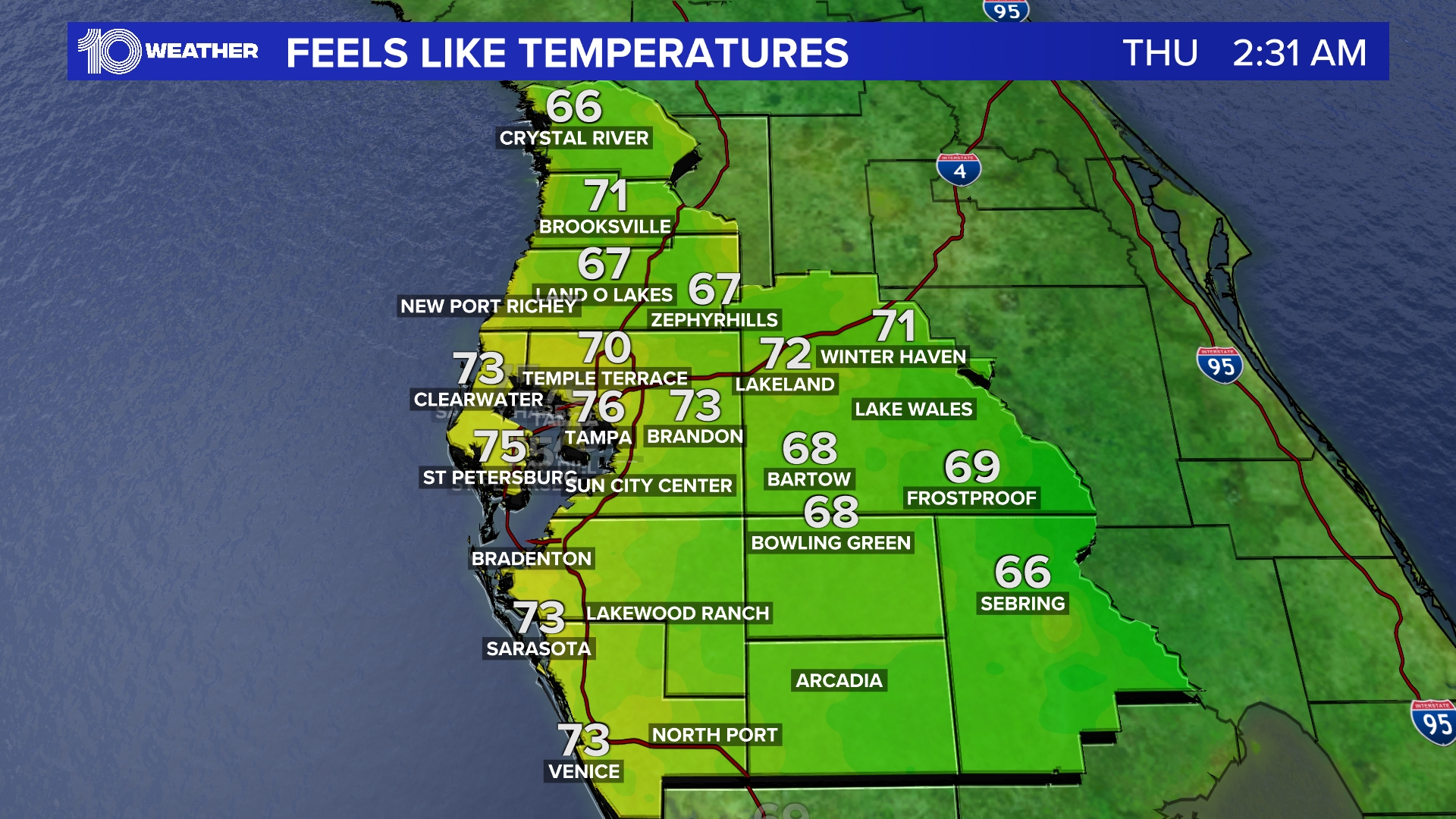 10News WTSP
10News WTSP
• Expect a pleasant morning with temperatures in the 70s, though it will heat up to the mid to high 80s with a 20 percent chance of rain this afternoon, according to 10Weather WTSP. Those highs will remain until around Thursday, when rain chances will hit 40 percent, followed by a dash of cooler air expected to knock our highs down into the low 70s and overnight lows into the 50s for the weekend. Nice!
• As you head out for your morning commute, check out our live blog for the latest traffic updates and road conditions across Tampa Bay.
• A Senate panel is opening a weeklong partisan showdown over President Donald Trump's Supreme Court nominee with Democrats steadily amassing the votes to block Neil Gorsuch and force Republicans to unilaterally change long-standing rules to confirm him. The Republican-led Judiciary Committee meets at 10 a.m. and is expected to back Gorsuch and send his nomination to the full Senate, most likely on a near-party line vote. [Times editorial: Senate should confirm Gorsuch for Supreme Court]
• Alan Snel, one of the most well-known advocates of bicycling in Florida, was hit from behind by a car and the state's bicycling community is furious that the driver didn't even get a traffic ticket. Read here why deputies say that in a state that consistently leads the nation in bicycling deaths, there is little law enforcement can do. Meanwhile, state road planners say progress is coming, though slowly.
• As the Trump administration's promises of deporting immigrants here illegally become reality, there's a heightened fear among immigrants in Tampa Bay about having contact with the criminal justice system. Across the bay area, authorities say they have noticed delays in reports of crimes committed against immigrants. Some won't show up for court because they fear federal agents will be waiting for them. Times staff writer Laura Morel explains the problem.
•St. Pete motorists will want to be sure they're especially attentive on the roads this morning, as police are planning to step up enforcement.
• In Tallahassee, the battle lines have been drawn over the state budget. The House and Senate have dramatically different views on how to fund public schools, universities and health care. Then there's the issues of property taxes, Gov. Rick Scott's job incentive programs and the toxic algae afflicting Lake Okeechobee. Times staff writers Jeremy Wallace and Steve Bousquet preview the budget battles to come.
• Rep. Carlos Guillermo Smith, D-Orlando, has raised strong objections to a proposal that would require county and local law enforcement agencies with "sanctuary" policies to comply with the enforcement of federal immigration law or face stiff penalties. HB 697 has passed a couple of committee hearings but needs a full vote in the House and approval in the Senate. Smith's efforts to weaken the measure in a March 21 committing hearing failed. He tried to point out that the bill's penalties are uniquely harsh. "It will be the only law of its kind in the nation," Smith said. Read PolitiFact Florida's analysis of his claim.
Keep up with Tampa Bay's top headlines
Subscribe to our free DayStarter newsletter
We'll deliver the latest news and information you need to know every weekday morning.
You're all signed up!
Want more of our free, weekly newsletters in your inbox? Let's get started.
Explore all your options
• At a hearing that starts today, a Pinellas judge acting on behalf of the Florida Bar begins taking testimony in the Bar's case against lawyer James Stanton, the former CFO of a Tampa company who allegedly videotaped female employees in various states of undress without their permission.
• Yes, it's just one game, but a splended opener for the Rays in a 7-3 win over the Yankees conjures thoughts of a parade, a new park and an area united, columnist Tom Jones writes.
• The Lightning topped the Stars 6-3, leaving it three points out of the final wild-card spot in the Eastern Conference with four games to go. The Lightning faces mammoth matchups this week against two teams it's chasing: Tuesday in Boston (which is four points ahead, with one fewer game left) and Thursday in Toronto (three points ahead, with a game in hand).
• Tampa Mayor Bob Buckhorn and St. Petersburg Mayor Rick Kriseman will field questions at today's Florida Economic Forum at Bryan Glazer Family JCC. Clearly, it'll be a bit easier for Buckhorn, columnist Ernest Hooper writes. He has already earned his second term. No word on whether Rick Baker plans to attend.
• For years, a Pinellas County committee judged complaints against contractors without legal guidance, or transparency, or even rules. That's starting to change. In an effort to restore trust at the Pinellas County Construction Licensing Board, interim executive director Gay Lancaster started reviewing complaints against contractors again, Mark Puente writes.
• Could you live without sugar for a month? Times staff writer Claire McNeill, a self-professed sugar fiend, swore off the stuff after reading a New York Times op-ed. Oh, what a month. Read her sugar-free diary.
• Plan your week! Here are the top things to do this week in Tampa Bay, including Buddy Guy at the Tampa Bay Blues Fest in St. Petersburg's Vinoy Park, Oscar winner Viola Davis giving a free talk at USF and Chillounge Night in Curtis Hixon Waterfront Park in Tampa.