Catching you up on overnight happenings, and what you need to know today.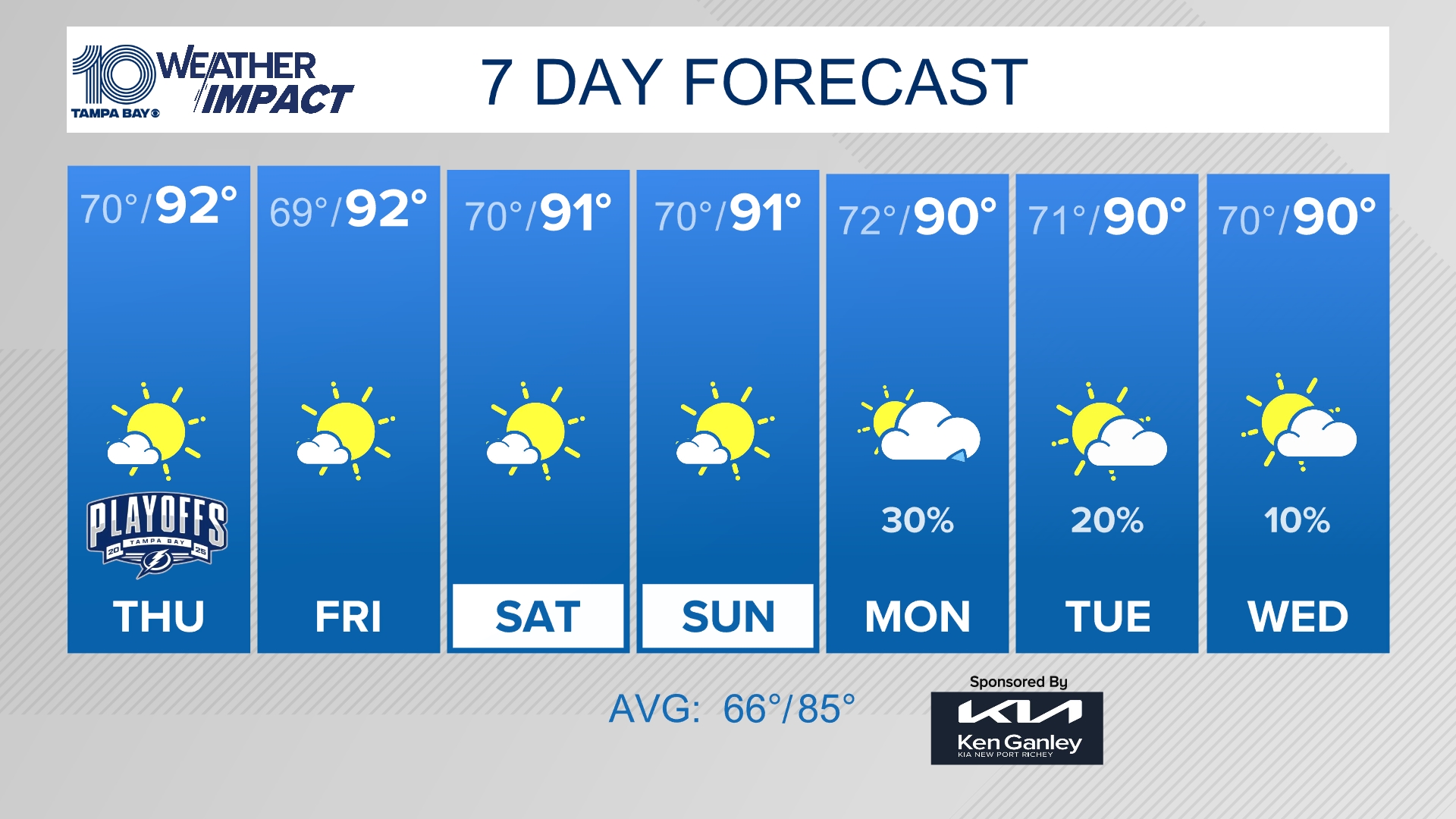 10News WTSP
10News WTSP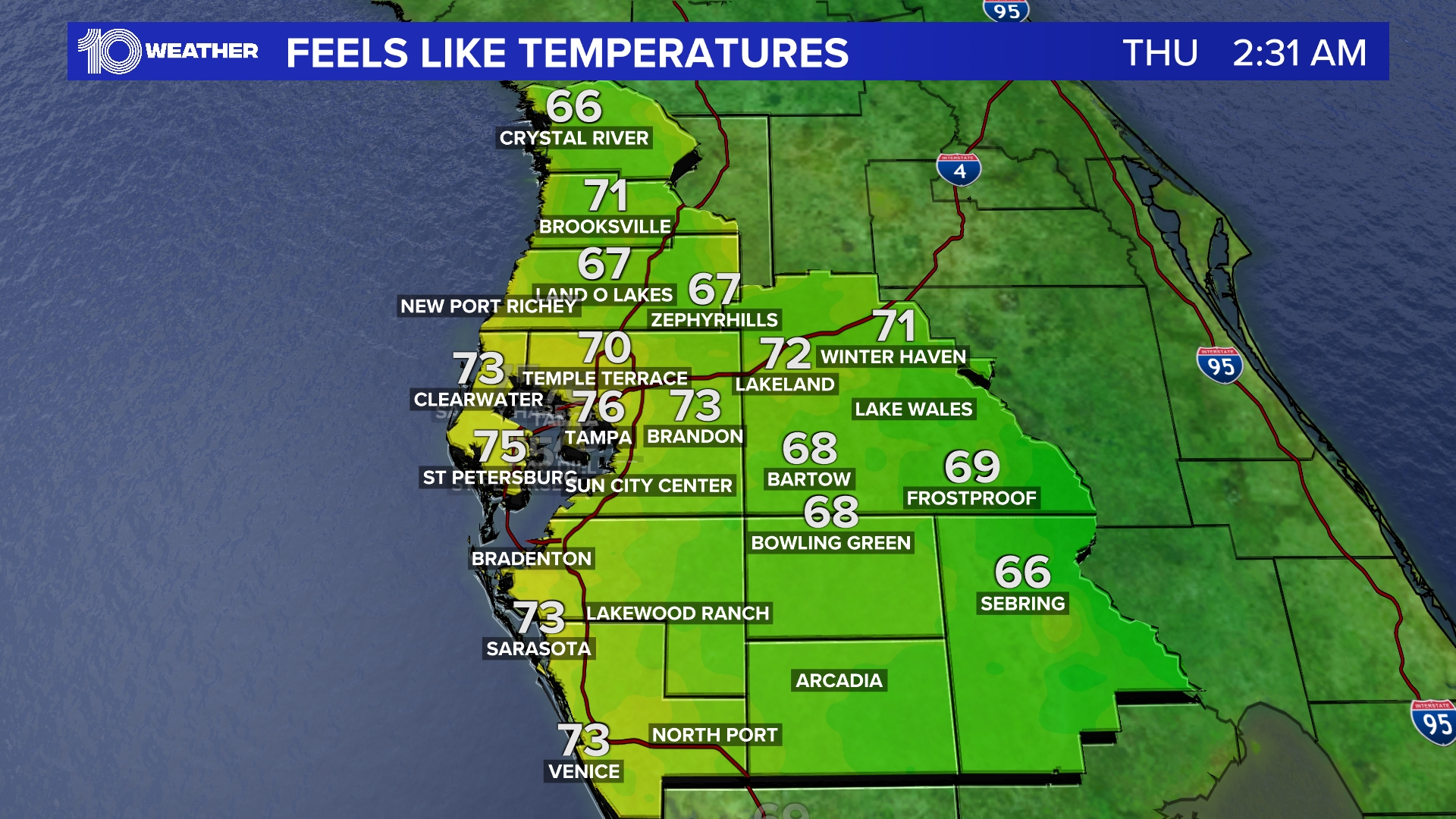 10News WTSP
10News WTSP
• The cool streak continues as temperatures stick to the 60s through today, but you might need those extra blankets starting Thursday. That's when morning temperatures could start to dip into the 40s before warming up in the afternoon, according to 10Weather WTSP.
• As you head out for your morning commute, check out our live blog for the latest traffic updates and road conditions across Tampa Bay.
• A search continues this morning for two men separated from their boat who then disappeared in the turbulent waters of Pass-A-Grille Channel, according to the Pinellas County Sheriff's Office. The incident took place Tuesday night about 6 p.m., deputies said, after 15 students from Colorado State University on spring break were on a 71-foot charter boat off Shell Key when five male students went swimming off the side while the boat was anchored.
• President Donald Trump paid $38 million in federal income tax in 2005 on more than $150 million, for an effective rate of 25 percent, and reported a $105 million write-down, according to a copy of his federal tax return revealed on MSNBC Tuesday night.
• In his first days in the White House, Trump hung a portrait of Andrew Jackson in the Oval Office and likened his new administration to that of the snowy-haired man pictured on the $20 bill. Trump is likely to revisit Jackson's legacy today when he lays a wreath at Jackson's tomb at his historic home in Nashville known as the Hermitage. The president also plans to speak at a Nashville rally to replace former President Barack Obama's signature health care law.
• Winn-Dixie is eliminating its Fuel Perks program with Shell gas stations. The grocery store chain is launching a new loyalty program with Plenti, a company that allows shoppers to redeem points and use them on purchases at other major retailers like Macy's or Exxon Mobil. Read the Times' interview with Southeastern Grocers CEO, Ian McLeod, to learn more.
• Closing arguments in the murder trial of Oscar Fowler, charged with shooting a St. Petersburg man 25 times in 2014, are scheduled to start at 8:30 a.m. Stay with tampabay.com for updates.
• Scientology leader David Miscavige held private meetings with Clearwater City Council members on Tuesday to brief them about the church's plans to redevelop downtown, and those plans could include help from an actor named Tom Cruise. Tracey McManus explains what the church says it wants to do.
• There were municipal elections held in 10 cities across Pinellas County on Tuesday. The biggest stakes were in Madeira Beach, where a ticket of officials ran on a platform of thwarting downtown redevelopment in the beach town. How did they do? Who won? Kathryn Varn has the election results.
New details about the arrest last fall of a St. Petersburg father accused of fatally abusing his 7-month-old daughter can be gleaned in a search warrant obtained by the Tampa Bay Times. Father Jeremiah Dillard told detectives he squeezed his baby girl to make her a "tough." But the baby, J'Lena Dillard, died on Sept. 24 and now the father faces a first-degree murder charge. Read more about detectives believe happened to J'Lena from Nathaniel Lash at tampabay.com.
• The Florida Orchestra has been planning its 50th anniversary season all year and the party is on. Andrew Meachem tells us what's on tap.
• Jeremiah Dillard told police he didn't mean to kill his baby girl in late September. But on Feb. 8, he showed up at the St. Petersburg Police Department and told officers he was responsible for her death. Three days later, he was arrested in the infant's murder. That's according to statements police said Dillard made, revealed in a search warrant filed to access the father's cellphone for photos of his daughter's injuries.
• St. Petersburg is repairing its sewer system after last year's hurricanes overwhelmed the antiquated system and caused tens of millions of gallons of sewage to flow into streets, waterways and especially the Tampa Bay. But St. Petersburg must also fix its problems under the watchful eye of the Florida Department of Environmental Protection. The state is planning to fine the city $820,000 in civil penalties and has drafted a 12-page order outlining everything the city needs to do to fix its outdated and overburdened sewage system. The public can learn more about the DEP consent order at a meeting set to be held Wednesday night at 7 p.m. at the Azalea Recreation Center, 1600 72nd St. N. City Council members are scheduled to attend.
• The Tampa Bay Rowdies want to make the jump to Major League Soccer. But to get ready, they'll need an MLS-type of stadium. Rowdies owner Bill Edwards has pledged to spend $80 million to make it happen without having to use public dollars. Rowdies' officials plan to hold a public briefing on their plans tonight from 7 to 9 p.m. at a meeting of the Council of Neighborhood Associations at the Sunshine Center, 330 Fifth St. N.
• The first public Penny for Pinellas renewal meeting will be held from 6 to 8 p.m. Wednesday at The Centre, 1500 16th St. in Palm Harbor.
• A Senate committee unanimously approved two bills sought by Florida Power & Light on Tuesday that overturn court decisions and allow the company to put transmission lines along environmentally sensitive areas in Miami-Dade County and resume charging customers for natural gas fracking activities in other states.
• Savers and borrowers alike are looking to Washington today — specifically to the Federal Reserve to see if it raises its benchmark interest rate. A few weeks ago any rate hike seemed unlikely. Now market watchers anticipate the Fed may raise rates faster than expected — starting today — because of signs of heightened inflation. Check for updates this afternoon at tampabay.com/business
• What started as a whimsical notion Jeremy Douglass had while driving to a gig has blossomed into a minor musical sensation in St. Petersburg. After selling out its first three performances, the Björkestra on Sunday will graduate to the Palladium's 850-seat Hough Hall, with up to 18 musicians — strings, horns, keys, vocalists, percussionists — performing songs by Bowie and the group's namesake, Icelandic singer Björk. Jay Cridlin has the details.
• Here are the top things to do today in Tampa Bay.