Catching you up on overnight happenings, and what you need to know today.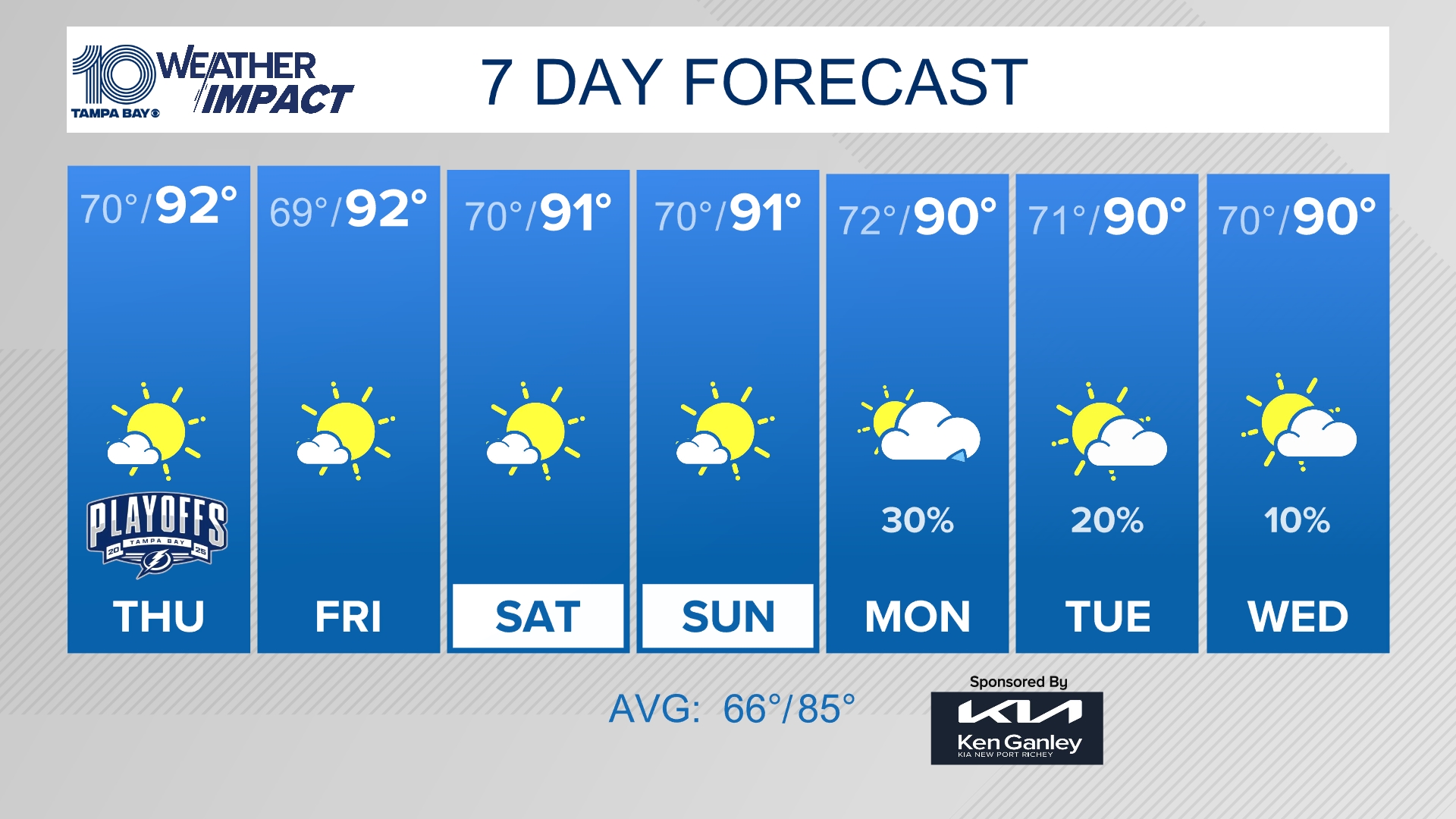 10News WTSP
10News WTSP
INLINE Feels Like Temps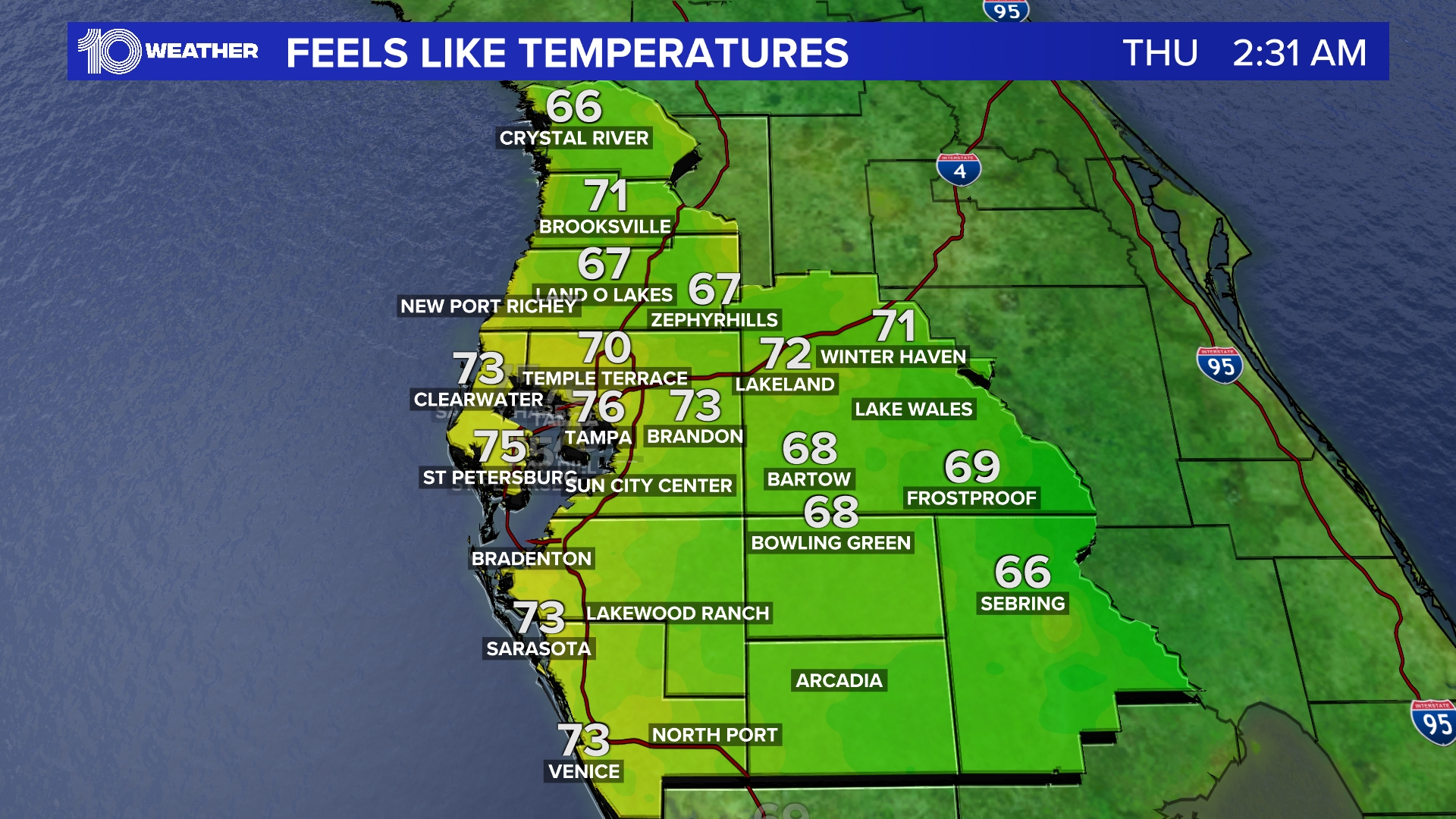 10News WTSP
10News WTSP
• After a chilly start to the morning, with lows in the mid-40s, things should warm up nicely, according to 10Weather WTSP. Highs should reach the low 70s, and the warm-up continues this weekend.
• As you head out for your morning commute, check out our live blog for the latest traffic updates and road conditions across Tampa Bay.
• Happy St. Patrick's Day! The green beer will be flowing all weekend and even the Hillsborough River will be turned a lovely shade of emerald. You can find the best parties on our Weekend Planner page.
• An executive of Tampa-based HomeBanc received a $1.4 million loan commitment from his own bank even as he was mired in a personal bankruptcy with $9 million in debt. The loan, bankruptcy records show, was to help finance a reorganization of Jerry D. Campbell's finances, though the loan was not in the end provided.
• President Donald Trump vowed on the campaign trail to replace the Affordable Care Act with "something terrific." The American Health Care Act is the first iteration of that plan. PolitiFact's Trump-O-Meter is tracking 103 campaign promises Trump made in the run-up to the Nov. 8 election, including a slew regarding health care. Beyond a broad promise to repeal and replace President Barack Obama's signature health care law, Trump has more work to do. According to a PolitiFact review, the legislation fails to live up to many of Trump's campaign promises.
• Meanwhile, Trump today will make his fifth trip to the Winter White House in Palm Beach. The return to Mar-a-Lago is confirmation Trump is ignoring criticism about the cost and complications of his visits, which, on the other hand, have thrilled patrons of the members-only club.
• Seven decades after he was shot down during World War II, Army Air Forces 2nd Lt. John Donald Mumford came home Thursday night. A flag-draped coffin holding his remains was carried out of the cargo hold of Southwest Airlines Flight 4599 from Chicago shortly after 8 p.m. Howard Altman has the details.
• Third-seeded Florida State, making its first NCAA appearance in five years, held off 14th-seeded Florida Gulf Coast 86-60 late Thursday at Amway Center, spoiling the "Dunk City" underdogs and unofficially outdunking them 9-2. Earlier, Florida silenced doubters in dispatching East Tennessee State 80-65. Get March Madness updates on our live scoreboard.
Keep up with Tampa Bay's top headlines
Subscribe to our free DayStarter newsletter
We'll deliver the latest news and information you need to know every weekday morning.
You're all signed up!
Want more of our free, weekly newsletters in your inbox? Let's get started.
Explore all your options
• The Lightning was soft and sloppy in front of its net in getting thumped 5-0 by Toronto, snapping a four-game winning streak. Tampa Bay picked a bad time for a clunker, allowing the Maple Leafs — and former Bolt Brian Boyle — to pull one point ahead for the final wild-card spot in the Eastern Conference thanks to the Islanders' loss to the Jets.
• Tampa Mayor Bob Buckhorn is one of several city officials across Florida who aren't happy about a bill in the Florida Legislature that would limit cities' ability to regulate cell phone antennas and the poles they're mounted on in public rights of way. The fuss, William March writes, has a local flavor because Sen. Dana Young, R-Tampa, is a co-sponsor of the bill in the Senate.
• From the Times editorial board: The Coast Guard, NOAA and FEMA play critical and unique roles in protecting the Gulf Coast and the nation. President Donald Trump's proposal to cut their budgets in order to pay for a border wall is one of the most irresponsible ideas from the new administration. Read the editorial and today's letters to the editor at tampabay.com/opinion.
• Columnist Sue Carlton tells the story of Tampa Police officer Randi Whitney, whose job might seem at odds with a city that recently had people arrested for serving food to the homeless without a permit, a city that shut down a park because too many of them were lying around in it. But anyone who thinks her job is pandering to the problem is missing the point: Even if you don't buy the empathy angle, getting people off the street and keeping them out of jail saves money.
• When a student falls victim to a bully, the problem usually can be handled at school. But one family says they were forced to go to court after a girl kept bullying their daughter and school officials could not keep her safe. Colleen Wright has the details.
• Good news for Culver's fans in St. Petersburg: The fourth restaurant in Pinellas County is slated to open at 498 91st Ave. on the Fourth Street N corridor by mid-June, franchise owner Matt Stuligross said.
• It's time for your daily dose of pop culture. Here are this week's winner and loser.
• Here are the top things to do today in Tampa Bay, including lots of St. Patrick's Day parties and a battle of the bands in St. Petersburg's Williams Park.