Catching you up on overnight happenings, and what you need to know today.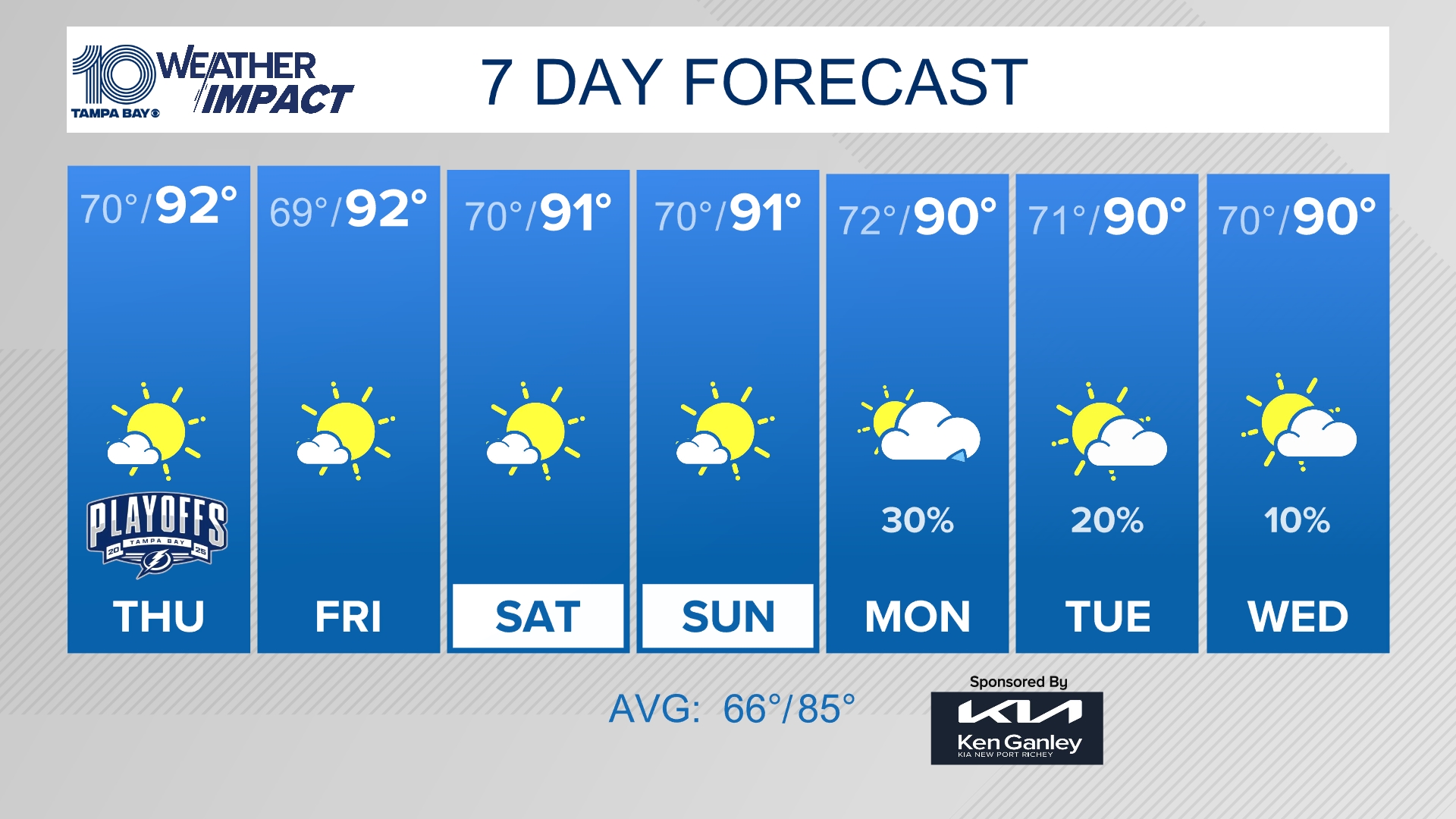 10News WTSP
10News WTSP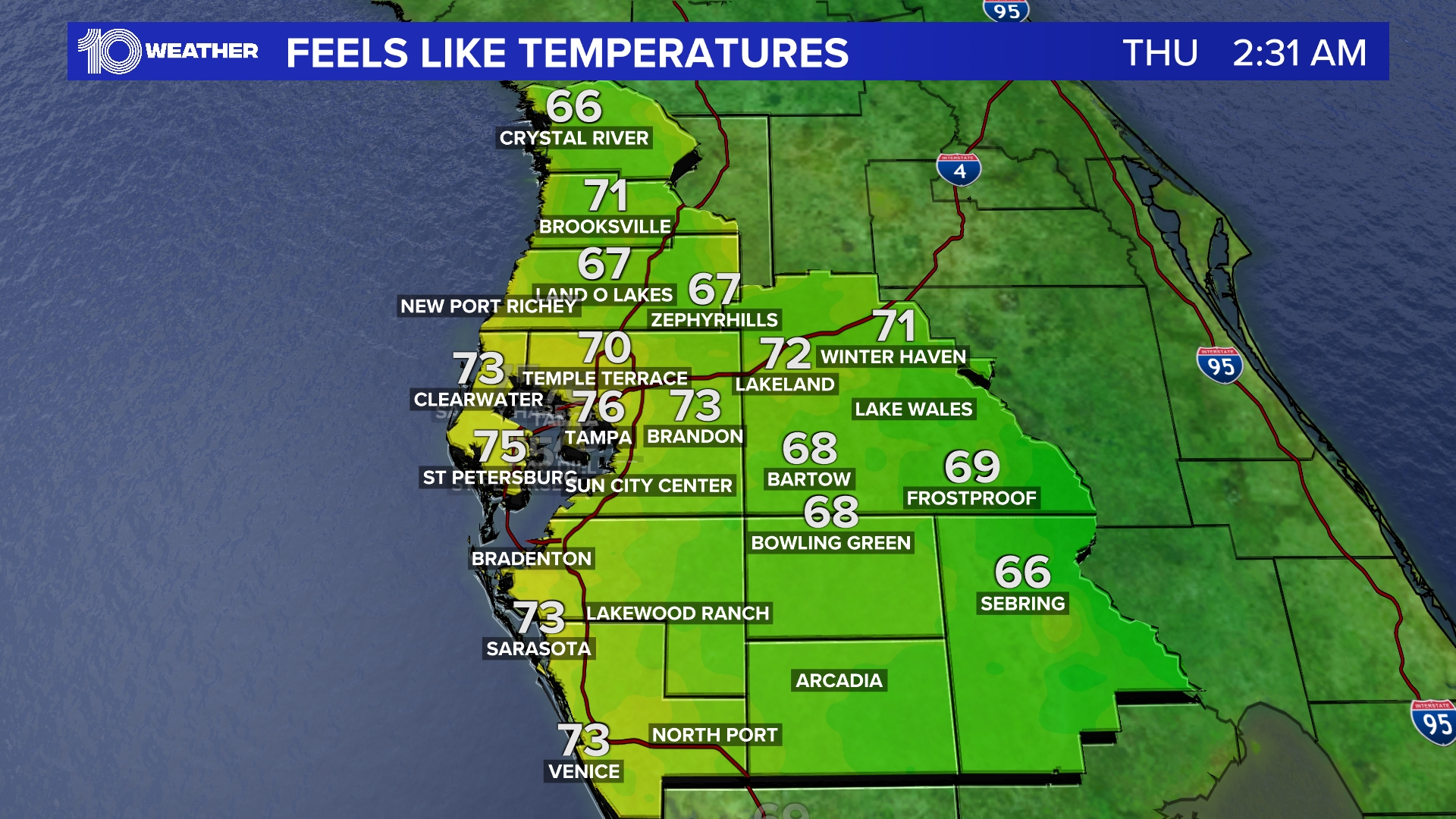 10News WTSP
10News WTSP
• There is some chance of rain today for the first time in more than a week, according to 10Weather WTSP. But the chances are slight. Highs will touch the 80s again and it should be breezy as a weak front moves through.
• As you head out for your morning commute, check out our live blog for the latest traffic updates and road conditions across Tampa Bay.
• Read our interview with ex-Scientologist Cathy Schenkelberg, who said she was auditioned to be Tom Cruise's girlfriend. Her comedy show, Squeeze My Cans, is on stage tonight through this weekend at Stageworks.
• Meanwhile, Clearwater may be poised to vote next month on whether to buy a vacant downtown lot from the Clearwater Marine Aquarium, but that hasn't stopped the Church of Scientology from trying to acquire the property. The church upped its offer for the property and threw in a "sizeable donation." The church said its offer, which was not disclosed, "far exceeds what the city can pay." Tracey McManus explains why the church wants the land.
• Just announced: St. Petersburg's oldest arts organization, the Morean Arts Center, has selected its new executive director and he comes from the National Endowment for the Arts in Washington, D.C., one of the agencies President Donald Trump's budget proposes to eliminate. Read here how he got the job leading the 100-year-old organization.
• Under new management, the Pinellas County Construction Licensing Board on Wednesday started judging complaints against contractors again. But this time the agency had a county attorney on hand to give legal advice and county monitors observing. Mark Puente explains how the agency is trying to change its ways.
• Pinellas County said its five-year effort to reduce the number of unwanted pets and stray animals being euthanized is paying off thanks to animal welfare agencies sharing data and coordinating resources. Tracey McManus explains how the program is working.
• Gov. Rick Scott will host a 9 a.m. roundtable with community leaders in Tampa as part of his feud with the state House over funding for Enterprise Florida, the business incentive program he wants to grow and House leaders want to gut. The focus of this gathering is investment in Florida's military and defense communities. The meeting place is a VFW hall in Tampa. Follow staff writer Steve Contorno at @scontorno
• Medical marijuana may now be the law of the land (at least in Florida). But there are more questions than answers for companies big and small, which enforce a drug-free workplace policy with their employees. Employment attorney Greg Hearing discusses what might happen next. Read his thoughts this morning.
• The first drug to treat an aggressive form of multiple sclerosis has won approval from the Food and Drug Administration, a significant medical development with ties to the Tampa Bay area. Find out what they are.
• It's been two months since a landlord notified Sen. Marco Rubio that the lease on his Tampa office would not be renewed because of weekly demonstrations staged there. The Miami Republican is still looking for a Tampa Bay home base. Tony Marrero explains what this means for his staff.
• In a way, credit for the opening of one of the Tampa area's newest Cuban restaurants belongs to Fidel Castro. If not for the late Cuban president, Jose "Pepe" Diaz said, he might never have become a chef or opened La Yuma Cuban Cuisine in Lutz. Paul Guzzo has the details.
• Legislators are considering bills that would allow utility companies to charge customers in advance for gas exploration ventures. The idea is that investing in out-of-state fracking adventures today will save Florida customers from rising costs in the future. Columnist John Romano explains why this is not the best idea.
• Entering his 12th season as the Rays principal owner, Stuart Sternberg sat down during spring training for his annual Q&A session. Some excerpts, including his thoughts on Trump Tower, financial advice and which musical artists should play the Trop.
• Texas is the inspiration at Brooksville's new MOPAC BBQ. Read Dan DeWitt's review.
• It's time to plan your weekend! Our writers and critics have laid out their top picks on our Weekend Planner page including everything you need to know about the WWE's Wrestlemania taking over Central Florida, a new dine-around event at the Lowry Park Zoo and a Cuban Sandwich festival and contest that goes international this year.
Here are the top things to do today in Tampa Bay including indie rockers We the Kings and powerhouse Italian pop tri Il Volo.