Catching you up on overnight happenings, and what you need to know today.
• Remember yesterday's weather? Chances are today will bring more of the same, according to 10Weather WTSP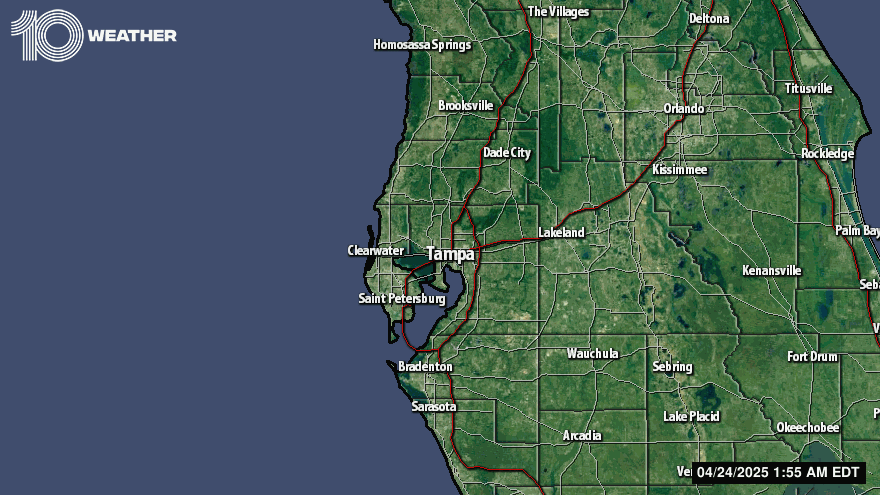 [WTSP]
[WTSP]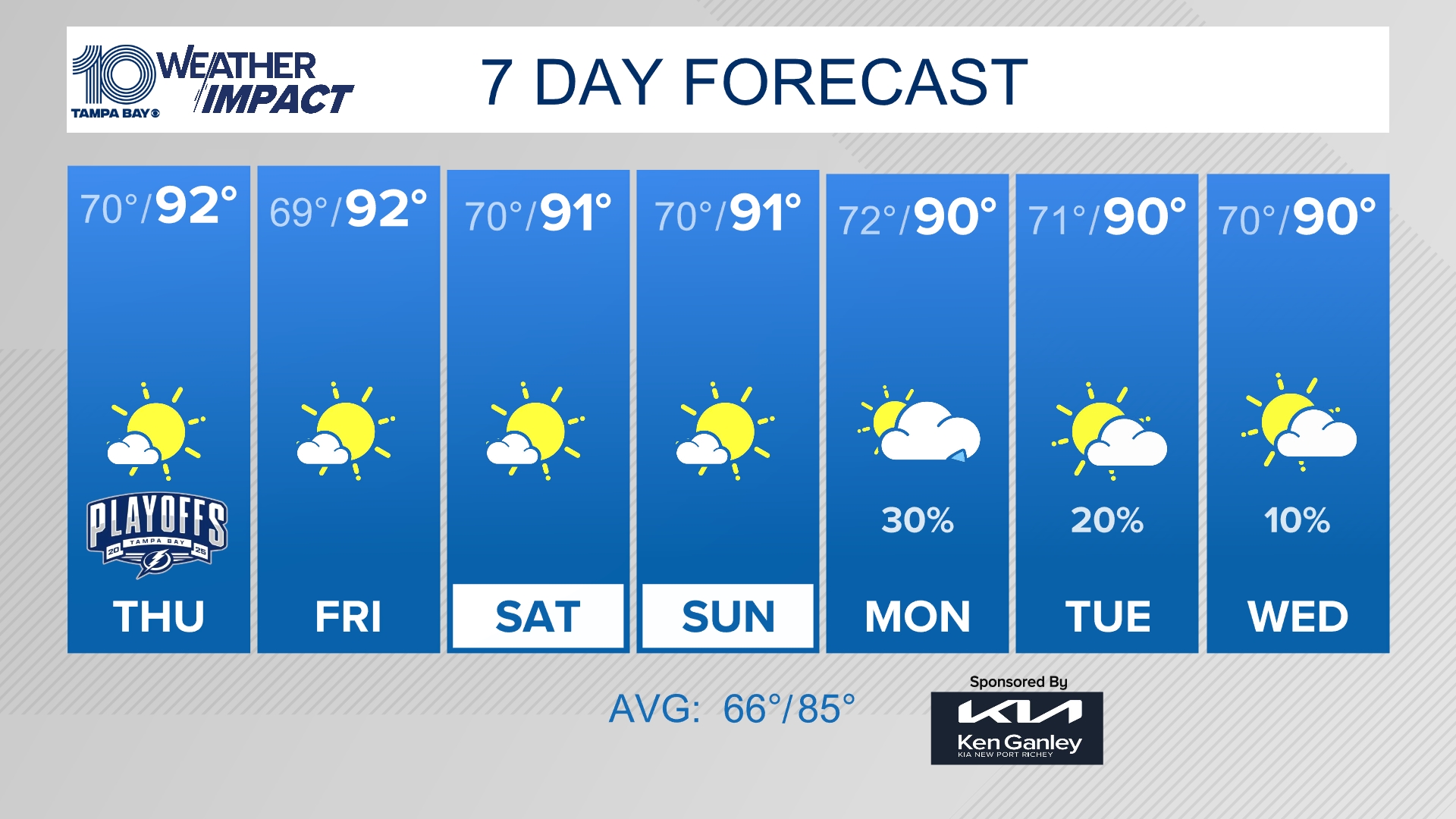 10News WTSP
10News WTSP
• As you head out for your morning commute, check out our live blog for the latest traffic updates and road conditions across Tampa Bay.
• Were you amazed at Paul McCartney's show in Tampa last night? Jay Cridlin says everyone lucky enough to score a seat for his first local gig in 12 years got their money's worth and more during a nearly three-hour set. Read Jay's review here.
• According to authorities, 23-year-old Plant High School graduate Joe Hudek tried to open an exit door on an airborne Boeing 767 heading from Seattle to Beijing, triggering a brawl with flight attendants and passengers who used wine bottles and zip ties to subdue him. The pilot called in the emergency and returned to Seattle. His friends are baffled by his actions, Tony Marrero writes.
• Charlie Frago explains what happened at the latest debate between St. Petersburg Mayor Rick Kriseman and challenger Rick Baker on Monday night. Keep up with all of the Tampa Bay Times' coverage of the mayoral battle.
• Pinellas Sheriff Bob Gualtieri said his agency will help crack down on unlicensed contractors in the county, Mark Puente reports, after the agency formed for that very purpose has fallen down on the job of late.
• Before arranging a meeting with a Kremlin-connected Russian lawyer he believed would offer him compromising information about Hillary Clinton, Donald Trump Jr. was informed in an email that the material was part of a Russian government effort to aid his father's candidacy, according to three people with knowledge of the email.
• Many dog owners only fear the risks of leaving their pets locked up in a car in the summer heat. But in Florida, veterinarians warn, dogs can suffer heat distress or heat stroke whether they're trapped inside a car or freely roaming outside.
• Venezuelan citizens living in the Tampa Bay area can cast votes here Sunday to send a signal about the direction their troubled homeland is heading. An opposition party in Venezuela, Mesa de la Unidad Democrática, has scheduled a nonbinding international straw poll designed to show that Venezuelans oppose an effort to rewrite the constitution in a way that make it easier for the party of socialist President Nicolás Maduro to remain in power. Paul Guzzo has the details.
• Dick Greco may be considering a run for Tampa mayor, but it's not the Greco you may be thinking about. Still, Sue Carlton writes, this Greco is not far removed from the man who previously held that office, she explains.
Keep up with Tampa Bay's top headlines
Subscribe to our free DayStarter newsletter
We'll deliver the latest news and information you need to know every weekday morning.
You're all signed up!
Want more of our free, weekly newsletters in your inbox? Let's get started.
Explore all your options
• Frank Pannullo, who engineered a scheme to steal Social Security money intended for the mentally disabled, will be sentenced Tuesday morning in federal court. Pannullo worked for years as the chief financial officer for the now-defunct Hillsborough Achievement and Resource Center (formerly the Hillsborough Association for Retarded Citizens). When times got tough, he said the agency's CEO, Richard Lilliston, instructed him to do what he had to do to pay operating expenses. That meant diverting more than $600,000 from residents' Social Security funds, according to court testimony. Pannullo pleaded guilty to federal charges. His sentencing hearing is scheduled for 10:30 a.m. Check back later today for the outcome at tampabay.com.
• The Pinellas Suncoast Fire and Rescue District commissioners are set to vote Tuesday on a proposed settlement agreement of a lawsuit against Pinellas County over millions of dollars in emergency medical services funding. Follow Kathryn Varn at @kathrynvarn for updates.
• Imagine a Florida startup that recorded an impressive $26 million in sales during its first full year in business in 2011, logged more than $900 million in sales by 2016, and this year expects to increase revenues to nearly $2 billion with 5,000 employees. Oh yeah, this Florida startup last month was sold for $3.3 billion — that's "billion" with a B — making it one of the biggest-ever deals in the Florida world of entrepreneurs. Business columnist Robert Trigaux has the details.
• When Florida Gators coach Jim McElwain addresses reporters in Hoover, Ala., today during SEC media days, you can bet he'll be asked about the status of star receiver Antonio Callaway. And you can bet that McElwain, who is typically vague about disciplinary matters, won't say much of substance regarding any possible marijuana-related suspension. Follow the latest from media days at tampabay.com/sports
• This is the second time in three years Chris Archer has made the American League All-Star team, although, as he wasn't originally elected or selected to the 12-man staff, it took some finagling. Marc Topkin explains why.
• Oh thank heaven for July 11, because today is Free Slurpee Day and we have the details here on how you can get a brain freeze.
• If our recipe for Sour Cream and Onion Popcorn sounds good, you can even learn how to make it with our how-to video.
• If paying money to have the wits scared out of you is your idea of fun, there are some good deals right now if you buy tickets early for Busch Gardens Howl-O-Scream and Universal's Halloween Horror Nights.
• Here are the top things to do today in Tampa Bay including Roger Waters, Disney's Broadway version of The Little Mermaid, and actor Val Kilmer in town to screen his one-man-show on Mark Twain followed by a Q&A.