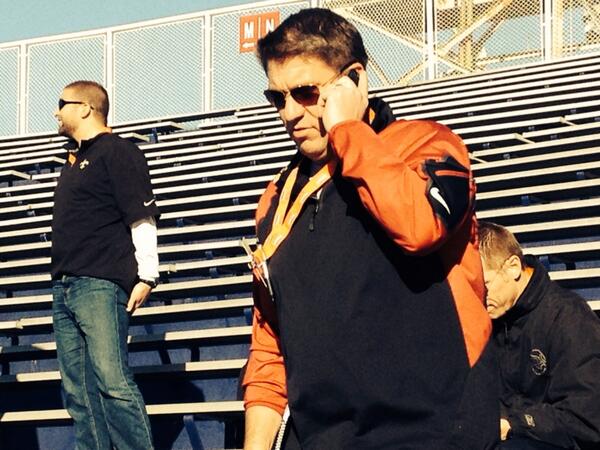 Jason Licht, the Arizona Cardinals' director of player personnel and a part of four Super Bowl teams in his NFL career, has been chosen as the Bucs' new general manager, the team officially confirmed Tuesday night.
"Jason is a seasoned NFL personnel veteran who hwas worked with some of the most accomplished individuals in professional football," Bucs co-chairman Joel Glazer said in a statement. "His strong player personnel background provides the ideal complement to Lovie Smith's philosophy as our head coach."
Licht, 42, who is in Mobile for evaluations at the Senior Bowl, had been in "wait and see" mode with the Bucs as recently as Tuesday's morning practice session. He replaces Mark Dominik, who was fired along with head coach Greg Schiano last month after a five-year stint running the team's operations.
Licht will be a general manager for the first time, but he has an extensive background in scouting and personnel -- this coming will be his 20th season working in the NFL. Licht returned to Arizona in 2012 after three years as the Patriots' director of pro personnel. He also worked with the Eagles from 2003-07 and had one season as a personnel executive with Arizona in 2008. Once a walk-on linebacker and guard at Nebraska, he finished his college career at Nebraska Wesleyan in 1993-94 and started his scouting career with the Dolphins in 1995.
Licht (pronounced "light") will begin the process of choosing his front-office staff -- he'll have the opportunity to retain existing staff, such as director of player personnel Dennis Hickey, director of pro scouting Shelton Quarles and director of college scouting Eric Stokes, who were all in Mobile for the Bucs. He could also pull from his recent stints with Arizona and New England in assembling his front office. He and Scott Cohen, the Bucs' senior personnel adviser, worked together with the Eagles for five years.
"Anyone that knows Jason recognizes not only what an outstanding evaluator he is but also a high-quality person," Arizona general manager Steve Keim told the Cards' official site. "His reputation is well-deserved and speaks for itself. There's no doubt his talent and experience will be a tremendous asset for the Buccaneers and all of us here wish him nothing but the best."
Licht's hiring was first reported by Fox's Jay Glazer.